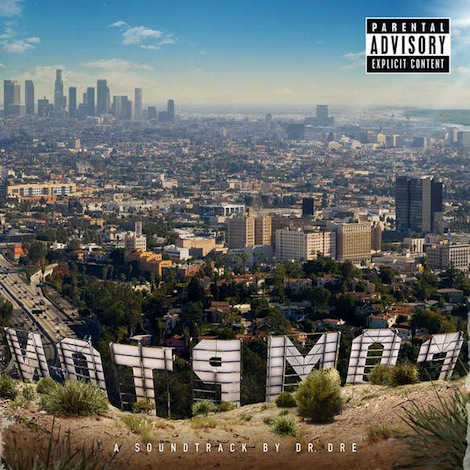 Things have changed for Dr. Dre since the release of his 1992 rap classic The Chronic. It's been 16 years since his last solo album, and it took working on the film Straight Outta Compton for Dr. Dre to find the inspiration to make this album. A companion piece of sorts to the biopic Dre produced about the rap crew that put him on the map, it is not a retro homage to his days in NWA and, perhaps to a fault, finds its place in the modern hip-hop market. The lyric "we load up pro-tools" on Dre's first team-up with Kendrick Lamar explains one of the things that has changed in how Dre assembles his beats. You might find yourself waiting for Dre's commanding voice to cut through the clutter, but don't hold your breath too long—those moments are few and far between, but effective when they do occur.
The first glimpse of the old-school funk that was once the calling card for West Coast hip-hop during Dre's rule in the '90s thumps on "It's All On Me." This scenario marries old school and new school as Dre narrates his days from NWA to partnering with Snoop. The smooth beat glides underneath the verses like Rappin 4-Tay's "I'll Be Around." Dre's voice muscles its way into the midst of "All in a Day's Work," but overall there are many more layers of R&B vocals on the album than you would have found on The Chronic. And considering the track revolves around a sample of a Wings song, it still captures a grittier swagger to "Darkside/Gone," even with a coat of auto-tune slithering around some of the vocals at the time. There is also an odd shout-out to Eazy-E, whom Dre aired his beef with on The Chronic.
There's a long list of notable emcees on the album aside from Dre. Xzibit is a welcome addition to "Loose Cannons," living up to his mission statement of "stopping these bitch niggas from runnin' they mouth." Ice Cube stumbles out of Studio City and into the booth for "Issues," but he's a little rusty when it comes to his flow. Dre's production skills balance this out. Actors aside, it's musically immaculate even with the abundance of new Pro-Tools smoke and mirrors. Snoop arrives for the almost rock groove of "One Shot One Kill," though it has the kind of drive that could leave you to miss Snoop's contribution if you blink. However, he does adapt to the change of pace rather than relying on his classic lazy flow. The beat to "Just Another Day" does recall the '90s West Coast, despite the almost Mystikal-like flow the verses take. And Jill Scott shows up for the soulful pulse of "For the Love of Money," and while Dre's verse is the highlight, the track is pretty strong overall.
Some of the more modern studio tricks come in handy to create a trippy sci-fi groove for "Satisfaction" to ride on. Snoop returns half-way into the song to give a pretty accurate assessment of the situation when he says "'cuz, fuck wrong with these niggas/these labels always asking me to do a song with these niggas/Doc I think its time for you to open the pharmacy nigga, and change this fuckin' music situation." Like the hook says, he's "just stating the facts and it don't get much realer than that." Eminem delivers one of the more convincing raps on "Medicine Man," which have since caused controversy on the Internet. (I think Cannibal Corpse has probably muttered worse.) The album closes with "Talking to My Diary," and Dre does what he does best without having other emcees crowding him. This album at times feels like it is serving two masters, with Dre trying to make sure at 50 he can still sell albums to a younger audience while bringing the classic West Coast gangsta lean. Which he does handily—put that in your pipe and smoke it.
Similar Albums:


Jay Z – Magna Carta Holy Grail


Kendrick Lamar – good kid, m.A.A.d. city


Raekwon – Only Built 4 Cuban Linx II