Julia Holter : Have You In My Wilderness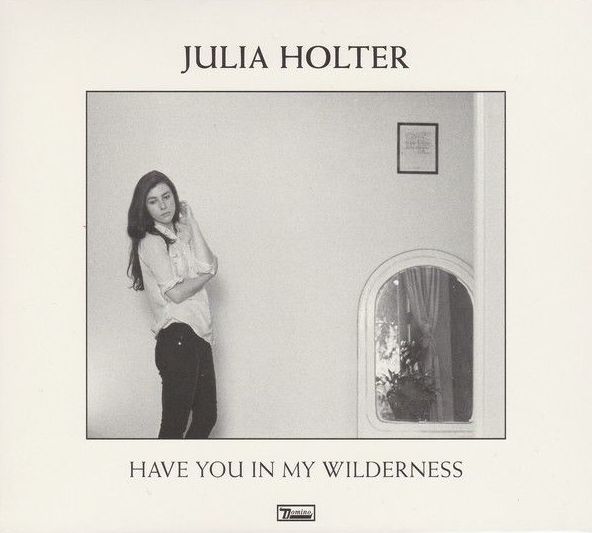 Until now, Julia Holter has been an enigma. Her records (2011's Tragedy, 2012's Ekstasis and 2013's Loud City Song) have all been exercises in obscuring her real life persona underneath layers of elliptical songwriting, jazz improvisation and general esoterica. Her fourth album, Have You In My Wilderness, sees Holter stepping into the light for the first time, albeit a flickering one, and for the first time we feel like we are getting to know her.
It's an incremental change, though. Stand this record next to almost any other of 2015's singer-songwriter albums, and it remains an experimental outlier—her influences are more obviously Linda Perhacs and Robert Wyatt than Joni Mitchell and Neil Young. But here her vocals ring clear at the front of the mix for the first time, and the song structures are easier to immediately engage with. This is the sound of Julia Holter letting some air into her music, and opening herself up. It is a bold move, and it works.
Where the sublime Loud City Song, her first album for Domino and her most successful to date, was an elaborate concept album inspired by the musical Gigi, this one has no such umbrella topic, and much has been made of this. There are certainly themes on Have You In My Wilderness, however. If she is offering more of herself on this album, then it still isn't coming through in her lyrics, which remain mysterious and inscrutable. Nearly every song draws on imagery relating to harsh weather, swimming against the rocks, "rainy days in Mexico City," and so on. These are elemental, tangible, stormy songs. An amateur psychologist might infer that she is making literal in her writing her internal emotional misery, but she may just like the rain. One track, "Betsy on the Roof," even tells of a character's anguish when the rain won't fall, although this does play out as quite a pained song, and may give further credence to the diagnosis.
"Lucette Stranded on the Island," one of the album's standouts, also explores this apparent pain. As whispered fragments of backing vocals drift in and out like apparitions that disappear as soon as they are seen, we are spun a story of a woman who is abandoned, hurt by a gash on the rocks in a line reminiscent of Björk's "Hyper-Ballad." But we never learn any more about Lucette, just as we don't about the aforementioned Betsy, or any of the nameless characters in the other tracks. They are brilliantly curious lyrics, not vague but incredibly specific, we just don't know what about.
The album was recorded with the same band that played on Loud City Song, and many of the same goodies are present. Tracks such as "Night Song" and "Vasquez" still boast that irresistible jazzy ambivalence, both prominently featuring sparse double bass and shimmering cymbal backing. The new single and Holter's most accessible song to date, "Sea Calls Me Home," still erupts into skronky sax flourishes at its crescendo. In fact, it is only "Everytime Boots" that jolts us out of our expectations, with its bizarre, skipping rockabilly beat, complete with twinkling keys and perky, punchy vocals. It's charming, and another example of Holter revealing more of herself than we are used to.
On that same track, she herself casts light on this subtle change in direction. "Can you bring me a fresher perspective please?/Should I be a braver conqueror just bathing in the light?" she sings. It's a better articulation of what she has achieved with this album than I could manage. "Oh it's true, it's brighter than sky we left years ago," she continues. Not that self-critiquing artists are something that's always worth encouraging, but in this instance she is on the money.
---
Label: Domino
Year: 2015
---
Similar Albums: