Remake/Remodel: Rilo Kiley – Under the Blacklight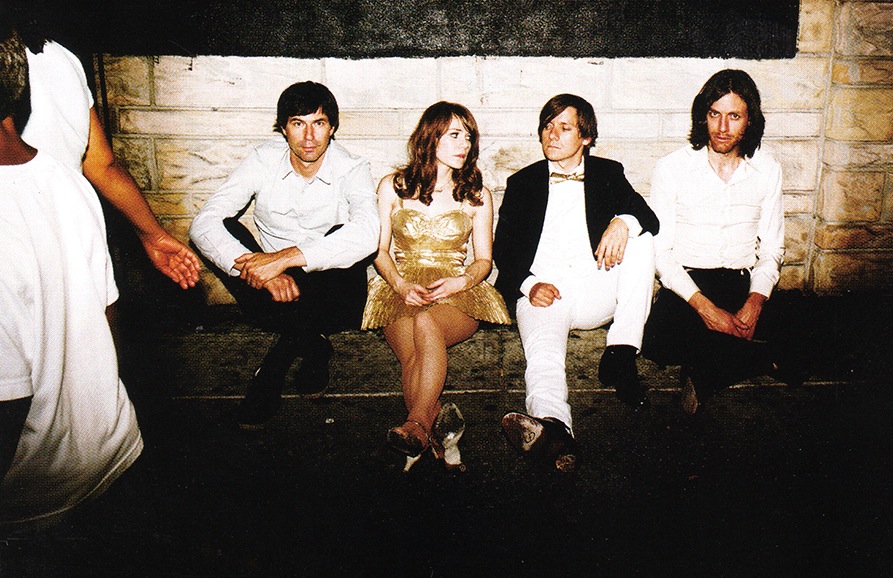 Welcome back to Remake/Remodel, the weekly column in which one of Treble's editors or contributors takes a classic—if imperfect, to our ears—album, and proposes an alternate tracklist in an effort to provide a different, albeit highly enjoyable listening experience. This week, we'll tackle Rilo Kiley's fourth and final studio album, Under the Blacklight.
So here's the thing about this 2007 release: It was spectacularly OK. With the exception of the heavy handed "Dejalo," nothing on the record was particularly bad. But as the Los Angeles indie-darlings made the transition to pop-rock heroes, they made a few understandable missteps in terms of sequencing and, in a couple cases, songwriting. But it was ambitious and applaudable  for the band to take on a bigger, shinier sound, and if the band had continued to produce work under Warner Bros, these issues probably would have resolved themselves. But, instead, Under the Blacklight would be the band's last record and, in many ways, the blue print for future Jenny Lewis solo releases. So, in a way, the band's legacy lives on in records like last year's excellent The Voyager, but I wanted to give them a proper ending via this almost-great record.
When re-thinking the structure of this record, I was inspired by original reviews that compared the record's sound to Fleetwood Mac. When I thought about it, I heard the comparisons, but thought Under the Blacklight lacked many of the elements that make my two favorite Fleetwood records—the self-titled album and Rumours— so damn irresistible. So I ditched the Least Valuable Player "Dejalo" and outed the lackluster "Smoke Detector" while I was at it, replacing them with "Runnin' Around" and "Let Me Back In"— two excellent cuts from the same sessions as Blacklight, released later on the compilation Rkives. With the right songs in play, it was time to find the right feel to make this the perfect final LP for the band.
From there, it was just a simple reorder, readjusting tracks based on excitement levels and themes to construct two distinct sides that still fit Under the Blacklight's role as a dark love/hate letter to L.A. and the deviant folks who inhabit the band's hometown. In this new form, it's a little more sleek and sexy all the way through, playing out like a classic '70s vinyl, albeit with a little more post-punk/indie rock flair. In my opinion, it's a smoother listen. And it's even a tiny bit longer than the original, so anyone who witnessed last month's #Weezergate should feel a little more at ease this time around.
So, that's that! Check out the in-depth run down of the Rilo Kiley Under the Blacklight alternate tracklist below, and listen along with the playlist below. And don't worry, if you don't love my Remake/Remodel of Under the Blacklight, the original will always be waiting for you.
Side A (Six tracks; 20 min, 3 sec)
Once I had the right tracks, the order was almost a no-brainer. "Breakin' Up" made the perfect opener. It's a higher energy track than "Silver Lining" (the original opener) and introduces the record's infatuation with funk and disco a little earlier on. Then we jump straight into nightlife-inclined single "The Moneymaker" and its companion "Close Call." Both songs explore different sides of the sex work industry, and the former keeps the momentous swagger going before the latter offers a bit of a breather. Then we bring things back up a with "Runnin' Around." This is the track here that would have felt the most comfortable on the band's magnum opus, More Adventurous, and serves to connect the two records. Plus there's an amazing solo at the end that shows a side of the band that the band didn't showcase as heavily on these other tracks. Original closer "Give A Little Love" follows, offering a moment of reflection before original opener "Silver Lining" closes out side A. "Give A Little Love" is a great song, but ended the record on a little bit of a melancholy note. And, whereas "Silver Lining" was a little too slow to get the record going, it's the perfect comedown for a great first side of this new and improved LP.
Side B: (Five tracks; 18 min, 34 sec)
We start side B off strong with "Dreamworld," leaving it just about where we found it on the original. It has a great groove and is Blake Sennett's strongest performance as a lead vocalist on any Rilo Kiley track, making it a great highlight from this record. Its dreamy atmosphere gives way to the twangy, reflective "The Angels Hung Around" which, in turn, brings us to "Let Me Back In." This choice cut is one of the strongest acoustic ballads the band ever wrote, and it kind of dumbfounds me to think that they left it on the cutting room floor. Maybe because its ending has some parallels with "With Arms Outstretched" from 2002's The Execution of All Things. Positioned here in the record's second half, "Let Me Back In" becomes this record's "Landslide," offering a beautiful moment of acoustic reflection and catharsis before bringing the tempo back up with "15," American indie-rock's most prominent song about online sex chats and statutory rape. (Don't worry, Jenny isn't pro- on this one.) Then all that's left to do is close things out with eponymous track. "Under the Blacklight" is a solemn, reflective song, but also has a bit more of a drive to it than "Give A Little Love," allowing for a stronger ending. The track's weird little synth run isolates itself at the end and, admittedly, could use a bit of a fade if this were an actual pressing. But, with a little suspended disbelief, this re-imagined Under the Blacklight makes for a much more triumphant swan song for Rilo Kiley.
You might also like: