The Top 100 Songs of 2016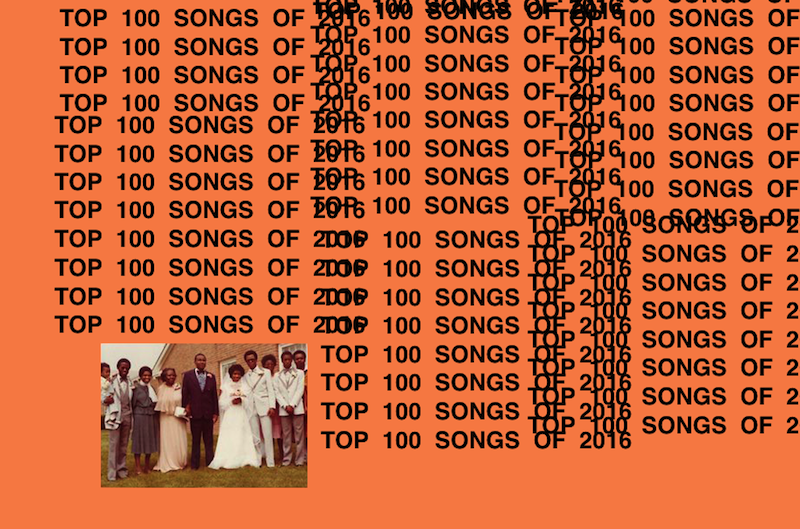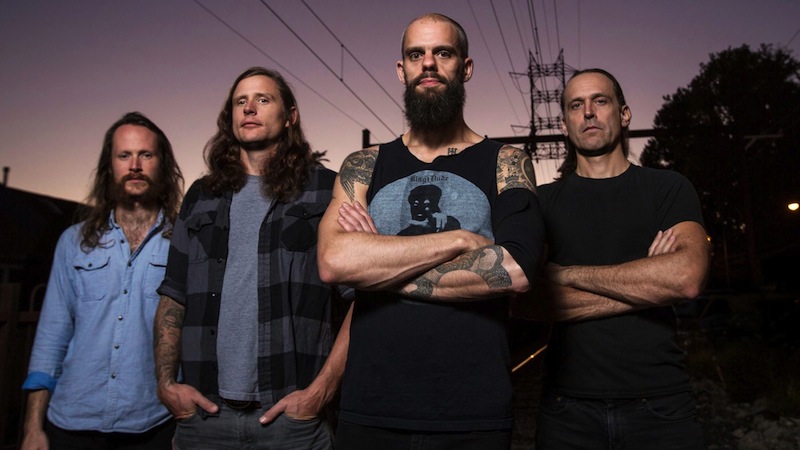 10. Baroness – "Shock Me"
from Purple (Abraxan Hymns)
The best metal songs, generally speaking, are rock songs played louder, faster and with a much more forceful vocal presence. (Or in the case of doom metal, much much slower.) In the case of Baroness that distinction has long been just a matter of degrees. They were already well on their way toward blurring the line between rock and metal by 2009's Blue Record and arguably crossed it on 2012's Yellow and Green. Purple, which made a late entry in December 2015 (hence this year's placement), feels more consistently, viscerally heavy than its predecessor. And yet, it also essentially features eight of the best rock 'n' roll songs they've ever written, chief among them standout single "Shock Me."
That "Shock Me" begins with synths and not guitars is one early clue that Baroness are playing by a slightly different set of rules here, aided in part by producer Dave Fridmann, better known for his work with psych bands like The Flaming Lips. When the guitars kick in, however, the band is focused, furious and playing with both intensity and an adherence to radio-friendly melody that's always been part of their DNA, though never quite so explicitly. What's more surprising is the optimism of John Baizley's lyrics; for a song about being unprepared for disaster or confrontation, the chorus is essentially an expression of gratitude: "Shock me! I needed a surprise!" For a band that endured a nearly career-ending bus crash four years ago, it resonates like an honest accounting of blessings. That's definitely something you don't hear much of in metal, but as a case study, "Shock Me" proves that earnest and heartfelt expressions pair well with heavy rock thunder. – Jeff Terich
9. Kanye West – "Ultralight Beam"
from The Life of Pablo (G.O.O.D./Def Jam)
The first time I heard "Ultralight Beam," I knew instantly that it would be my favorite song of the year. I knew because it sounds like a plea. It sounds like a confession. It sounds like glory. From the initial backseat sermon by young Samoria Green, to the simply awesome Kelly Price, to Chance the Rapper's breathtaking guest turn, "Ultralight Beam" articulates something so powerful, so real it feels wrong to assign words to it. Last month I saw West perform at the Oakland Arena. The massive space filled to the brim with fans, I sat in the absolute nosebleeds and as he closed the show with "Ultralight Beam," suddenly the arena felt small, it felt intimate. People raised their hands into the air, closed their eyes and lifted their heads. I don't have a relationship to the church, but it certainly felt like church to me. There is a sense of wanting to feel close to something that pervades throughout the song and whether that means close to God or to another human, it's a plea to find understanding for the struggle, to find some understanding in life. When I listen to "Ultralight Beam," it feels like all of the uncertainty, the braggadocio, the fear and the creativity that roils in West channeled and concentrated. Above all, it feels like his humanity. – Jackie Im
8. Chance the Rapper – "All We Got" (feat. Kanye West and the Chicago Children's Choir)
from Coloring Book (Self-released)
There's no mystery behind the appeal of gospel; at its finest, it exudes undeniable feelings of joy and community. Chance the Rapper bears these qualities and expresses them as much through his voice—which frequently resembles a preacher's oration—as in the horn- and choir-assisted arrangements that back many of his songs, including "All We Got," the leadoff track on his worldwide breakout Coloring Book.
Honestly, how can you actively entertain bad feelings while this song is playing? You're dealing with a guy who proclaims the desire to flush Satan's head down the toilet. You've got Kanye West on the track more or less as cheerleader to one of his proteges. You've got Chicago kids standing up and singing out for their home city over a fast-paced gospel-symphonic romp of a beat. This has been a shit year, politically and socioculturally speaking, and we're going to need all the hope we can get. Chance is doing his best to give it to us. – Liam Green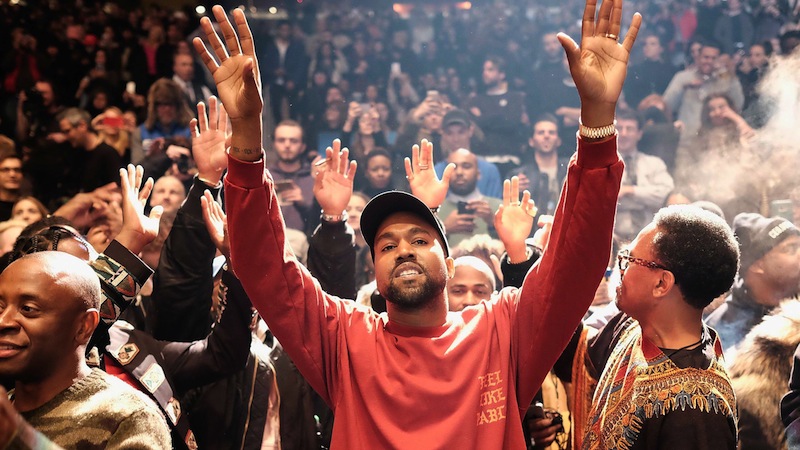 7. Kanye West – "No More Parties in L.A." (feat. Kendrick Lamar)
from The Life of Pablo (G.O.O.D./Def Jam)
It's not too hard to argue that Kanye and Kendrick Lamar are the two brightest musical minds in hip-hop. Having them together on a track co-produced by Madlib from Yeezy's constantly evolving avant-gospel album The Life of Pablo? Sensational. Opening on a chopped-up sample of Junie Morrison's "Suzie Thundertussy", "No More Parties in L.A." is a six-minute exploration of Kanye and Kim's pasts and ascension to pop culture fame. West, who has a pretty good handle on how to flip a sample, also includes segments from Ghostface's "Mighty Healthy" and Larry Graham's "Stand Up and Shout About Love" in jarring hooks and bridges that only he can pull off. As if the stunning production weren't enough, Kanye and K. Dot's rivaling verses tackle life in the clubs and on the roads of L.A. with clamoring women and thieving relatives. Their metered assault on their critics and superficial socialites makes it the true highlight among highlights on The Life of Pablo. – Cody Davis
6. Radiohead – "True Love Waits"
from A Moon Shaped Pool (XL)
Well, it took them long enough. Twenty-one years after it was written, Radiohead finally recorded a studio version of "True Love Waits" they were satisfied with. Unlike the acoustic-guitar-driven live version released in 2001, the final version released on this year's A Moon Shaped Pool is a slower, more mournful piano piece and extra poignant, perhaps inspired by singer Thom Yorke's recent split from his longtime partner. "Just don't leave/Don't leave," Yorke sings in the chorus. In the live version, those lines are one person making a deal with another person. "I'll do all these things for you, just don't leave." Now, they're pleas that the singer knows will go unanswered. Cynics might say that to finally release "True Love Waits" on an album is somehow cheating, and nothing more than fan pandering. Really, it just took them this long to get it where they wanted it. "To Thom's credit," producer Nigel Godrich told Rolling Stone, "he needs to feel a song has validation, that it has a reason to exist as a recording. We could do 'True Love Waits' and make it sound like John Mayer. Nobody wants to do that." Exactly.  Excuse the pun, but this was totally worth the wait. – Adam Ellsworth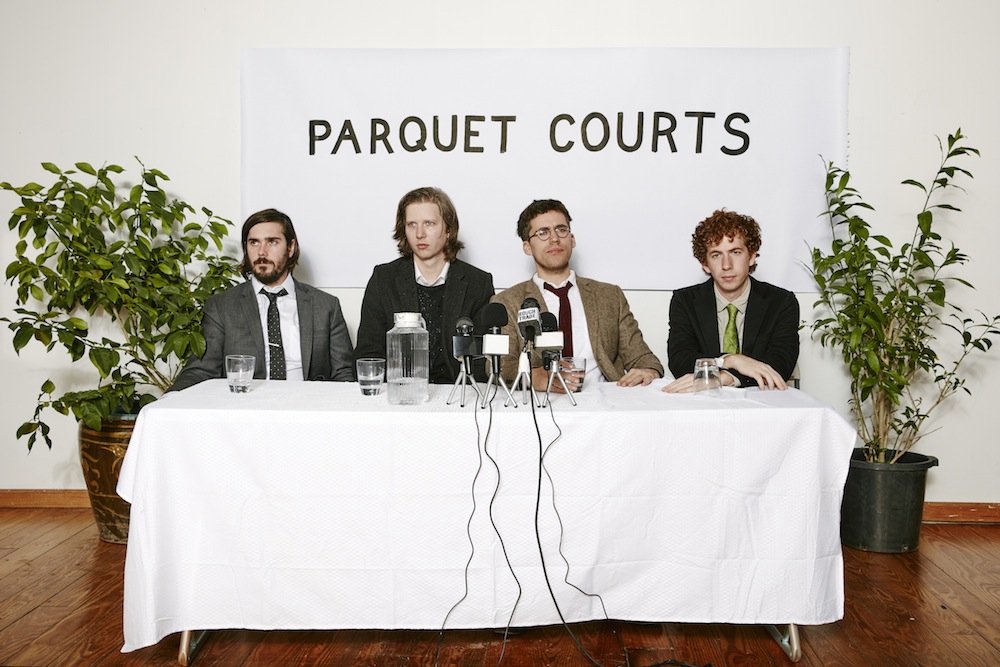 5. Parquet Courts – "Human Performance"
from Human Performance (Rough Trade)
There's always been an emotional heart beating beneath Parquet Courts' wry cynicism. The dry wittiness of Light Up Gold and Sunbathing Animal always served to offset a deep feeling of emptiness, the notion that we're so surrounded by stimuli that we've forgotten how to authentically feel. But "Human Performance" is different. The song shows us Andrew Savage at his most vulnerable, mourning the loss of a relationship and struggling with the notion of moving forward. It's also Parquet Courts' prettiest song, even when the gentle guitar work of its verses gives way to a desperate, shout-along chorus. Earnestness is a new look for Parquet Courts, but it's one that fits surprisingly and affectingly well. – Sam Prickett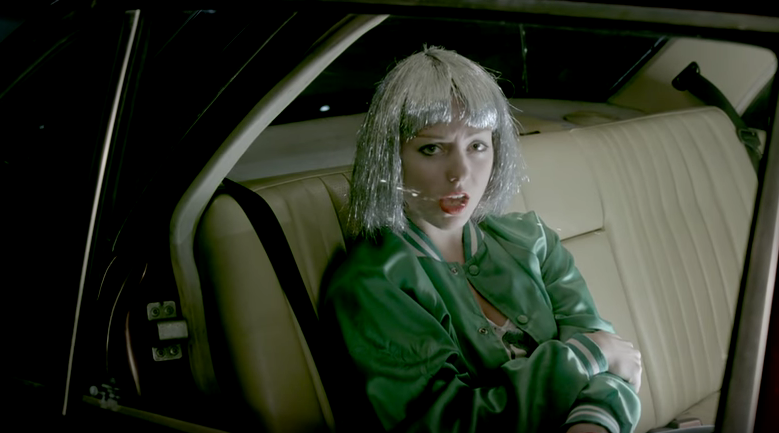 4. Angel Olsen – "Shut Up Kiss Me"
from My Woman (Jagjaguwar)
If there's one consistent truth in Angel Olsen's music, it's that she has an uncanny ability to make the listener both smile and cry, and often at the same time. "Shut Up Kiss Me" veers more toward that smile (on an album with its fair share of waterworks), but it's still a pretty somber track in the grand scheme of things. On the surface, Olsen taps into an age old trope of rock 'n' roll: a desperate plea to save a romantic relationship that seems fairly doomed. But Olsen is forever an innovator and even her take on a pretty classic idea is teeming with new energy. And as one of her hardest rocking tracks to date, this song lets us see a sonic side of Olsen that we've gotten glimpses of before, but never exactly in pop-song form like she shows us here. Per usual, she kills it.- A.T. Bossenger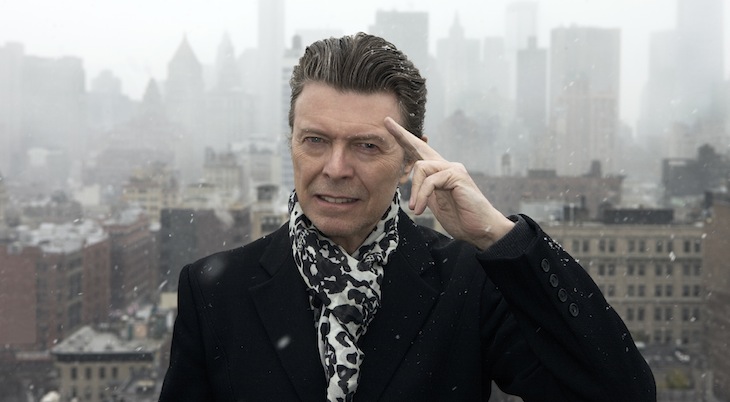 3. David Bowie – Lazarus
from Blackstar (ISO/Columbia)
In the New Testament, Lazarus was a follower of Jesus resurrected by him after being dead for four days. This made Jesus' legend grow with the citizenry, and his threat grow in the eyes of their leaders until they called for his death. In David Bowie's universe, Lazarus is a musical he penned as a sequel to Walter Tevis' novel The Man Who Fell to Earth. Bowie starred in the book's 1976 film adaptation as alien Thomas Jerome Newton, looking to Earth to save his dying planet. Lazarus gives Newton a chance to return to the stars 40 years after the events of the novel. In the Bible story, success—rising from the dead, the up direction—leads to the ultimate end. In the off-Broadway tale, loss—a fall, the down direction—leads to a shot at redemption.
Throughout this song, its video, and the Blackstar album where it appears, Bowie presents dichotomies such as these against the backdrop of his own private struggle. Ziggy Stardust was coming to the end of his battle with cancer, and made this album as a way of saying goodbye. Reconfigured and extended from its stage arrangement, this version of "Lazarus" incorporates the atmospherics of Bowie's Berlin period and some of the heavy horns he favored throughout his career. The guitars in particular seem most modern and quietly desperate; I suspect Arcade Fire, owners of one of Bowie's last great stamps of approval, might have plucked and power-chorded their way through some of this music in a similar manner.
But it's the lyrics that contain Bowie's true power and, in some measure, his wit. He sings about bluebirds, those universal symbols for freedom and release, even as he wrote the words while in remission. He contrasts unseen scars with the world supposedly knowing who he is. He's in heaven but his cellphone isn't. And some have theorized that the song is written and sung in reverse; read from back to front, it suggests a tale of our protagonist's life well lived that doesn't reveal he's dying until he's actually dead. "Lazarus" is David Bowie's skillful final observation of the yins and yangs that surround us. Dichotomies, opposites, contrasts. Up/down, life/death, success/failure, forwards/backwards. (Thin) White (Duke), black (star). – Adam Blyweiss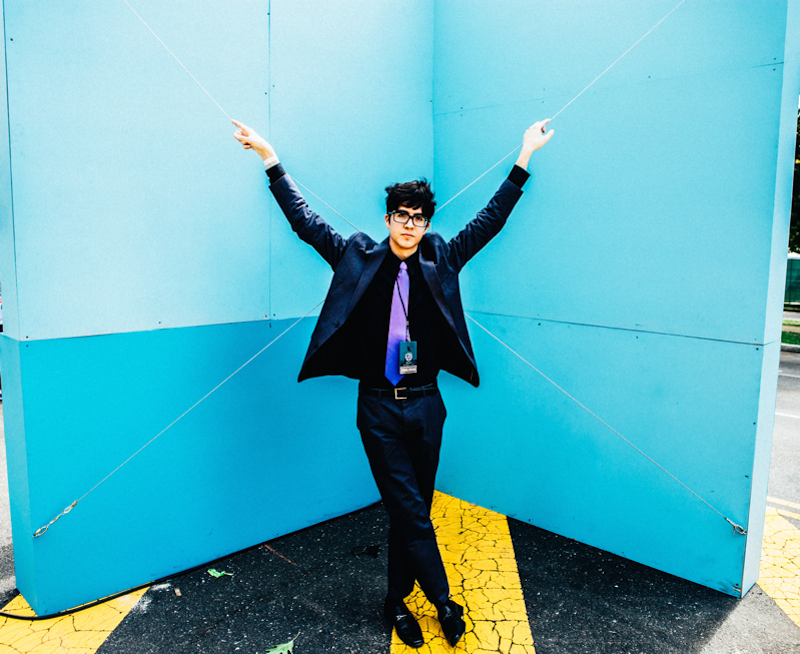 2. Car Seat Headrest – "Drunk Drivers/Killer Whales"
from Teens of Denial (Matador)
My most cathartic live experience of the year happened about an hour into Car Seat Headrest's November show in San Diego, about 50 minutes after an insanely great medley of Leonard Cohen's "Field Commander Cohen" with the bridge of The Velvet Underground's "Sweet Jane," two days after the death of Leonard Cohen, four days after the election of Donald Trump as president of the United States, in a week that proved to be the encore performance of bullshit and misery in a year we'll all remember as the one where the world broke. But in a 90-minute set in which Car Seat Headrest allowed that to be forgotten, at least in that moment, singer Will Toledo brought it all to an emotional climax with a soul-cleansing shout of "It doesn't have to be like this! Killer whales! Killer whales!"
"Drunk Drivers/Killer Whales" is essentially two songs in one, as the slash mark suggests, comprising six minutes of internal struggle and cathartic release. In a literal sense it's about feeling like shit after a party; in a broader sense it's about feeling like shit and desperately wanting to get better. As the song unfolds over its numerous parts, movements, segues and climaxes, it becomes an Odyssey of melancholy, but it offers hope, however fleeting: "If we learn how to live like this, maybe we can learn how to start again." Maybe it can get better. And maybe we're only trying to get home, learning that there's no gold star for bettering ourselves, other than the dignity of simply doing so. But it feels good to shout, all the same: It doesn't have to be like this! Feeling bad never felt so good. – Jeff Terich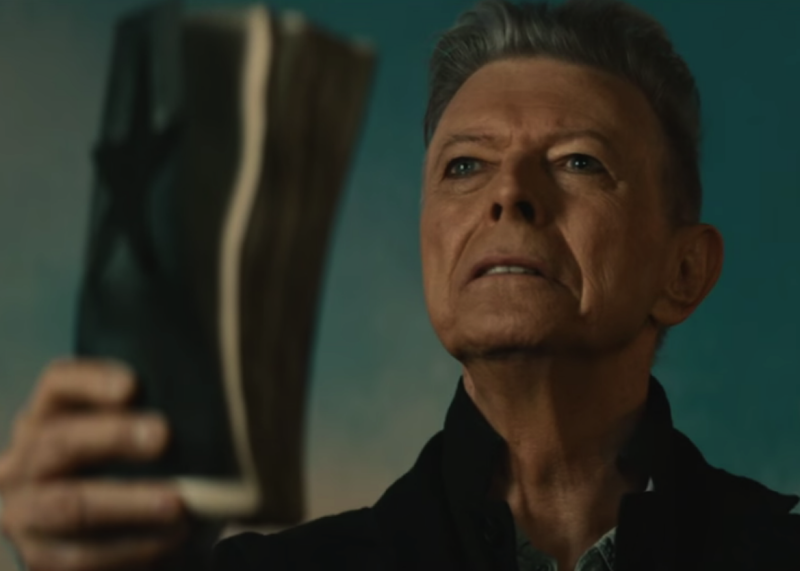 1. David Bowie – "Blackstar"
from Blackstar (ISO/Columbia)
David Robert Jones was always a trendsetter. So it's fitting that, in a year partially defined by highly influential artists passing and (more notably) leaving behind career-defining final statements, Bowie was the first one  to break the Internet with such a statement. Released at the tail end of 2015 before a January 8th release of Bowie's identically-titled final album, "Blackstar" was more than a song. The 10-minute epic was an omen of Bowie's own death ("Something happened on the day he died/ Spirit rose a meter and stepped aside/ Somebody else took his place, and bravely cried") and a tribute, not only to those artists who came before and during his career, but to those who've yet to come as well.
"Blackstar," as a track, video and statement alike, was one of the weirdest and most beautiful moments Bowie conjured since 1977's Low, if not in his entire career. It would have been a feat in and of itself but the fact Bowie created this masterpiece just a short time before his death seemed a statement of its own accord: We are always capable of more, always capable of incredible things, up until our last moment, and all we need to do is strive. In other words, we're all black stars, mere moments away from singularity. – A.T. Bossenger