Thou, The Body, Sumac featured on Many Waters benefit compilation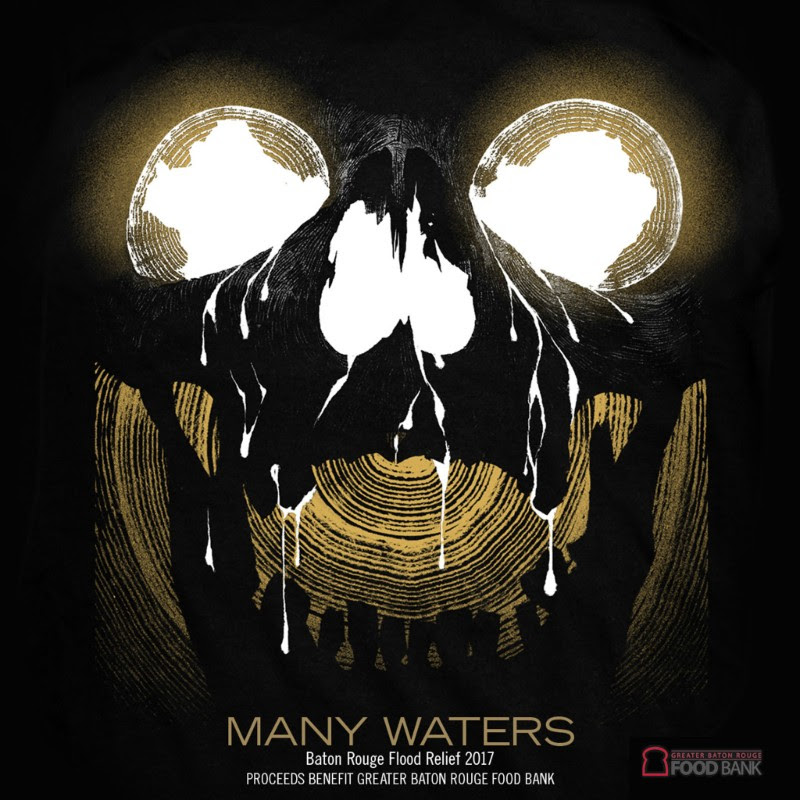 Thrill Jockey is releasing a benefit compilation to aid victims of recent floods in Louisiana. The compilation is titled Many Waters and features unreleased tracks from Thou, The Body & Full of Hell, Mike Scheidt of Yob, Aseethe, live tracks from SUMAC and Old Man Gloom, in addition to contributions from a long list of Louisiana bands.
"I spent the better part of three weeks after the [Baton Rouge] flood driving around neighborhoods looking for homes to help out," says Thou drummer Joshua Nee in a press release. "Every day after work and pretty much all day on the weekends was spent gutting damaged homes. You could tell by looking at a house, that if it didn't have refuse and debris scattered around outside of it, it probably needed some help getting cleared out. We'd see a house without anything on the front lawn, and just go knock on the door and see if people needed help clearing things out. Once a house has had water in it for that long, all the wood gets swollen and rots and mold sets in, so you have to take it all out – sheet rock and all. A practice space we had been sharing with a slew of other bands was totally wrecked, and countless bands I know had their spaces and equipment destroyed."
Check out the tracklist for Many Waters below, and watch a trailer for the compilation. It's available for purchase on Bandcamp.
Many Waters tracklist:
1. Cikada – 30 Dollar Bag
2. The Body & Full of Hell – Gates of Steel
3. Thou – Don't Let It Bring You Down
4. Solid Giant – Dead Souls
5. Christworm – Mad World
6. Aseethe – Void
7. SUMAC – Hollow King (Live)
8. Thrush – Effete
9. Empty Vessels – Above Ground
10. The World Is A Vampire – Christian Brothers
11. Hand Grenade Job – Threat Assessment
12. Sandworm – Taverner
13. Old Man Gloom – Zozobra (I-III) [Live] 14. Recluse – Deluge
15. Cajun Clam – Seer Sucker Suits
16. Pudge – Moo Moo
17. Heavy Mantle – Weights and Measures
18. I'm Fine – Brindle Party Plus One
19. Donovan Wolfington – Slower Loris
20. Pope – The Ballad of Little Stevie
21. Black Abba – Demons
22. Gland – Kratom 8r
23. Mea Culpa – Ghost
24. All People – Ruff Dreams
25. Caddywhompus – First Date Anthem Part 2
26. Wildhoney – Thin Air (Drew Scott Remix)
27. Sharks' Teeth – Melting Belief
28. Ize – Heart on Your Sleeve
29. A Living Soundtrack – Expanding Consolidation
30. Treadles – Feral Human
31. Mike Scheidt – Throw off the Dark
32. Proud/Father – La Paz en la Aqua
33. Golden Void – Sickle Clowns