Atlas Sound : Let The Blind Lead Those Who Can See But Cannot Feel
There are plenty of reasons why audiences are split on Deerhunter, the primary factors being their penchant for offsetting gorgeous, sometimes catchy noise rock songs with nebulous ambient material, and, uh, blogs about poo. The latter is really a one-time thing, and by that point most had already formed an opinion about the band, those that bothered to keep up with the Atlanta band's tour exploits anyway. While it would have made sense for the group to have begun merging their extremes—those both structured and atmospheric—the ensuing Fluorescent Grey actually went in a more accessible rock direction, which was awesome in a completely different way. Late in 2007, Deerhunter frontman Bradford Cox emerged with new project Atlas Sound, covering "Knife" on Grizzly Bear's Friend EP, revealing an ambient pop sound that, while similar melodically to Deerhunter to some degree, took on a much dreamier, more pleasantly surreal approach.
Let The Blind Lead Those Who Can See But Cannot Feel is a beautiful sort of curiosity. Though Cox has clearly carved a completely different path than that of Deerhunter on this debut effort, those paths intersect more than once. While euphoric in a hallucinatory sort of way, Atlas Sound retains much of the eerie overtones that characterized tracks such as "Dr. Glass." Here, they're merely stirred into the heady sonic soup and take effect in a much more subliminal manner, although the opening child spoken word track "Ghost Story" is pretty unsettling, in a way that kids in horror movies have proven themselves to be for decades.
Just as in Deerhunter, most, if not all, of Atlas Sound's material is heavily wrapped in effects. The distortion, while not as menacing, is still present, as are many other psychedelic treatments, lending the album its gauzy, floating charm. "Recent Bedroom" sounds like a hallucination in and of itself, a repeating series of slowly billowing riffs and feedback, with Cox melodically chanting "I walked outside/ I could not cry/ I don't know/ I don't know why." By comparison, "River Card" feels much more grounded, driven by a simple bassline and a danceable beat, with Cox singing dark, doomed verses that seem to mirror the song's aqueous effects: "river so clear and blue, I am in love with you/ river's bottom dark and blue, why do I love you?/ you'll drown me."
To some degree, all of Let The Blind Lead is fairly aqueous sounding, fluid waves of sound flowing in and out of each vessel. It's in the crystallization of these sounds when each song begins to take shape. "Quarantined" is one such example, an amorphous wash of sound that ultimately builds up in beats, becoming a brilliantly distorted, psychedelic dance jam. "On Guard," on the contrary, never changes form, merely flowing freely throughout its three minutes. "Winter Vacation" could have just as easily gone in a similar direction, but Cox opts for some minimal techno beats instead, adding a bit of pop structure to a song that, otherwise, has more in common with tracks like "White Ink" than "Strange Lights."
Given that Atlas Sound is not so much a rock band as it is a solo project that expands to a full-band under certain capacities, Let the Blind Lead offers countless pleasant surprises, such as the quirky glitch `n' throb of "Cold As Ice," the stunning shoegazer ballad "Bite Marks" or the post-punk grooves in "Ativan." Even more thrilling still, Cox occasionally achieves something truly epic in his mish-mash of fuzz-pop, IDM and ambient, as on "Scraping Past," a song so dense and packed with ideas, it may take a few listens to latch onto the unexpectedly catchy melody. If it seems that I'm using words like `surprise,' `unexpected' or `stunning' too frequently here, it merely goes to show how successful Cox is at playing with strange, sometimes seemingly incongruent sounds and textures. This could just as easily be the work of several bands, and yet, somehow, this curious, quirky and wonderful grouping of songs creates a seamless flow. Bradford, you've done it again.
Similar Albums:
Deerhunter – Cryptograms
Benoît Pioulard – Précis
Lilys – Eccsame the Photon Band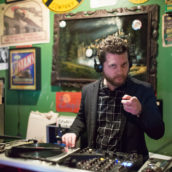 Jeff Terich
Jeff Terich is the founder and editor of Treble. He's been writing about music for 20 years and has been published at American Songwriter, Bandcamp Daily, Reverb, Spin, Stereogum, uDiscoverMusic, VinylMePlease and some others that he's forgetting right now. He's still not tired of it.