Goth spent some years in the wilderness during the '90s, relegated to Hot Topic novelty status and its aesthetic repurposed for dubious nü-metal covers of new wave songs. Andrew Eldritch issued press releases that stated The Sisters of Mercy weren't goth. The Cure released "Wrong Number." Bela Lugosi, still dead, may or may not have rotated 180 degrees. Those were some frustrating times for anyone with any affection for Siouxsie Sioux and aversion to sunlight. Yet some descendents of '80s post-punk bats have begun to migrate into contemporary indie rock's belfry of late, signaling those (not so) dark times are behind us, with a chilling, yet nonetheless satisfying dark streak running through recent records by The xx, Bat for Lashes and Zola Jesus. A similarly dark aesthetic permeates the debut album by Toronto's Austra, an ethereal and danceable delight that artfully embraces a shadowy sensuality.
A trio fronted by operatically trained singer Katie Stelmanis, Austra's composite résumé comprises work in indie rock, solo electro-pop material, riot-grrrl punk and even a vocal credit on Fucked Up's The Chemistry of Common Life. How this trio of musicians to yield at a sound more rooted in new wave, industrial and Kate Bush is anyone's guess, but their artful electro on Feel It Break makes for a stunning permutation. The trio expertly balances more playfully ornate numbers with icier dance jams, best displayed in the album's first two singles, "Lose It" and "The Beat and the Pulse." The former twinkles and shimmers, with delicate and ethereal electric piano providing a dreamy backing for Stelmanis' lighter-than-air chorus of "ohs" and "ahs." Yet its sinister counterpart, "The Beat and the Pulse" rides a deep, industrial disco throb, layering on one chilling, mechanical piece at a time before finally welcoming a mesmerizing verse nearly two minutes into the song.
As important a role as texture and atmosphere play on this album, Stelmanis' expressive and dramatic voice is frequently the focal point. Hers is an emotional but nonetheless controlled delivery, a strange kind of warble that bears a uniquely powerful sound without indulging in overwrought melisma. Opening track "Darken Her Horse" serves as a carefully paced introduction to her dazzling pipes, her vocals gradually escalating with the subtly shifting and low-key verses. But when the chorus hits, the brakes come off, and Stelmanis' dual harmonization sends the song into a mesmerizing astral plane. And on the haunting ballad "The Noise," she's a one woman choir, answering her solitary lament "I can't sleep at night" with layered, cavernous cries of "The noise! The noise!"
Stelmanis' vocals are well matched with breathtaking goth-pop arrangements, the good majority of them built on a sturdy foundation of hooks and irresistibly danceable beats. At least half, and possibly two-thirds of the songs on the album sound like singles, so even when the band is at their most overtly ominous or gloomy, they deliver that eeriness in an accessible and often beautiful package. "Spellwork" recalls a slightly edgier Depeche Mode, its sharp slices of bassy synth jabbing through its airier backing. And standout "The Choke" is essentially a nursery rhyme for night creatures, as Stelmanis repeats simple sparse lines like, "The mouth, the breathe, the smoke/ The mouth, the breathe, the choke."
Amid the prevailing mood of eccentrically stylish gloom, a handful of surprises abound on Feel It Break, from the gentle piano ballad "The Beast" to the relatively peppy "Shoot the Water." And in the case of the former, Austra provides a compelling break from the denser and sometimes overwhelming electro pieces that make up the bulk of the album. Whether easing into delicate balladry or ramping up the BPMs, Austra packs every minute of Feel It Break with alluring atmosphere and consistently interesting ideas, most of which are paired with outstanding melodies. This may not be goth as we know it, but Austra makes it feel good to go dark again.
Similar Albums:
Fever Ray – Fever Ray
Bat For Lashes – Two Suns
Depeche Mode – Music For The Masses
Video: Austra – "Lose It"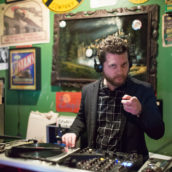 Jeff Terich
Jeff Terich is the founder and editor of Treble. He's been writing about music for 20 years and has been published at American Songwriter, Bandcamp Daily, Reverb, Spin, Stereogum, uDiscoverMusic, VinylMePlease and some others that he's forgetting right now. He's still not tired of it.