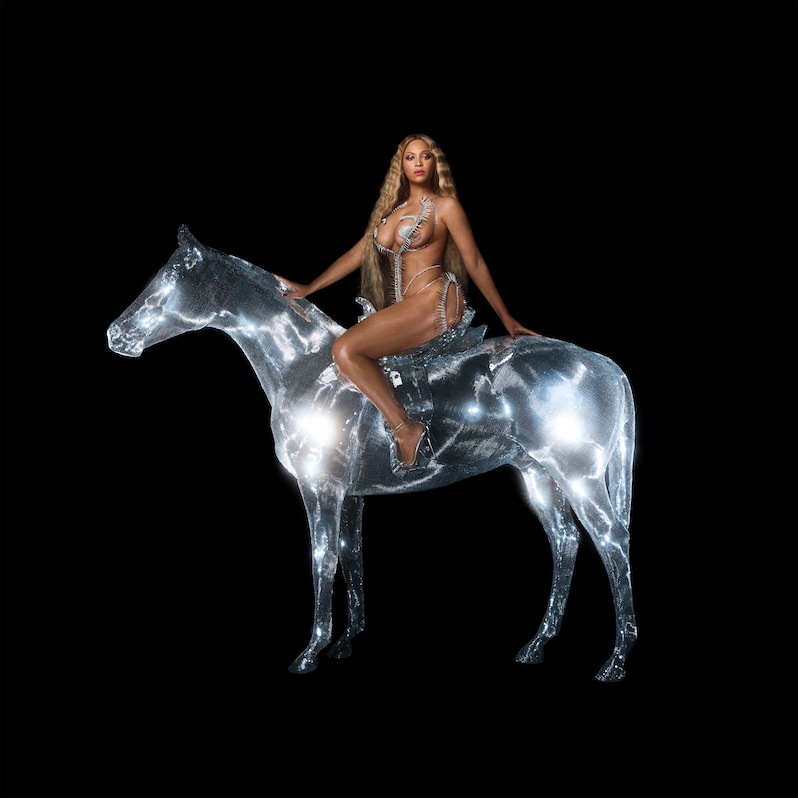 We have already seen articles hastily written about Renaissance, the newest record by Beyoncé, as a revolutionary document rebelling against the vicious and fascistic status quo of the world as it stands in 2022. And, well, this sentiment isn't entirely off-base, certainly, but it's likewise just as much a relative overstatement, one predicated on the social image of Beyoncé as a worker especially emerging from the period of her (rightly) acclaimed self-titled record and Lemonade. Those two works foreground their political-via-personal identities, forging a clear sociopolitical relation to Beyonce as a black woman and mother in an America that is effortlessly, continuously brutal to the black mothers of black children and women in general. Even her record with Jay-Z, The Carters, as well as her curated soundtrack from the live-action Lion King remake can be read satisfactorily through this political lens, especially as it pertains to reclaiming and foregrounding the blackness of certain musical forms current and historical.
But for Renaissance, this read falls apart somewhat, and for the best possible reason. Stated as the first of a three-part overarching project, this record concerns itself primarily with one thing: being a dance record. There are political elements present across this material, from body positivity to even a narrative description of the progress queer pride flag which contains not just the rainbow but also the trans pride flag and black and brown stripes for people of color. That's to be expected; this is Beyoncé after all, and she's not unaware of both her social position and what this obligates from her in certain ways. But Renaissance feels often more desiring to align itself with the cultural histories of strains like dub, especially as seen by how most of Beyonce's presence here is closer to toasting than singing, the early '80s club work of Grace Jones, who even guests on the record, and disco records, a known long-time influence on Beyonce. The album plays less like a single song-suite and more like the continuous sets of well-practiced DJs, with songs often composed of two or three discrete movements that read like miniature tracks before changing up again to a proper new track. This method reads almost like Beyoncé cheekily looked at those two most successful recent Drake documents, More Life and Honestly, Nevermind, records built from the continuous set house and disco DJ model, and decided to one-up them just because she could.
Beyoncé's vocal performance here is less focused on explicit fireworks, a mode which ironically allows her to more consistently bust out shockingly compelling vocal turns. Her harmonized background vocals climb skyscrapers while her lead vocal is able to sit in a soulful groove. We have to remember: She was a generational R&B vocal talent before she seized up her political identity. The grace notes of post-Kanye avant-gardeisms are, thankfully, much more contextualized and contained on Renaissance than on certain recent Kanye records. (It pays not to participate in acts of self-sabotage.) It recalls more the sound collage elements that would emerge in early club music, the hip-hop production of the Bomb Squad or the more progressive wings of soul, funk and R&B from the '70s. I will admit, as a white and kinda-not-quite cis dude, elements of Beyoncé's last two records lost me, not due to their lack of quality but due to being focused so centrally in an identity that I simply don't share. Renaissance drops those barriers of entry, focusing all of her manifold powers on producing a powerhouse pop record.
Because ultimately, ponderous and perhaps answerable questions about the relation of history and identity to cultural creation and production aside, this record is a powerhouse pop record. It reminds me of similar questions we have pondered backroom at Treble HQ regarding the conceptual heft of The Weeknd and his character work, an element which inevitably gives under the weight of the frankly incredible songs. Tracks like "ALIEN SUPERSTAR", "BREAK MY SOUL" and "PURE/HONEY" feel like a history of the dancefloor while "PLASTIC OFF THE SOFA" sound like a top-shelf and smooth as hell Maxwell outtake. Frankly, if you can put this record on and not move your body, you're an alien to me. If we want to read a political component, then perhaps a more salient one would be that of the massively underrated Black joy and Black pride, surveying the decades of brilliant developments of art and producing an ecstatic kaleidoscopic view of those works. Renaissance has more in common with 4 in that regard, an album that predicated its identity on Beyoncé making her most strident ode to classic soul and R&B sonics in her career. But where that record looked from 1975 back, this one picks roughly the same date and looks forward, marrying that musical rejoicing to the identity-driven work of her most recent records. The excellence of this record, and it is excellent, is built from that, how Beyonce fuses that previous apex of the early first phase of her solo career with the critically acclaimed developmentalism of her second phase. The promise that there are two more discs to come elaborating on this central concept is beyond intriguing. Ultimately, high-minded essays about the intent of Beyonce's work is to be expected from the cultural production machine; she's just in the business of making great and joyful records.
---
Label: Parkwood/Columbia
Year: 2022
Buy this album at Turntable Lab
---
Similar Albums:
Langdon Hickman
Langdon Hickman is listening to progressive rock and death metal. He currently resides in Virginia with his partner and their two pets.