Big Thief – Dragon New Warm Mountain I Believe In You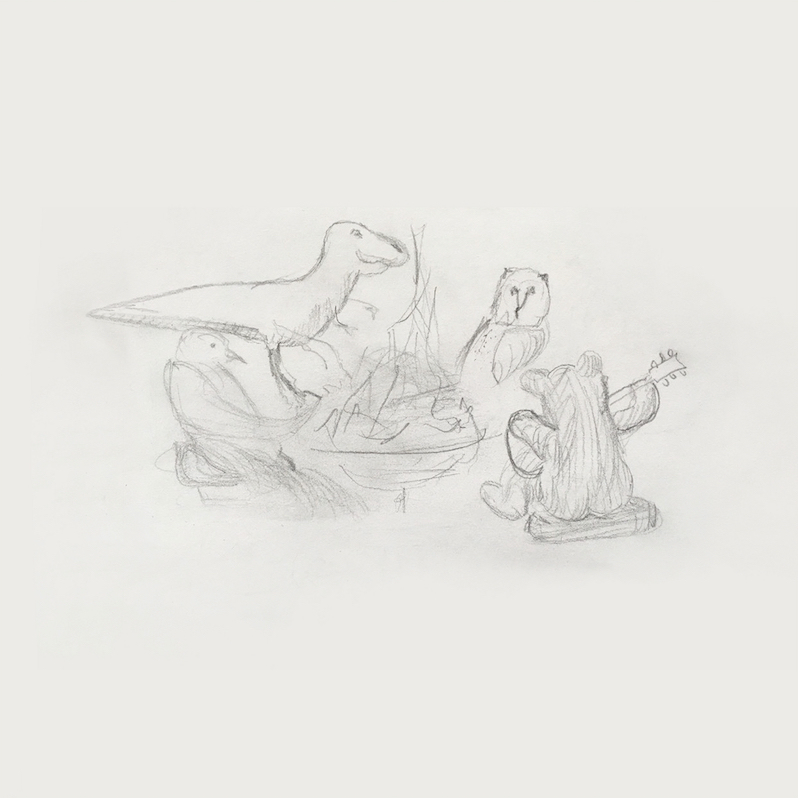 It was springtime 2020, isolated and heartbroken in a cabin in rural Massachusetts, when Adrianne Lenker asked "dragon in the new warm mountain / didn't you believe in me?" By then James Krivchenia, Big Thief's drummer, had already pitched the idea that would become the quartet's fifth record, Dragon New Warm Mountain I Believe In You, and the magic lightning bolt of Lenker's songwriting was arcing toward an answer of sorts.
On the surface, a new sprawling double album from Big Thief elicits a comparison to their two 2019 sister records. In fact, the idea for the album sounds like an extension of the unique recording sessions that led to Two Hands and UFOF, or at least a doubling down: record distinct batches of songs at four different studios with four different engineers, come what may.
But on a deeper level, Dragon New Warm Mountain resonates most with Lenker's recent double solo project. The contrast between songs, Lenker's most intricate writing yet, and the relaxed but improvisationally expansive instrumentals, points directly to the next stage in Big Thief's journey: a maximalist project of discovery that taps both the fullest potential of the group's collaborative fellowship and the farthest reaches of Lenker's songwriting.
The album opens humbly with a pared back dreamy track that then cuts to a rattling spat of prepared acoustic guitar. If the wild contrast between the first two tracks was jarring, the third normalizes it. The first sound we hear on "Spud Infinity" is a fiddle, the second is a jaw harp (by Lenker's younger brother). In addition to fiddle, Mat Davidson also joins Lenker on the choruses with a bit more traditional holler than Buck Meek's wavering serpentine, rounding out the folk ensemble. The song is easily one of the oddest, and most fun, from the group yet.
The spirit of the project, an unwavering desire to discover all possible extremities of Big Thief's sound, leads to a vibrant sense of experimentation. Electronic textures on "Flower of Blood" give everything more of a bite, and "Blurred View" is an otherworldly chugging drone, the drums and vocals together filling up so much of the mix. The noisy, clattering layers of guitar on "Little Things" and "Time Escaping" steps in stride with Big Brave's folk-inflected approach to drone (and back to folk).
Across 20 tracks and four studios, wild stories abound that illuminate the group's "anything goes" approach. The stymied group took a polar plunge and recorded the winning take of "12,000 Lines" while still soaked in their wetsuits. In the Rockies they heard Richard Hardy playing flute on his porch from across the valley and spontaneously invited him to the studio. Dom Monks secretly recorded one of the first practice sessions for "Change" and proclaimed it the best take. They are playing how they want to play, without inhibition or obstruction. Rhyming apple with apple might be a subtly bold stroke of confidence, maybe a subversive little wink, but Lenker doing it four times in a row on "Sparrow" feels like an absolute rebuff of all expectations, let alone convention.
For a lesser band this kind of project might be considered a risky experiment in pursuit of their sound, but Big Thief have simply demonstrated that their sound is infinite exploration. Stitching together such distinct recording sessions, especially these ones that each could have been a live album with beginning and end, is to reject linearity. On closing track "Blue Lightning" Lenker sings "I wanna feel so happy that I cry…I wanna live forever till I die" as if to answer the question posed at the beginning of the album on "Change": "Would you live forever, never die / While everything around passes?" The album begins with a shuffling of preparation and Lenker's simple "Okay," then it ends with a satisfied sigh from Lenker and somebody saying "What should we do now?" Listen to it on repeat, end to end, at least once, and all the interwoven elements of the album swirl together.
---
Label: 4AD
Year: 2022
Buy this album at Turntable Lab
---
Similar Albums: