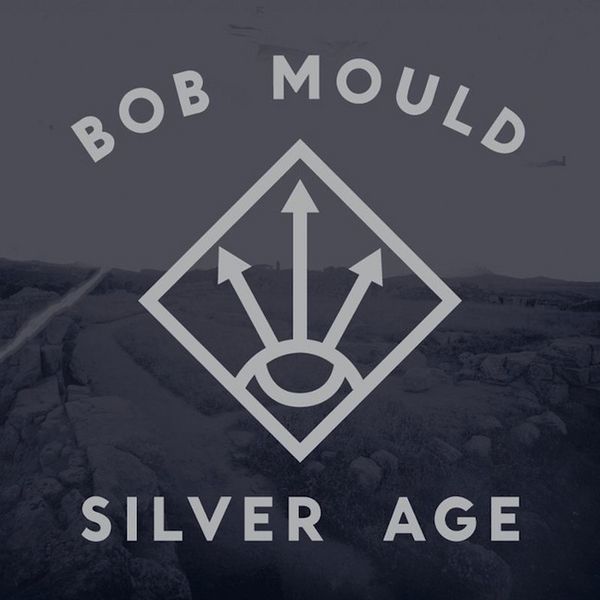 Though it might not appear so at first glance, Bob Mould is fundamentally similar to David Bowie. Whereas Bowie was often described as a "chameleon"—quickly adapting to different genres as they gained popularity—Bob Mould is often remembered for his pioneering work with Hüsker Dü but rarely recognized for his acute awareness of popular music. Now, so far removed from Hüsker Dü that Zen Arcade is barely even a reference point, Mould has delivered Silver Age, a solid album comprising entirely commercially friendly alternative rock, not unlike his work with Sugar, and a testament to the fact that his solo work remains every bit as strong as that of his legendary hardcore band.
Apparently inspired by Mould's recent tour, on which he opened for the Foo Fighters and played his Sugar-era songs, Silver Age's influences make for an interesting synthesis, most overtly demonstrated with the album's opening three tracks. Aptly beginning the album with the jagged, abrupt riffing of Mould's guitar, opener "Star Machine" sounds uncannily like a lost post-grunge hit. Mould has a voice of deceptive versatility, and this track is a good example. There's a measure of noisy guitar muscle there to back him up, but the song's tight construction and pop hook take primacy, rendering a pretty solid opening track.
Mould stops just short of waxing nostalgic for his Sugar days in the '90s, however. As "Star Machine" ends, heavy sheets of guitar drop and the album launches into the hardcore-inflected tirade of "Silver Age." His lyrics — previously somewhat bitter — become downright caustic here, with Mould spitting out (in the modern vernacular) such venomous barbs as: "Stupid little kid, wanna hate my game? / You want to be a star in your Hall of Fame? / No, it's not a fucking game, yo / I'm wiping my face of the shit you say / In the Silver Age, I walk away, saying…" The latter sequence is capped off, appropriately, with a chorus (in the spirit of Pavement) of 'doo-doo-doo'-ing. This effectively makes Mould's assertions just that more vicious, giving notice to all the young, would-be usurpers: Bob Mould is here to stay.
Having temporarily exorcised his rage, Mould then proceeds onward to "The Descent," a canny nod to the Foo Fighters. Like "Star Machine," it's a reasonably tight — if familiar-sounding — alternative rock song, but it stands out because it features some of the best lyrics on the album. The (admittedly badass) posturing aggression of "Silver Age" is enjoyable, but the autobiographical lean of "The Descent" is more earnest and sincere in its introspection. The poignancy that Mould achieves when he pleads "can I make it up to you somehow?" in the chorus is legitimately affecting, and far more mature than the feuding in the first two tracks; this advancement allows the lyrics to carry a less immediate song.
"Briefest Moment," the first of three songs in the album's centerpiece suite, boasts autobiographically-framed lyrics that echo "The Descent," but take the form of a narrative about those wonderfully self-destructive teenage years. In apt fulfillment of its title, the song delivers the goods and then cuts off abruptly with a bizarre, atmospheric rush of sound. Stopping just short of becoming monotonous, Mould then plunges into "Steam of Hercules," a complete left-turn of a song that could have fit in on Mastodon's Crack the Skye, thus presenting yet another sonic surprise. That turns into "Fugue State," in which Mould drops the prog conceit (and the Brent Hinds impression) and starts singing like himself. Powerful, consistent percussion and two interlocking guitar tracks slowly and deliberately build to a fabulous hook, creating one of the best songs on Silver Age and one of the better pop songs Mould has ever written.
Following a three-year hiatus, Silver Age is a strong comeback for Mould. It's a conscious attempt at staying modern and mainstream, with a lot of attempts at single-material songs, but it's also quite dense from both a lyrical and a production standpoint. Most importantly, though, it's successful as a well-rounded contemporary alternative rock album. Stephen Thomas Erlewine once transcribed Howard Hawks' philosophy on "what makes a great film" to music, claiming: a great album is one that has a few great songs and no bad ones. Although it can become stylistically homogenous at times, Silver Age does certainly fit that bill. If, in his "silver age," Bob Mould can still bring the noise like this, I can't wait for his golden years.
---
Label: Merge
Year: 2012
---
Similar Albums: