Quicksand : Distant Populations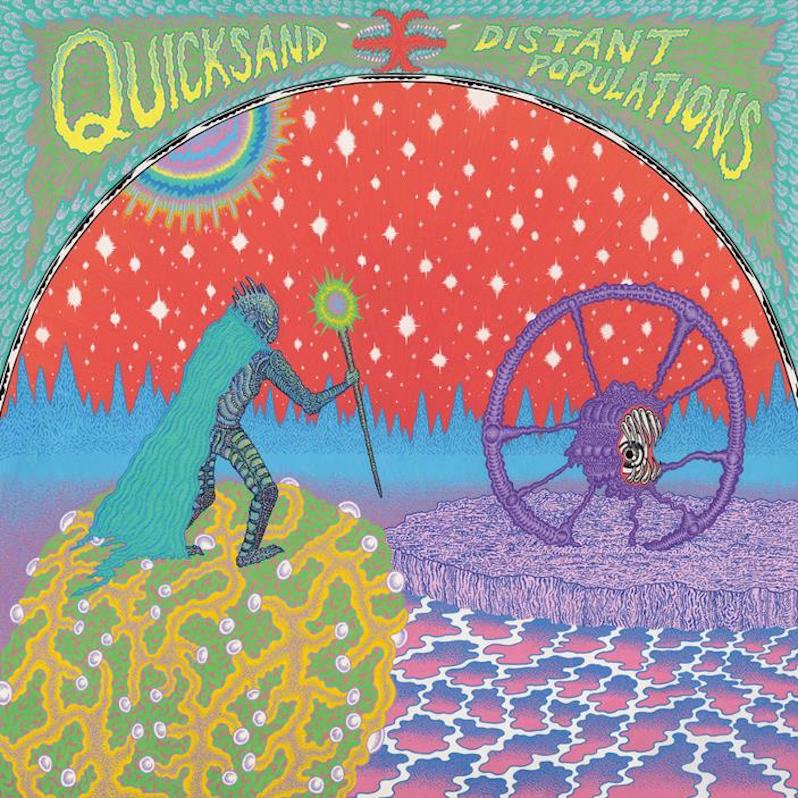 Quicksand has a fascinating history. A victim of the '90s post-Nevermind signing binge, the group were never marketed particularly well, and following the release of 1995's Manic Compression, the group would spend a decade in near-silence. All the while their legend quietly (or loudly rather) grew, becoming the kind of band that would be mentioned in the same breath as Fugazi with equal reverence. Following the release of their 2017 comeback, Interiors, their fourth LP Distant Populations continues the band's legacy of revival, one that was pitted against somewhat stark odds.
Quicksand's approach has changed considerably in the past three decades, still muscular and intense, but allowing themselves a certain measure of transient harmonizing and bold choruses. "Lightning Field" feels like a post-hardcore take on Candy Apple Grey-era Hüsker Dü, and there are grinding, heavier affairs like "Colossus," with its pruned tempo and significant aural weight. Yet even at their heaviest, Quicksand still reveal plenty of surprises—that very same song reveals a stunningly dreamy chorus.
Distant Populations feels perfectly balanced between those two tracks. Each represents similar modalities that other post-hardcore outfits would use as templated constructs. Yet, Quicksand obviously seeks to express a greater dynamism and range. There's a perkiness and unexpected polyrhythmic tangent on "Katakana" where the group takes on a fantastic The Police impression before assaulting the listener with a crushing, washed out tone of reverb. 
This unique blend of a percussive suite is because of Alan Cage's drum work, alongside returning producer Will Yip. Between the two of them, as proven on the band's last outing Interiors, as much as feedback as there is, a good solid mixing of percussion does wonders to provide accents for the album. In equal measure, the band's collective efforts to reduce runtime make sense sonically. Not because these songs need to be more concise to leave as much of an impact, but because as musicians, they're capable of doing so much even in a relatively brief span.
Quicksand prove as much with ease. Prior soundscapes have sometimes sprawled or felt constrained, sounding at times less present, but now feel more cohesive than ever. "Phase 90," with its prog-inspired cadences and contemplative harmonies, feels like it could have emerged from a different artist and album entirely. As frontman Walter Schreifels sings, "sometimes it's better to keep on traveling," the repeated line bleeds into squelchy reverb, as the track breaks into a lucid depiction of chaos.
With its surprising corkscrew harmonies and elevated, raw guitar work, Quicksand's Distant Populations is the band at their most direct. There are few frills, and even fewer diversions of any kind. As a result, that purity and adherence to fidelity carries their efforts far further than other contemporaries. It works because the band have taken the time to refine, not just in composition but in establishing a mood that matches their intensity. Whether they're doing so quietly or at their loudest, Quicksand still has something to say.
---
Label: Epitaph
Year: 2021
---
Similar Albums: