Chavez : Better Days Will Haunt You
There's an entry for Chavez's tour stop in San Diego in the liner notes to the band's two disc/one DVD retrospective Better Days Will Haunt You, in which Clay Tarver comments both on how insane it is to be hanging out at a club directly under airplanes taking off from a few blocks away, and how the band's audience, not counting friends or other bands, consisted of eight people. This is a pretty common occurrence, I've seen it happen multiple times, particularly on rainy Monday nights when people figure they'd rather just watch Law & Order. But taken coupled with Matador Records' assertion that Chavez was the label's best selling artist of the '90s…hmmm…something doesn't seem right here. I would venture to say that they were far from it, seeing as how Guided by Voices, Pavement and Yo La Tengo were all on the label and released now legendary records during that time, records that never went out of print.
Had I known about Chavez's tour stop in San Diego, and had I been six years older, I could have been the ninth person in attendance to witness such a truly rocking act such as theirs. When I heard Chavez while I was in high school, I was blown away by the overwhelmingly loud and powerful guitar sound of Ride the Fader, the group's second album. I had purchased it after hearing the stellar "Unreal is Here," which was featured on What's Up Matador, a $5 two disc label sampler that, in addition to introducing me to Chavez, also opened me up to Spoon and Cat Power. In a moment of weakness and being broke, I sold the album a few years later, almost to be struck with immediate regret. And in case you didn't catch what I said before, the album went out of print.
Well, for wayward listeners such as myself and for those who may have initially missed out on the band's dual guitar fury, Matador offers a second chance with the group's new compilation, which collects essentially everything the group ever released, from both studio albums Gone Glimmering and Ride the Fader, to debut single "Repeat the Ending," to their Schoolhouse Rock Rocks contribution, "Little Twelvetoes." Going in chronological order, disc one starts with "Repeat the Ending," an anthemic rocker that serves as a kickass introduction to such a kickass band. That it wasn't my introduction is no matter—as an opener to this set, nothing could be more appropriate.
First album Gone Glimmering makes up the majority of disc one, from the wild riffage of "Nailed to the Blank Spot" to the thunderous single "Break Up Your Band," which has an accompanying, quite amusing, Clay Tarver directed video included on the additional DVD. "The Ghost by the Sea" is an odd, droning ballad that escalates in abrasiveness and volume, while the album's second single, "Pentagram Ring," explodes with squealing riffs and insistent rhythms. And the quirky "Little 12 Toes," which closes off the first disc, is a fun inclusion, and truth be told, the first track I actually heard from this band.
As I had mentioned before, Ride the Fader was the Chavez album that had immersed me in the band's music and truly blew me away. And listening to the two side by side, it's amazing the level of progress the group made by this album. It has the same brawny punch that Gone Glimmering does, but with a heightened songwriting acumen, and even slightly better production. Building up the drama, the sounds of people screaming on a roller coaster open first track "Top Pocket Man," a melodic, burly rocker offset by Matt Sweeney's vocals, which do less screaming this time around and retain an even melodic sensibility all around. The band's riffs remain sharp, such as on "The Guard Attacks" and "Tight Around the Jaws." There are melodic wonders like the single "Unreal is Here" and the subtly driving "New Room." And there's the immense closer, "You Must Be Stopped," which balances giant riffs from super-low tuned guitars and the group's catchiest hooks overall.
Top seller of the '90s or not (I'm saying not), Chavez most certainly rocked hard enough to deserve the deluxe treatment they're given on Better Days Will Haunt You. The DVD even includes a documentary with audio commentary by one Garry Marshall (yes, that Garry Marshall). And with the promise of reunion shows from the band, there's all the more reason to be excited.
Similar Albums:
Jawbox – My Scrapbook of Fatal Accidents
Shudder to Think – Pony Express Record
Yo La Tengo – Prisoners of Love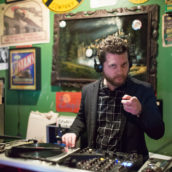 Jeff Terich
Jeff Terich is the founder and editor of Treble. He's been writing about music for 20 years and has been published at American Songwriter, Bandcamp Daily, Reverb, Spin, Stereogum, uDiscoverMusic, VinylMePlease and some others that he's forgetting right now. He's still not tired of it.