Crocodiles : Crimes of Passion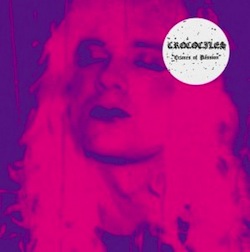 Buy at iTunes | Buy at Insound (vinyl)
There is a fine line between being too beholden to one's influences, and picking up where your forebearers left off. The same came be said of whether a band that has plateaued, or found its sweet spot and hit its stride. With their fourth full-length album Crimes of Passion, Crocodiles wobble along those lines, sometimes teetering multiple times within the same song. There are moments of lush melodic beauty, and moments where you know exactly where a riff's going to go because you've basically heard it before. But while it's more risk averse than their previous effort Endless Flowers, Crocodiles hit the target more often than not on Crimes of Passion, and continue to strike their trademark balance between bright melodies and dark lyrics.
Fans and followers of the band will notice the same noise rock influences that have always been a huge part of the band's DNA: The Jesus and Mary Chain, Echo and the Bunnymen (whose first album likely provided Crocodiles with their name). But in listening to Crimes of Passion, I found myself hearing more of mid-90s Britain than early '80s. As the band has progressed they've acquired more of a debt to groups like late period Beatles and ELO, which when combined with their noise rock roots gives them a Britpop flavor. Songs like "I Like it in the Dark" and "Teardrop Guitar" are what I've imagined the Reading Festival sounded like when I had first heard of the Reading Festival.
Other tracks reach back even further. Parts of "Marquis de Sade" almost sound like something Buddy Holly might have written, if Buddy Holly sang love songs about masochistic libertines. Crocodiles have taken heat for hewing too close that chord progression, cribbed more than half a century ago from the 12-bar blues structure that so many rock songs are based on. But there is a reason that song structure has stuck around so long – it feels right. There's a certain chord transition that, no matter how many times I hear it (and I've heard it countless times), it still makes my heart break a little. And it happens at least three times on Crimes of Passion.
Like Endless Flowers, Crimes of Passion has fun bouncing Brandon Welchez's dark lyrics off the brightest melodies. One of the more upbeat and danceable tracks is called "Gimme Some Annihilation," which features the chorus, "Give me some annihilation / Give me some poetic death / Give my hands the strength of reason / To strangle out his final breath." "She Splits Me Up" fuses buzzing post punk guitars with a Phil Spector melody and the refrain, "My girl lives with so much pain."
Early in their career, Crocodiles experienced the double edged sword of blog success. A wonderful tool for discovering new music, online buzz factories also have a tendency to showcase bands before they're fully cooked, and that's arguably what happened to Crocodiles when they were named checked on a year-end list put together by members of No Age in 2008, got signed as a result and saw their debut frequently dismissed as a noise-rock rip-off. And yet, the band proved unafraid of generating their own controversy with their 2010 song "Kill Joe Arpaio," a reference to the controversial Arizona sheriff with extremely far right views on immigration.
As a result, Crocodiles grew up in a spotlight brighter than most bands get while they're still working out who they are. Their second strong album in a row, Crimes of Passion finds that their fully formed artistry has arrived. Crocodiles is what it is: A solid noise pop band with a gift for gorgeous harmonies subverted by buzzing guitars and melancholy lyrics. They are not breaking down the barriers of their greatest influences, but if that means more songs like the lovely "Heavy Metal Clouds" or "Teardrop Guitar," then there is no reason to complain.
Similar Albums:


Stone Roses – The Stone Roses


Smith Westerns – Dye it Blonde


Dum Dum Girls – I Will Be