Call it a delusional theory, but I really think that rap music's hyperbolic tales of excess have lent some pragmatic relief to its consumers amidst current economic hardships. With layoffs, pay-cuts, education cuts and a overall gutting of the world's livelihood, it's only natural that the general population of Earth has been left to feel less than sufficient to compete in society. Rappers, on the other hand, have always turned the other cheek to restrictive practicality, for better or worse, in favor of unbending ego and bravado. Representing the full spectrum of this dynamic is New Orleans MC, Curren$y. As his name would suggest, he indulges in the exchange of goods; however, whether intentional or not, his moniker goes beyond the acquisition of capital.
Pilot Talk hears Curren$y's delivery a little awkward and his rhymes are often long-winded but despite his deviation from the prototypical alpha-male rapper, bold declarations like "King Kong aint got shit on me!"(from "King Kong"), Curren$y lays out the thesis for Pilot Talk, stating that despite the copious amounts of weed smoked and hours of video games played, the Big Easy-born rapper can still traverse the rap music universe with the best of them. In fact, Curren$y's ability to subvert the rules of rap music using his own ideologies is the true charm of Pilot Talk.
On the optimistic and trumpet-powered "The Day," in a Virginia Woolf-esque stream-of-consciousness rant, Curren$y blatantly expresses his irritation at the major label brass for not allowing him to smoke pot in the label office, explaining that he has a studio at home, essentially arguing that there is no reason for him to be there: a metaphor that probably defines the rapper's disdain for major label hegemony (before Pilot Talk, Curren$y had two record deals sink) and his fondness for doing things his own way. Meanwhile "Address" hears Curren$y jovially celebrating the contrast from poor to posh that rappers tend to enjoy, exclaiming that he's "making Hot-Wheels outta hooptys."
Ire and indulgence aside, Curren$y proves himself to be a remarkably adept wordsmith, earning his oft referenced nickname "Spitta." "Spitta"'s lyrical chops shine through best on Pilot Talk's roaring opener "Example" where he matter-factly muses "running through my shoes, for the day I could kick 'em off, relax, I said I'd quit smoking these beats but I relapsed."
Pilot Talk hears Curren$y keeping it simple–openly championing the simplistic things that he loves (weed, video games, '64 Impalas etc.) But through complex musings, metaphors and juxtapositions, may have created one of the more complex rap releases of late.
Similar Albums:
Big K.R.I.T. – K.R.I.T. Wuz Here
Freddie Gibbs – Str8 Killa
Fashawn – Boy Meets World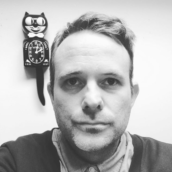 Paul Glanting
If a meteor was just hours away, Paul Glanting would recall that he has been in a Lil Wayne music video and has a 4.7 (out of 5) on Rate My Professor. He is at work on his first novel, Adjunct Megafauna.