Curren$y : Weekend at Burnie's
I remember a review of Curren$y's album Pilot Talk II that assessed the record favorably but warned that this album wasn't a good starting point for the Curren$y novice. The rationale underwriting this caveat was that Pilot Talk II eschewed traditional song structure in favor of lackadaisical exhibitions of his tales of stoned hedonism. In response to the review, I began to review Curren$y's catalogue, hoping to determine where an accessible starting point for the nascent Curren$y connoisseur may lie in his body of work.
After a bit of investigating, the gift and the curse of Curren$y becomes clear; Jay-Z has "Hard Knock Life"; UGK has "International Players Anthem"; The Notorious B.I.G. has "Juicy": rap superstars typically have at least one signature "anthem," a cut that jovially spews the rapper's mimetic ethos in significantly user-friendly fashion. These are tunes that morph into elephants in the room, when they haven't been played deep into a live-set. Curren$y may never have such an anthem. This isn't to take away from Curren$y "Spitta"'s ability. In fact, beyond the maple-syrup-thick cloud of weed smoke Spitta's lyrics are constantly engulfed in, the New Orleans-bred rapper has always explicated his tales of excess, fancy cars and record label frustration with gloriously crafted metaphors and dazzling bursts of stream-of-consciousness description. However, while his lyrical dexterity is impressive, Curren$y's lyrics are so incredibly cerebral they just don't lend themselves to the stadium-status ubiquity many of his rapper-peers have been blessed with. In short: there is no beginning or ending to Curren$y's cipher.
There are points on Curren$y's latest effort, Weekend at Burnie's where it almost seems as if he genuinely wishes he had an iconic watershed banger to define him. Tracks like the contrived "She Don't Want a Man" hear the Big-Easy rapper unsuccessfully attempting to convert his esoteric flow into cohesive and linear prose, where he waxes melancholy about his lusty relations with an unsatisfied married woman. The song's hook hears Curren$y unconvincingly morose, declaring that "she don't wanna man; she just wanna fuck." It's a little embarrassing to hear the usually jovial rapper suddenly trying to convince his listeners of severity of the situation. However, for the most part, Weekend at Burnie's hears Curren$y remaining loyal to his abstractly stoned hyperbole. One of Weekend at Burnie's many odes to vice, "Still" hears Spitta's endearingly sluggish boasting and reveling over wheezing synths, while "#Jetsgo" showcases Curren$y's extemporaneously rapid-fire metaphors (in a span of roughly 12 seconds, Curren$y incorporates references to: Mario Andretti, Keanu Reeves, Tony the Tiger, Lamborghinis, Ferraris and the somewhat obscure animated film, Ferngully: the Last Rainforest).
Curren$y, when he's at his best, is an unpretentious devil-may-care slam poet. He assumes this form on "You See It" where the literal and the figurative are constantly grappling for control with lines like "…got my bottom bitch, she gives me the best top; a sex pistol sitting shotgun in the drop." Dichotomizing the album's earlier silly portrayal of adultery, the southern rapper's internalized musings prove advantageous for the popular sin on "What's What" where Curren$y arranges his promise that he'll have her back home "before the sun come up" into the most effective hook on Weekend at Burnie's.
Weekend at Burnie's may or may not be a good entry point for a Curren$y beginner. In truth, it's probably as good a starting point as Pilot Talk (I or II) or Covert Coup or Jet Files and so forth. However, a fundamental understanding of the New Orleanian should hold that there is no proper beginning or ending to Curren$y's smoky catalogue. Weekend at Burnie's is a consistent extension of Curren$y's stoned vision of the world, where '80s-baby fantasies become tangible, luxury cars drive out of wall posters and luscious cougars saunter out of the bedrooms of our young hero's mind, satisfied and unequivocally aesthetically pleasing.
Similar Albums:
Freddie Gibbs – Str8 Killa
Big K.R.I.T. – Return to 4eva
Wiz Khalifa – Rolling Papers
Stream: Curren$y – "She Don't Want a Man"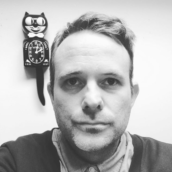 Paul Glanting
If a meteor was just hours away, Paul Glanting would recall that he has been in a Lil Wayne music video and has a 4.7 (out of 5) on Rate My Professor. He is at work on his first novel, Adjunct Megafauna.