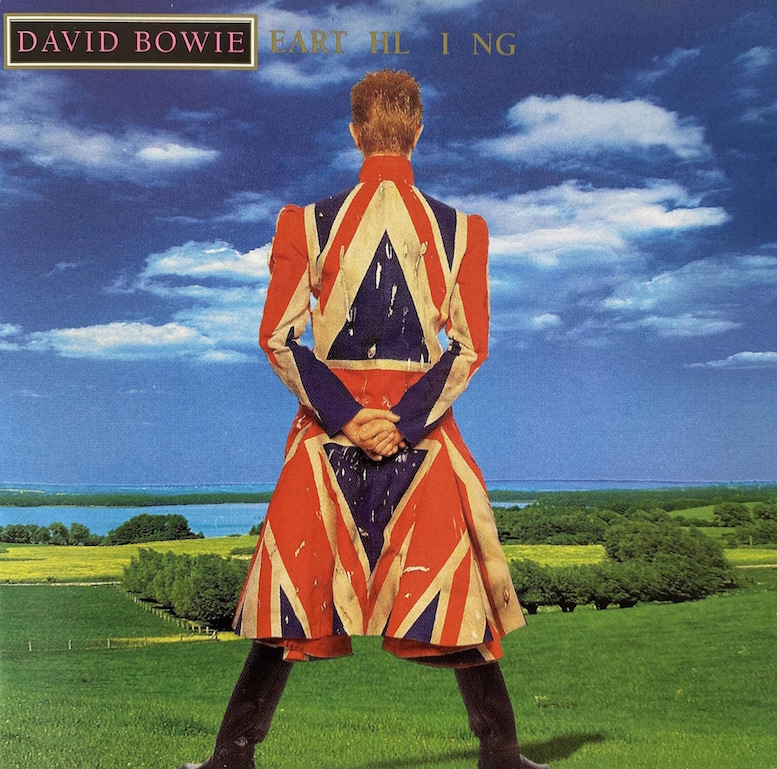 Along with Prince, David Bowie is my favorite musical artist on earth. Though, with Bowie, the 'on earth' part is debatable. Many have called Bowie an alien-like presence in rock and roll, and he even played one in the film, The Man Who Fell to Earth. But enough has already been said of Bowie's chameleon-like career, fitting into and even preceding every trend. He did that very thing back in 1997 with Earthling. Earlier in the year, he played his 50th birthday concert extravaganza with guests Robert Smith, Billy Corgan, Frank Black, Foo Fighters, Sonic Youth and Lou Reed. Black's duet of "Fashion" with the Thin White Duke was both the coolest and most hilarious thing I've ever seen. And what does Bowie do to top the arrival of an all new Roman numeral in his age? He releases, in my opinion, one of the best albums of his career in Earthling.
Earthling was a return to form for Bowie and a rebirth all in one album release. Not only did it completely rule over his previous few albums (though Outside was pretty damn good), from his post-Let's Dance duds to his failed Tin Machine experiment, it also struck out on new ground. Jungle, drum and bass and Bowie's signature accented effete sneers all meet in one captivating set of songs. "Little Wonder" will always make me remember seeing Bowie at the Electric Factory in Philadelphia, a mere ten feet from the stage as he mimicked pulling the train whistle that toots periodically through the song. After hearing this single, I was so reinvested in the David Bowie mythos that I took every chance I could to catch the slightest snippet of his work. I ordered import singles, gobbled up his songs on compilations and recorded his Saturday Night Live musical guest appearance. I now own over ten separate versions of "Little Wonder," that's how much I loved and still love this track. Besides the original, I recommend the "4/4 Junior Mix" or the "Danny Saber Dance Mix" that appears on the Hackers 2 soundtrack. Plus, it's the only song I know that names all seven dwarfs.
"Battle for Britain (The Letter)" successfully pairs the blazing guitars of Reeves Gabrels, also making a comeback after the crushing critics laid waste to Tin Machine, and the incredible percussive genius of Zachary Alford. Another amazing musician on this album, making it probably one of the best lineups in Bowie's long and star-filled history, is Gail Ann Dorsey, whose backing vocals and bass are more than evident in the pounding "Seven Years in Tibet." "Dead Man Walking" is a track almost the equivalent of "Little Wonder" in catchiness, yet even faster paced and more attuned for club play. "Telling Lies" contains one of Bowie's most infectious choruses, one that might fit into his work during the Scary Monsters era. But of course, the one that everyone is going to remember is "I'm Afraid of Americans," as well they should. It's one of the best songs of Bowie's career, with or without Trent Reznor's remix. The guitars are as biting as Bowie's snarling lyrics and the accompanying video speaks of a paranoia that seems to be worldwide. But Bowie's own voice as percussive instrument and the repeated phrase "Johnny's an American," are all subtle touches that seem simple, but without them the song might seem ordinary. Though, it might also have helped that Brian Eno co-wrote the track.
As a Bowie fanatic, I couldn't have been more giddy in 1997 to discover that not only did Bowie have a new album, but that it was absolutely incredible, and that I had the chance to see him live, one of the singular most important nights of my life. Maybe this album is colored by the experience I had with the live show. Maybe I'm building it up to be more than it really is. Or, maybe, just maybe, David Bowie's Earthling is as good as I say it is, and you should all just deal with it.
---
Label: Virgin
Year: 1997
---
Similar Albums: