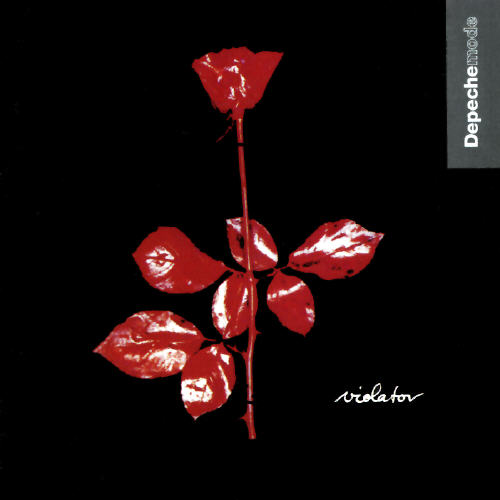 How many ways can one laud one of the most accomplished albums of an entire decade without seeming too much the biased fan? It's the self-conscious critic's worst nightmare. When it comes to Violator, no precedent seems worth paying heed to, because simply put, it's that amazing. And that's an adjective not lightly used to describe just any band or any album. But people, this is Depeche Mode.
In many ways, Violator signaled a culmination of the band's steady improvement throughout the '80s, and ushered in a new era of electronic-based music. Depeche Mode had finally reached the pinnacle of synthesizer mastery that would soon inspire an army of followers attempting to imitate their signature sound. With its release in February, 1990, Violator shocked listeners out of a hair metal and new wave stranglehold which had largely dominated the latter part of the decade of excess and even worse hair styles. Commercial success was soon to follow.
In my own budding youth as a teenager in the late '90s, I discovered Violator much by accident. I'd heard the massive single "Enjoy The Silence" too many times to count, but somehow never bothered to pursue the musicians who'd crafted such a stellar hit. It wasn't until my junior year in high school that I finally picked the album up, and it was the beginning of a love affair with a band that's only grown more amorous the more I've delved into their back catalogue.
Besides "Enjoy The Silence," Violator also spawned the breakout singles "Personal Jesus" and "Policy Of Truth," the latter which nursed me through a particularly bitter break-up in which I was at the receiving end of some rather flagrant dishonesty. For this reason and more, it should be obvious I reserve a special place for the album in my music collection.
Martin Gore's songwriting talents had reached a new summit on Violator and it is the stark and ambiguous subject matter explored throughout the album that imbue much of it with startlingly morose atmospherics. Take the sparse and brooding "The Sweetest Perfection" for example. With sentiments like, "sweetest injection/ of any kind" and "when I need a drug in me/ and it brings out the thug in me," it at first appears an eerie and blatant heroin ballad. But the later lines "takes me completely/ Touches so sweetly/Reaches so deeply" suggest it may be speaking of a precarious love affair. Precisely this level of lyrical prowess lends power to the themes coursing through the veins of Violator.
Help from English producer Flood, whose expertise gave similarly stunning sharpness to Nine Inch Nails' debut, Pretty Hate Machine, refined the edges of Depeche Mode's synth-masterpiece even further. In fact, production isn't the only thing linking the two albums, the moodiness of each coincides quite nicely upon closer scrutiny. Every beat is crystalline, crisp, and reflects a disarming attention to detail.
David Gahan's chilly baritone announces the band in all its confident glory on opener "World In My Eyes." The track preps listeners for a trip down avenues of seductive electro-bliss. "Halo" relates the doomed entanglement and ensuing guilt of jilted lovers amid succinct drum machines and airy string flourishes. The almost delicate "Waiting For The Night," sung ably by Gore and augmented by subtle keyboards, is an unsettling treat to mark the album's halfway point. The sexy undercurrent of "Blue Dress" reveals a more vulnerable turn of phrase with "and you believe/ something so worthless/ serves a purpose" as a methodical rhythm plods forward and the synthesizer bubbles underneath. "Clean" sterilizes the album and brings it to a close, beginning with a bass hook strangely reminiscent of the intro to Pink Floyd's "One Of These Days" before switching to a more tribal beat pattern and the hopeful confession "the cleanest I've been/ an end to the tears/and the in-between years/and the troubles I've seen."
And of course who can say enough about the three singles? "Personal Jesus" was sophisticated enough for the Man in Black to cover it, with a guitar riff that can only be described as "bluesy" and a hit-the-club-floor beat. Is it about Elvis? It's been suggested. Perhaps the most scathing tell off ever put to tape is found on "Enjoy The Silence," in which we learn "words are very unnecessary/they can only do harm," while laser-beam synths fire overhead. The beauty lies in Gahan's nonchalant delivery and seeming apathetic posture. From there it's straight into the near-funk throwback of "Policy Of Truth," which as I already mentioned, serves a rather cathartic and poignant highlight among its equally astounding peers. I've blasted this song many a time while driving alone at night.
Violator is an album that amazes as much today, nearly 17 years later, as it did upon its release. It's served as a blueprint for countless disciples attempting to capture the essence of electronic manipulation while still walking a fine line of pop ingenuity. I imagine it should age as well another 17 years from now as it has thus far, if precedent has taught us anything. It's why Depeche Mode is still a band to this day and continue to make remarkable music. From one fan to one great band, thanks for helping me get through some dark times.
---
Label: Mute/Sire
Year: 1990
Buy this album at Turntable Lab
---
Similar Albums: