Elliott Smith : either/or
Truly Great
The first Elliott Smith record I owned, not counting Heatmiser's Mic City Sons, was either/or, the record that would ultimately come to be known as the singer-songwriter's breakthrough. I had just gotten my driver's license and wanted to take the ol' Honda Civic out for a spin on a Sunday afternoon. At 16, I had no real destination in mind, but being the teenage music junkie I was, I figured that the local record shop was just as good a place as any to go after earning my state-approved driving rites. As my shopping companion and I entered the store, I immediately recognized the music playing on the in-store sound system — Elliott Smith's either/or. Rather than head to the "indie rock" bin, I went straight to the counter to purchase that exact record. The two girls sitting behind the counter sighed in disappointment. "Man," they said, "we wanted to keep listening to that."
I can understand not wanting anyone to interrupt either/or. It's the most beautiful album ever to grace this reviewer's ears. It's simple and straightforward, stripped down and quiet. But that's what makes it so special. Smith was a rare kind of songwriter who could turn a two-minute pop song into a masterpiece. At the time of its release, there wasn't really anything like it. Some compared him to Nick Drake, others to Paul Simon, though he in turn said he hadn't heard any of Nick Drake's music and he thought Paul Simon was cheesy. But the truth of the matter was that Smith didn't really sound all that much like either. He had a bit of Beatles and Big Star in him, certainly, but rather than taking directly from Lennon or Chilton, he did something altogether unique.
Smith's prior two records, Roman Candle and Elliott Smith, were significantly more lo-fi and recorded mostly without any additional instruments. And though there are many songs on either/or that are only Smith and his acoustic guitar, the album sounds somewhat fuller and smoother. The album begins with "Speed Trials," which is built on a simple, ascending four-chord progression, something that shows up in very few of Smith's songs, as he preferred playing more intricate, fingerpicked riffs on his guitar, as evident in the following song, "Alameda," which sparks one of my fondest memories of seeing Elliott Smith at Sunset Junction in Los Angeles, 2001. Those who were there would most likely question why this was a "fond" memory, seeing as how Smith had forgotten many of his songs and was visibly uncomfortable on stage, as he hadn't performed live in quite some time and is now believed to have come out of a period of heavy substance abuse. While there's no getting over the saddest aspects of the evening, the compassion that his fans showed was heartwarming to say the least, and it also showcased how beautiful his songs were on their own. When Smith forgot lyrics, his fans in the front would sing them back to him, which in turn would trigger his memory and help him remember the song. "Alameda" was one such song that Smith didn't finish that night, though he ended, quite appropriately, on "you don't finish what you start."
"Ballad of Big Nothing" was released as a single on Domino Records in the UK, which contained the B-sides "Division Day" and "Some Song," though the A-side was the real treat. As his drummer on his XO tour, Sleater-Kinney's Janet Weiss played this song every night, and every night she said it never failed to make her cry. "Between the Bars" came next, a song that was featured in Good Will Hunting alongside "Angeles," "Say Yes" and "Miss Misery," Smith's only actual commercial radio hit. In this song, Smith sings "drink up baby, look at the stars, I'll kiss you again, between the bars where I'm seeing there with your hands in the air, waiting to finally be caught." It's one of Smith's most touching lyrics from one of his most beautiful songs, which Smith played at almost all of his shows.
"Pictures of Me," was initially my favorite song from the album, as it featured one of Smith's most upbeat, bouncy melodies and a lyric that Elliott wrote about people's reactions to personal impressions of themselves, or so I'm told. But the lyrics seem to make sense in that context: "Saw you and me on the coin-op TV/ frozen in fear every time we appear." Eventually, my personal favorite became "Angeles," most likely as a result of the Sunset Junction show I mentioned earlier. A faint hum opens the song as Smith's fingerpicked guitar gently fades in. In this song, Smith sang of his love/hate relationship with the music industry, which he soon became wrapped up in:
"Picking up the ticket shows there's money to be made/
Go on and lose the gamble, it's the history of the trade/
You add up all cards left to play to zero/
And sign up with evil, Angeles"
At the performance I mentioned before, Smith made it through about half the song before pausing and sustaining the guitar riff after the bridge. He paused and closed his eyes in anguish, seemingly ready to give up until out of his mouth came: "I could make you satisfied in everything you do." It was a victory for our wounded hero, who had, in a moment of clarity, regained his confidence and was determined to make it to the end of the song. That moment of vulnerability and triumph, paired with the aesthetic beauty of the song permanently cemented the song into a special place for me, personally.
But there are two other songs I feel I must mention, "Cupid's Trick" and "Say Yes." The former is the loudest, most noisy song on the record, sharing a lot in common with Elliott's band Heatmiser. For some reason, the lyrics aren't printed in the CD jacket, which seems to imply it doesn't fit in with the rest of the album, but even in its idiosyncrasy, it's one of Elliott's most badass songs. "Say Yes" on the other hand ends the album on an ambiguous, but seemingly upbeat note as Elliott sings, "I'm in love with the world through the eyes of a girl, who's still around the morning after." Though Smith goes through the trials and tribulations of a relationship, in the end it's a sweet, simple, hopeful love song and an essential on any perfect mix tape.
either/or is one of Elliott Smith's most beloved albums and more upbeat than its dark, self-titled predecessor. It's romantic and beautiful and features some of the best songs of Elliott's career. I imagine, at some point, an Elliott Smith "best of" compilation would be inevitable and it's likely that at least half of this album would make its way on to it. "Speed Trials," "Alameda," "Between the Bars," "Ballad of Big Nothing," "Say Yes" and "Angeles" are all essential tracks, though the remaining six are equally worthy of inclusion. Personally, picking favorites is difficult for me, as the album is really perfect as a whole. It's the album that started my infatuation with Elliott Smith's music and, like many other fans, will stand long as my personal favorite album of all time.
Similar albums:
Heatmiser – Mic City Sons
Big Star – #1 Record
Built to Spill – There's Nothing Wrong With Love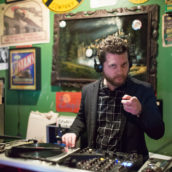 Jeff Terich
Jeff Terich is the founder and editor of Treble. He's been writing about music for 20 years and has been published at American Songwriter, Bandcamp Daily, Reverb, Spin, Stereogum, uDiscoverMusic, VinylMePlease and some others that he's forgetting right now. He's still not tired of it.