Elliott Smith : From a Basement on the Hill
"Haven't laughed this hard in a long time/ if I don't stop now I'm gonna start crying" — Elliott Smith, "Twilight"
Listening to Elliott Smith's final album, From a Basement on the Hill, for the first time, conjures up a myriad of emotions. There's the overwhelming sadness from knowing that it's the last new material we'll ever hear from a gifted songwriter and musician lost too soon. And then there's the joy in hearing it after much anticipation and a year's worth of silence. But there's also the comfort in hearing "finished" studio versions of songs he had been playing live for several years. The opening line in "Twilight" sums it up best — hearing it for the first time feels so good, yet beneath it lies the unbearable grief that Smith fans, like myself, have felt since he died last October.
Certainly, many will be in search of "clues" to his state of being before his passing. But attempts to piece together insight or read the album as a suicide note are frustrating at best. Elliott Smith was always a part of his songs, but he never wrote songs that were so blatantly autobiographical. He, himself, said that his songs were not diary entries. And in spite of imagery that he conveyed in his songs, many of them weren't just about one thing, but more complex compositions that would reveal different things to different listeners. And upon listening to Basement, there aren't any clear answers to questions that we all may have.
What you will find on Basement are some of the best songs of Smith's career. All of them have been staples of Smith's live sets for the past couple years, though this marks the first time any of us will have heard them in studio recorded form, save for "Pretty (Ugly Before)," which was released as a single last summer. At first, the album opens eerily, white noise and a faint orchestra sound for thirty seconds before "Coast to Coast" explodes into the speakers. It's easily one of Smith's loudest songs, all woozy, de-tuned bass and distorted guitar riffage, which may come as a shock to those most familiar with his work on Kill Rock Stars, though he was no stranger to playing rock music, as he turned up the volume on 2000's Figure 8 and was also a member of Heatmiser, a punk rock foil to his early solo work.
Many have already found parallels between Basement and The White Album, as both feature some of the best songs of both artists, albeit juxtaposed oddly, soft and tender songs placed between louder rock songs and more experimental compositions. But in the case of Elliott's songs, they transition well, making for a surprisingly cohesive whole despite major differences in sound. "Let's Get Lost" follows "Coast to Coast," mirroring, almost perfectly, the transition between "Back in the USSR" and "Dear Prudence." The opening notes of "Let's Get Lost" even sound a bit like those of "Dear Prudence." But later on, "Don't Go Down" and "Strung Out Again" return to a louder, almost "Yer Blues" style aggressive rock waltz. The former is somewhat humorous, as Smith sings of a girl "as hard and as cracked as the liberty bell," though the latter teeters between surreal imagery and defeated resignation. The song features "an evil emperor" wearing Smith's clothes and "a parliament of owls flying over a city of canals" though returns to a refrain of "I know how I begin and how I'll end, strung out again," leaving one to question whether the song is a personal reflection or not.
What makes Basement both frustrating and enjoyable is how optimistic it sounds at times. "A Fond Farewell" is one such song, upbeat in melody, sounding like an older Smith tune, circa either/or. Though he sings of "veins full of disappearing ink/ vomiting in the kitchen sink" he comes back with "It's not what I'm like/ it's just a fond farewell to a friend," suggesting the narrator's desire to make something better of himself, which, as evident from Elliott's time spent trying to recover from drug addiction, could have had some degree of autobiographical meaning to it. But it's never easy to tell what exactly Smith meant behind every phrase, as his compositions were often oblique and poetic. He was an artist, and could craft a song with multiple layers of sound and meaning. And underneath each layer was something even more breathtakingly beautiful.
Yet there are darker moments, like "King's Crossing," a leslie-effects laden composition that stands as one of Smith's most impressive arrangements to date. It goes from haunting, spare intro to a huge epic of a song. Lyrically, Smith rattles off various images, saying "the judge is on vinyl, decisions are final" and "I don't care if I fuck up, I'm goin' on a date with a rich, white lady, ain't life great?" It remains ambiguous as to whether or not he's speaking of the "white lady" he sings about on his self-titled 1995 record, or merely some wealthy dame. Later he sings "It's Christmas time and there's needles on the tree/ a skinny Santa is bringing something to me," which may be a tough moment for some, though later he intones, "don't let me get carried away." Once more, he creates imagery so dense and multi-layered, the song could be about any number of things, though it stands as the darkest song on the album, for its references to suicide and heroin use.
After "Ostriches and Chirping," a track of, um, ostriches chirping, the album transitions into its second half, beginning with the quiet beauty of "Twilight," an acoustic number laden with mellotron. It's then followed by "A Passing Feeling," one of the coolest sounding tracks on the album. The piano melody again recalls The Beatles, though the transition between the first and second chorus reverts to rock-out mode, while the outro features a dense, kick-drum heavy fill. "Shooting Star" is undoubtedly the weirdest thing Smith ever released, as Smith layered on so many overdubs, one can easily get lost in all that's going on here, but it most certainly rocks, regardless. "Memory Lane" is probably the simplest, most Elliott-sounding song on the record, short and sweet with the intricate fingerpicking that made his early efforts so memorable. The album ends with a version of "A Distorted Reality is a Necessity to Be Free," albeit one much different than that of "Pretty (Ugly Before)"'s b-side. The lyrics are different, revealing what could be a political lyric ("God knows why my country don't give a fuck"). Yet, the crossed-out, handwritten lyrics on the inside jacket reveal what could have been an even more blatant political statement.
No one knows for sure what the album would have sounded like, had Smith been around to see its completion, though in its form heard here, it's a hell of a record. Chances are, you won't hear a more mesmerizing, compelling piece of music like this all year. It's just that good. Smith's friends Rob Schnapf and Joanna Bolme (who mixed songs on Smith's previous records) finished mixing the album, doing their best to complete the album according to Smith's wishes. Bolme even spoke of her concerns about finishing the record last week on NPR's "All Things Considered.", mentioning a dream in which Elliott teased her about the outcome, though he ultimately gave his approval and proceeded to show off his new van. In a way, it makes listening to the album seem all that much more comforting, imagining Elliott up there somewhere, driving in his custom van, air drumming to the fills in "A Passing Feeling." Though it may be the last new music we'll ever hear from Elliott Smith, From a Basement on the Hill is a fitting final chapter to one of the most influential and impressive musical careers we will ever be blessed to have known.
Similar albums:
Beatles – White Album
Big Star – Third/Sister Lovers
Jeff Buckley – Grace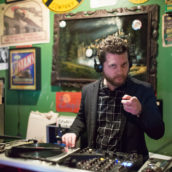 Jeff Terich
Jeff Terich is the founder and editor of Treble. He's been writing about music for 20 years and has been published at American Songwriter, Bandcamp Daily, Reverb, Spin, Stereogum, uDiscoverMusic, VinylMePlease and some others that he's forgetting right now. He's still not tired of it.