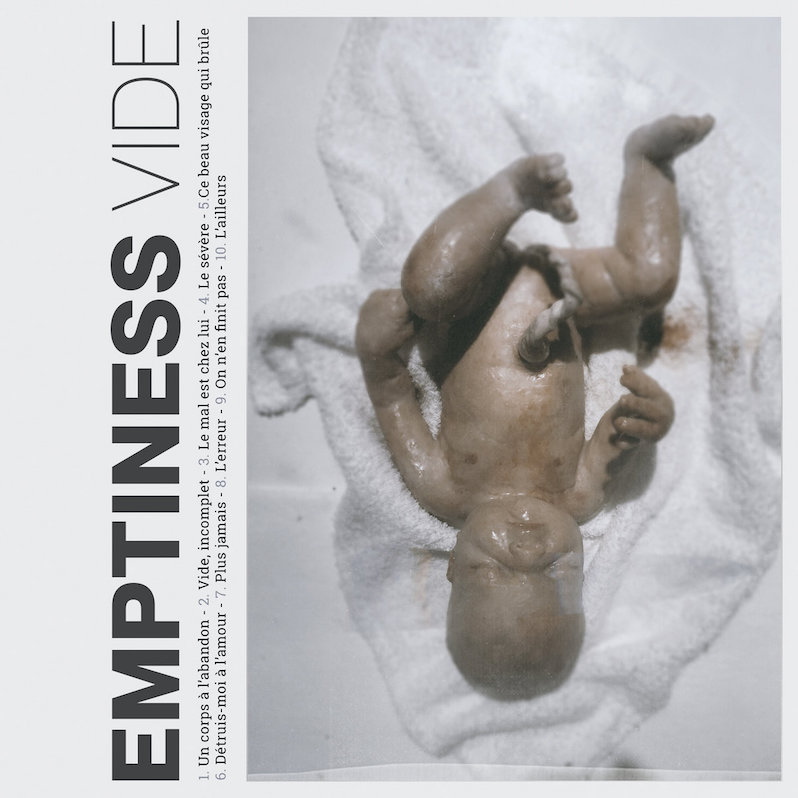 The eerie, cavernous sounds of early gothic rock—from The Sisters of Mercy to Dead Can Dance—provide the backbone for a different kind of sonic darkness evoked by Belgian quartet Emptiness on their lockdown album Vide (which, perhaps unsurprisingly, translates from the French as "empty"). Over the course of six albums, this genre-defying group have strayed from the left hand path of their roots in extreme metal, and set upon new terrain somewhere on the outskirts of experimental post-rock. Black metal purists might potentially be alienated by their remorseless abandonment of traditionalism. And, by the same token, even fans of bands like Opeth and Ulver—both of whom have deviated somewhat from their metallic origins—may find Emptiness' starkly shape-shifting sound completely unrecognizable.
For a band founded in Europe's center of gravity, Emptiness seem to strive to make the listener feel adrift in purgatory, estranged from the outset, deracinated and yearning for something to grab onto. Recorded in isolation in various claustrophobic locations (including a tower block roof, a cramped apartment and a cabin in the woods), Vide ventures into the vast, unexplored fringes of the human psyche, all while the band are, paradoxically, stuck in one place.
As with 2017's Not for Music, Emptiness experiment with bleak soundscapes and industrial textures akin to Einstürzende Neubauten. Instead of metallic harshness and power, there are electrical glitches, droning background noise, and psychedelic wooziness to further displace the listener. To get the most out of its aural delirium, this is an album best enjoyed through headphones, in the dark.
Full of mystery and conviction, "Vide, incomplet" is a clear highlight, with its shuddering gothic bassline and trip-hoppy percussion suggestive of Portishead or Massive Attack. Jérémie Bézier's ghoulish, sotto voce vocals retain some of the menace of a traditional black metal vocalist, yet he substitutes their shrieks and squeals with sinister whimpers. There are venomous, dark thoughts conveyed in the French-language lyrics, alongside notions of existential dread and the yearning for transcendence. Off-kilter rhythmic shifts and twanging guitars are hallmarks of this album, as heard on "On n'en finit pas" and "Détruis-moi à l'amour". Meanwhile, "Plus jamais" and closer "L'ailleurs" fade from pitch-black post-punk into cold, melancholic synthwave.
Despite the absence of thunderous drums, raging guitars, and ferocious vocals, there's no denying that Vide still manages to be a heavy album. As you descend slowly into their abyss of sonic disturbance, Emptiness reach toward a new definition of heavy music, and prove that there are more colors to darkness than just black. 
---
Label: Season of Mist
Year: 2021
---
Similar Albums: