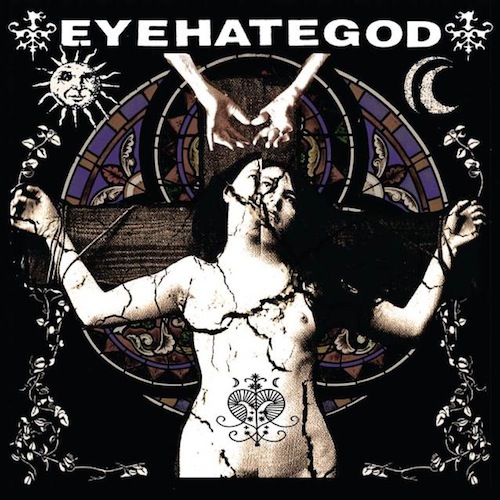 Eyehategod's first album in 14 years begins with "Agitation! Propaganda!" The two exclamation marks may seem a tad excessive, but their necessity becomes immediately apparent on first listen. Punkish barks leap out of a crowd of feedback and noise and deliver a swift uppercut to the gut, as if to demand that you wake the fuck up from daydreams or nightmares. It's a bold statement and the most direct opener of the band's historic career — and for good reason. The last nine or so years have not been so kind to the NOLA legends as their lives have been plagued by addiction, nature, arrests, and heartbreak. Mike Williams' tormented yells agree as he shouts "Lots of luck/It's all been bad," before resigning "Lots of luck/it's all your fault."
That may sound a bit heavy, and it is, but the band has grown wiser and more mature through adversity. Yes, Eyehategod is an incredibly angry album, but it's also a lot of fun. Throughout the band's 20-plus-year career, they've blazed many trails that have sprung up countless imitators; here, they only seem interested in making the best Eyehategod album possible. Most of the chaos is largely controlled in smoky, feedback-laden haze and the grooves twist and contort themselves into something utterly headbangable thanks to Phil Anselmo's production wizardry. The late Joey LaCaze serves as the band's conductor, showing an undeniable sense of enthusiasm behind the kit and directing these doom/sludge/blues anthems to a determined march.
That last point is meant to highlight the sheer variety throughout Eyehategod. Everything is still soaked in piss and vinegar but moments like "Worthless Rescue" sound downright sexy and old-school as hell. Not dated, but classic. "Nobody Told Me" is another highlight, delivering hatred at a snail's pace and with a middle section that is straight-up blues-rock. "Flags and Cities Bound," the album's longest track, opens with a spoken-word sample that chillingly states, "In this place of probation reading the labels of a lead-based paint remover is considered highbrow literature," before busting into all sorts of hell. Eyehategod aren't normally one to wax poetic, but that moment sure does one hell of a job to showcase their maturity. Eyehategod isn't going to change anyone's mind about Eyehategod, but it is a fantastic reminder of why the band is so important in the first place. The riffs have never felt so pummeling, the anger has never felt so well-placed, the gears have never turned so smoothly. If it ain't broke, don't fix it — but maybe open another bottle of piss and vinegar to keep things moving along.
Similar Albums:


Baroness – Red Album


Floor – Oblation


Rwake – Rest