The whole concept behind HEALTH's new project, Disco2 reflects the feel that the Los Angeles-squad is running in place. Glancing at the collaborators who have rewired selections from Health's previous album, Get Color, there resides DJs and producers who reside within the same too-cool-for-school creative vein as does HEALTH. If one is to redo previously-produced work shouldn't you stray as far as possible from your original effort in order to subvert the original? Fortunately, Disco2 doesn't hear HEALTH merely chasing their own tails, as they're able to chase new auditory-rodents up sonic trees.
Crystal Castles have an affinity for noise-rock. Health also have a bent for divisive medleys of stockpiled electronic sounds. Therefore, when the two camps meet up on the remix of "Eat Flesh" the decibal-heavy result is like two super-villains nipping at the cape of docile ambient music. And, despite being found-sound gurus, Brooklyn's Javelin ironically yields the most aesthetically-pleasing track with their simple yet gracefully constructed "In Heat." However, Disco2 can be perhaps best be summed up by "In Violet" which was redone by Salem. While listening to the brooding synths and eerie chants which flicker in the background, I had this thought that HEALTH and Salem should throw a nihilistic Gucci Mane verse on there. No sure why I Gucci seemed so appropriate(brooding and nihilism go well together, perhaps) but I really felt like this song–though easily one of Disco2's standouts–wouldn't be complete without a Gucci Mane verse.
As it turns out Salem has already remixed a track for Gucci Mane("My Shadow") from Diplo's Free Gucci project. Nonetheless, the amount of research that Disco2 catalyzed, completely debunked my original assumption that lingering in the similar creative realms that HEALTH did wouldn't be enough for the band to subvert the work they had initially created. Disco2 goes many places musically and some of those locales, I'm guessing, were reached by complete accident.
Similar Albums:
HEALTH – Disco
Crystal Castles – Crystal Castles
Black Dice – Repo
Video: "USA Boys"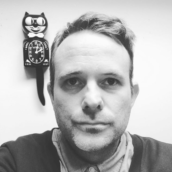 Paul Glanting
If a meteor was just hours away, Paul Glanting would recall that he has been in a Lil Wayne music video and has a 4.7 (out of 5) on Rate My Professor. He is at work on his first novel, Adjunct Megafauna.