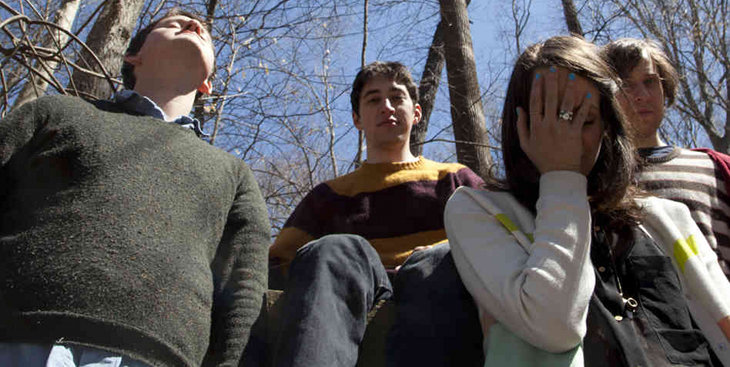 Massachusetts' Speedy Ortiz is an indie rock band in the truest sense of the term. They book D.I.Y. tours, stick to a modest budget, and most importantly, they sacrifice the paint on their guitars for the sake of churning out some intense, high energy and, above all, extremely catchy rock music. The 10 songs on the band's new Carpark-released album Major Arcana are intricately crafted, yet viscerally appealing tracks that feel very much of the moment, yet nod to a long and rich indie rock tradition. Frontwoman Sadie Dupis' voice and candid, witty lyrics have been compared to Liz Phair's, while the group's abrasive, albeit accessible sound can sometimes recall the skewed hooks of Helium, the power-chord punch of Smashing Pumpkins, or the post-hardcore intensity of Unwound.
Watching the band live, you get a sense that the four members of Speedy Ortiz do what they do, simply out of the sheer enjoyment of it. When the band sat down to chat with Treble on their recent tour stop in San Diego, I got an even deeper sense of enthusiasm. Before the recorder even started, Dupuis, drummer Mike Falcone, guitarist Matt Robidoux and bassist Darl Ferm struck up a conversation about some of their favorite San Diego bands, and mentioned that Rob Crow might be doing karaoke down the street from the venue where they were playing. We didn't run into Rob Crow, but we did talk about the band's music, DIY touring, and what kind of awful songs they hear on the radio while on tour.
Treble: How did Major Arcana come together? Was there a specific idea behind it?
Sadie Dupuis: I think I had in mind a certain narrative and sound I wanted to make an album like. And through arranging things together we were able to work that out. Certainly, in terms of content, all the songs are related to each other. And I think because we were working on them at the same time, they have a similar focus and sound.
Treble: What is your songwriting process like?
SD: Typically, I'll write music at home and then sometimes we'll have usually guitar music and whatever else. And then we'll work on things together. Sometimes the lyrics come before; sometimes they come later. Usually it starts with me making a home demo, then us rehearsing it, changing things and tweaking it, everyone writing their own parts and contributing. Then it becomes a thing we try out live for a few months and change, over the course of those shows.
Mike Falcone: If we have time for it.
SD: Yeah.
MF: One of the songs was written very soon before the album was recorded. But most of them were at least a year before we recorded them.
SD: Less than a year, but pretty close.
Darl Ferm: All the songs are played a lot before we record them.
SD: We tried to write as much as we could for this album before going on a U.S. tour last summer, so we could play them live and have a sense… It's really hard to know what the songs going to be before we play it live a million times and have a chance to sort of experiment with it. So there's a lot of that.
Treble: You're known for having pretty intense live shows — does the live play a factor when you're writing songs?
MF: The live versions come first. Except for "Plough," I guess.
SD: The recordings are somewhat of a document of how the live show sounds at the time, with some overdubs. Or like an extra touch.
Treble: Do they change much after you've played them on tour?
SD: Yeah, I think so.
DF: Some of them, definitely.
SD: Some of them are so different now from how we recorded them.
MF: "Gary" is pretty different.
Matt Robidoux: Certain parts are opened, improvisationally. Like the part in "Plough."
SD: I've found, even over this tour, stuff on this album I've changed my guitar parts, just having to play the same songs every night. If we were to record the same album today, I think it would sound totally different than when we recorded it last winter.
Treble: Do you work better with more interaction from the crowd?
MR: Yeah, I think if we're playing in a sterile environment, I dunno, we're just not as invested in it.
SD: This tour has been strange, because we're used to playing predominantly house shows, all ages… I mean, we play venues, but when we've booked tours in the past, we mostly focused on house venues and all ages. And I think we're still playing, maybe, a third or half of the shows that way, but there have been more venues, so we've had to get more creative in our ways to interact with audiences that are lower than us, in altitude.
MR: I think all of our best shows, or what we consider are best shows involve a lot of audience participation.
DF: Yeah, way more than the size of the show or how many people are there.
SD: All of my favorite shows have been just playing on a floor.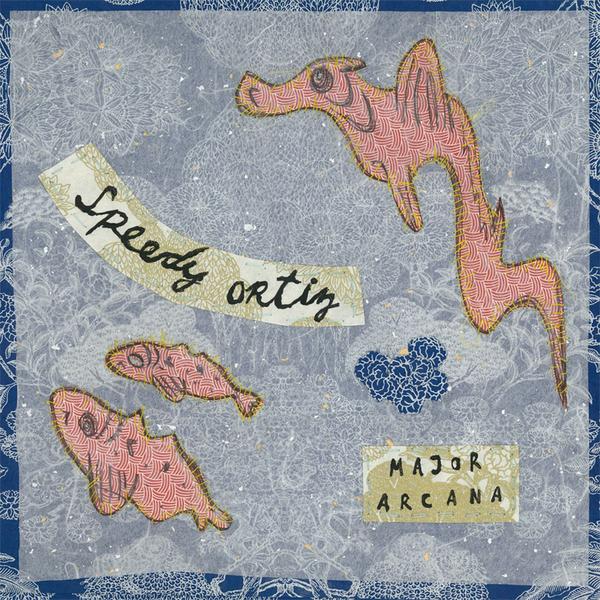 Treble: A lot of the lyrics on Major Arcana deal heavily with vulnerability or being in unfortunate situations – how autobiographical is your lyric writing?
SD: The tone is probably somewhat autobiographical, but they'll take on the shell of another story because I don't really like super diaristic writing. Maybe the tone or the mood is autobiographical, but the package it's put into is borrowed from elsewhere.
Treble: How do you approach lyric writing? Do you keep any journals?
SD: The lyrics are usually secondary and a lot of the time it'll be phrases I've clipped, but I try pretty hard not to have sentences that are totally straightforward. I usually try to play with either the syntax or the scheme of things that makes it fun to read, if someone were pull out the insert in the record, and actually wanted to know what's going on. But I don't think I labor over them too much. A lot of the times it's just sort of automatic, and how can I make this interesting quickly? Or at least that I'm not bored or don't feel stupid singing them.
Treble: So, Sadie, you've been in a Pavement cover band.
SD: But it was, like, three shows. It was just like a, for-funsies, thing.
MR: You have to tell him about our Rapeman cover band.
SD: We're starting a Rapeman cover band, called Drapevan.
MR: Named after Beyonce's drape van. (Laughs) She has a drape van so she can have white drapes and black carpet at every show.
SD: When we get home we're focusing on Drapevan.
Treble: It seems like you have a pretty strong affection for indie rock from the '90s – do you still feel as close to it now as you might have been growing up?
MF: We like all music. We're not really stuck to one specific era.
SD: We screwed up though, because we talked about San Diego bands from the '90s and then we talked about Rapeman.
MF: And that stuff is great.
SD: But we like lots of other stuff. I don't think we listened to a single '90s thing today.
MF: I have ADD when it comes to music. I listen to something for three days and then I won't listen to it again for six months.
Treble: What's the most important thing you look for in music?
SD: I like things that are memorable and unpredictable.
MF: I agree.
SD: Those are my two adjectives of the day.
MR: I think, authenticity… I like music that's trying to do something different.
DF: Genuine emotion, I mean, I hate saying that but… any music that's not totally contrived. Like no one can replicate what that band does, good or bad.
Treble: Any good tour stories?
SD: I know I've been banking something because I knew this question would inevitably come up. Gimme one minute…
DF: This tour's been pretty lackluster in weirdness.
SD: We had some sort of crazy thing happen, and I can't remember what. And I wanted to remember it.
DF: Rob Crow tweeted at us.
SD: Doug Martsch came to a show — that was pretty crazy. He stood in the second row and swayed the whole time. And we were nerding so hard… this doesn't help the '90s thing either.
MF: We look forward to puppies! All the good dogs at people's houses.
MR: Melissa screaming karaoke, that was pretty crazy.
SD: This friend of Matt's that he sang karaoke with, she just, like, screamed through the entire thing. And the kind of redneck-y karaoke dudes did not know what to do with it. I think they wanted to murder you both.
DF: But they really liked Mike's singing.
MF: I was doing Chris Cornell's part, and she was supposed to do Eddie Vedder's part but instead she just screamed.
Treble: Temple of the Dog?
MF: Yeah, "Hunger Strike"!
MR: This isn't helping the '90s thing either.
Treble: What are some of the most important things you've learned or picked up from doing DIY tours?
SD: Not to have expectations or egos. I think we show up to any show without any real expectations of who will show up, and we just try to play our best and play differently than whoever's there so that we have fun and whoever's there has fun.
MR: I think we've gotten better at touring, as time's gone on. I think a lot of that is attributed to DIY. Just trying to tour on a really small budget, trying to make good choices and feel alright when we're touring.
SD: Even though we're spending like, no money.
DF: Bring granola.
SD: Take advantage of anyone who wants to feed us… in a good way!
Treble: How has this tour differed from ones you've done in the past?
SD: The balance of club shows to DIY shows is skewed more in the club zone this time. In some ways that's kind of frustrating. We're talking about our next tour being all all-ages. That's really the shows that we all go to most and enjoy the most. But there have been more people coming. More people know about us and are being really kind to us.
MF: This tour has more free food, somehow. Which is awesome!
MR: People have been reaching out a lot more. And there have been more… Sometimes I feel more psyched to play for people, like it's high school again, and then 20 people show up.
Treble: Different topic, and a fun one: What song do you never want to hear again?
SD: "Livin' La Vida Loca." I decided it's the worst song of all time.
MR: There was a song that came on recently that I said was the worst song ever – oh, "Pretty Fly for a White Guy."
SD: I disagree, I don't think it's as bad as Ricky Martin.
MF: It's not the worst song of all time, it's just awful.
SD: Ricky Martin's is literally the worst song I've ever heard.
MF: All of the worst songs we've ever heard we somehow heard in the last three weeks.
MR: We've heard the worst song ever, like 30 times.
MF: We've been downloading data CDs of torrents of Billboard Top 100 songs of a bunch of years. It's good when you have an eight hour drive. It's a fun thing to listen to it and be like, "This song sucks," or "This song's amazing! I haven't heard it in so long." And sing along to it or whatever. That's our game.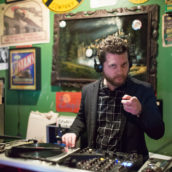 Jeff Terich
Jeff Terich is the founder and editor of Treble. He's been writing about music for 20 years and has been published at American Songwriter, Bandcamp Daily, Reverb, Spin, Stereogum, uDiscoverMusic, VinylMePlease and some others that he's forgetting right now. He's still not tired of it.