Interview: The North Atlantic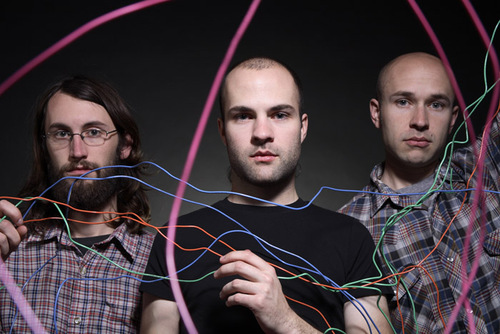 According to The North Atlantic's website, the group is known for their "penchant for textural embellishment and sonic layering." More specifically than that, the band attacks with saber-sharp slashes, parapets of electrical currents, sustained space-age synth effects, and shredding vocals, coupled by a bed of rhythmic grooves and guitar swells giving them a hardcore punk style wrapped in prog rock textures and post new wave artistry. The North Atlantic's scores have a kindred soul with post-hardcore bands like Hot Snakes, Drive Like Jehu, and The Autokinoton, whose songs use each speck of space to project intensity and emotive impulses both forcefully and subliminally. The music has complex designs, implementing techniques that are both scientific and passionate, erecting montages that are as grand as the name of the band themselves.
Born out of Kalamazoo, Michigan, the three lads of The North Atlantic, Jason Hendrix, Cullen Hendrix, and Jason Richards came together in October 1999 at Kalamazoo College where they found in common each other's love of hardcore, metal, and pop music. They were strongly inspired by what they heard from other bands and began creating their own individual artistic musical expressions.
"We use a lot of different guitar amps and effects for voices and guitars," bass guitarist, Jason Richards conveys, "I think that they are easy to get good sounding spacey or overdriven or dubby sounds out of. I think that it ends up sounding more natural than just using computers or even hardware because it actually puts the sound into a space before it gets recorded. Space is important."
Space is The North Atlantic's canvas and their instrumental constructions are the brush strokes that make their monolithic images. JR reflects on the first original song the band ever composed. "Uh, was it 'Last Horse?' I can't remember. I remember feeling excited about having written our first song. I thought that it was a pretty good one. We don't really play it anymore."
Their first song showed the band how they fit together, Jason Hendrix at lead vocals and guitars, Cullen Hendrix playing the drums, and Jason Richards on bass guitar. Richards chronicles how the band members converged, "The brothers were forming a band in Kalamazoo and they needed a bass player. I had met Jason a day or so before I tried out, and we talked about music and stuff and just sort of became friends. I tried out with them and things seemed to work so we went with it. Then Cullen showed everyone his boner. I'm not sure how it made me feel but I know it made me dive behind a parked car."
The meeting was a rite of passage for Jason Richards and much more than anyone needed to know about them. Trust was made that day among the band members and afterwards, the making of their songs and the choosing of the band's name became a collaborative effort.
"My uncle used to be a fisherman out on Georges Bank," Richards says. "It's named for him. No, I don't remember who came up with it at the round-table, band-naming summit held in Cullen's kitchen but we all agreed on it. I think mostly because it sounded big to us and foreboding, but also because the water is so damn cold, and that's how we like our beers—ice cold."
Finding a winter chill is not a problem up in Michigan, but can be a challenge in San Diego where The North Atlantic currently reside. They have released two albums, their debut LP Buried Under Tundra (ApplePi Records) and their sophomore release Wires In The Walls (We Put Out Records), each displaying a dynamic range within abrasive textures and extreme volumes.
The images projected in Richards' words serve as an analogy to what lays in the heart of The North Atlantic's songs — balancing human needs on a very fragile support foundation. Their songs project metaphors using music passages like the arrangement for "Drunk Under Electrics" as the lyrics fire off: "I am drunk under the electrics/ Stumbling, scrambling, screaming at the top of my lungs/ If I never said another fucking word would I just disappear?/ Happy bruised fucking year/ And we walked, a picture fuzzy focus/ We were climbing through the street lights/ With our lives on our tongues/ And each word we said beside the airport slowly dissipated one by one."
"I think that our backgrounds make us choose the notes that we choose," Richards says. "Lyrically, I think a lot of our songs, of late, deal with the idea of there being a God and the future." But just as Jason R. comes closer to the wounds from which the lyrics and instrument phrases come from, he deflects comfortingly, "and problems with having a hot dog stand on a pontoon boat."
The lyrics run like the choppy waters of the Arctic Ocean, navigating through a stream of consciousness. With a little help from their friends in The San Diego Drunkards Chorus, the vocal acoustics echo into a grotto of copious channels of sound waves. The words have a personal meaning for the band members. Jason Richards discusses how the words and music text are inspired from their individual backgrounds – the lives that they led through childhood and the experiences they encounter today.
"I grew up mostly in Michigan," he shares. "The other guys grew up in Michigan and in California. I know that my environment growing up was very encouraging toward all good things I was interested in."
A perennial optimist, he provides, "I began playing music in the fifth grade with the recorder…which was terrible," he grimaces, "I hate the recorder and I'm still not very good at it today. So I gave up music until I was a junior in high school, which is when I picked up bass. I'm pretty sure that Jason H. started playing guitar when he was pretty young, and I think that Cullen started playing drums early in high school.
"I was in a musical in the fifth and sixth grade," Richards adds. "Other than that I didn't really have any (musical experiences) until high school." He recalls, "Other than the radio and tapes and CDs. Jason H. played in bands all through high school. I think that he and Cullen were in a band together sometime around 1997 or 1998 in Fresno."
Back in the present, the band has spent much of their time together touring alongside the likes of Criteria, Planes Mistaken for Stars and Cursive. During that time, the trio has found themselves in odd situations such as thinking they "were going to get 'Deliveranced'" in Arkansas and spending the night in a wasp infested attic. On the more positive side, the band counts a gig with Planes Mistaken for Stars in Denver at Monkey Mania, as a high point. Richards describes the show as "electricity arcing between heads, 100 degree heat, tons of people and booze, lost articles of clothes, it was an awesome time."
The North Atlantic have managed their tours D.I.Y. style, like a caravan of good buddies who watch each other's backs. Jason Richards credits the success of the band's tour to families, friends and other loved ones who have encouraged them to keep going.
He blushes, "I don't know, I think we also encourage ourselves a lot. Our friends Jason Clark (producer) and Ben Moore (engineer) have helped us out a lot with our recordings. As far as tour is concerned, touring is something you just kind of have to do. There's no getting around it…and I'm not really sure why anyone would want to get around it. D.I.Y. touring can be tough, I guess, but you meet so many nice folks on the road that the more you do, it the easier it gets."
Today, The North Atlantic's booking agent Bojan Jovanovic of NoiseProblem.com, keeps the trio playing shows consistently, though the band's first concert ever was something they put together with their own ingenuity. It was back in 1999 at Kalamazoo College where they performed together for the first time.
"We played on the quad at the college we were at in Kalamazoo," Richards says. "I think that we had five or so songs at that point. It was certainly fun to play outside. I remember that and also that it was sunny."
The North Atlantic's first show is one of those keepsakes moments for Jason Richards who has been adding to his collection of good moments. Most recently, The North Atlantic added to their collection of good things when they performed at 2006's SXSW Music Festival alongside their record label mates Patent Pending and Stretch Arm Strong.
The last six years has not only been about making albums and touring, but The North Atlantic can also tout other accomplishments like Jason Hendrix graduating from the School of Art Institute of Chicago, and Cullen Hendrix spending an exciting summer in Norway. But no matter how long the band members spend apart, there is a magnetic force that draws them back together and allows them to share each other's new experiences. While dispersing is a sign of dismembering for other bands, The North Atlantic have made it an opportunity to become stronger as individuals and as a band.
"Why is there such an easy sharing quality in this band," he reiterates, "Well, I don't know that being apart helps us directly as a band. It does allow everyone to explore different interests both musical and non-musical, which adds to the music that we write and to us as people. There is an easy sharing quality in this band, basically because we know each other really well. It's easy to share musical ideas with people you know. You don't really even have to talk about it."
The warm ups before a show are also a time of exchange between the band members. "We usually just get all the songs we want to play on a list and play them a few times working on the feel of them," Richards says, adding cheekily, "The rest of the time is spent at the sewing machine working on the outfits."
Having a good fashion sense also prepared The North Atlantic for their debut music video directed by Ryan Renteria. "Ryan actually approached us," Richards says. "He's a really, really nice guy so the whole thing went smoothly. This video was for 'Bottom of This Town' and some of it was shot in a sound studio and the rest was shot around San Diego. The whole experience was good. Like I said Ryan's a really nice guy, and he made filming a video which is a strange experience, really easy to do."
With a newly released music video and a tour that is still taking The North Atlantic across America and Canada, their experiences have come with some lessons that Jason Richards shares with aspiring musicians. "It sounds dumb, but just keep plugging along," Richards says. "Make a song. See what you like about it. Change it or keep it. Do what you want with it. After all, we get to make records." Then he adds fatuously, "Are you kidding?"
The coming years will see the band growing, dispersing, marrying their girlfriends, having kids, traveling the world over and over, but like the Summer Solstice, The North Atlantic will assuredly come back together after each phase and surface with a new product from their many experiences.