Justin Timberlake : The 20/20 Experience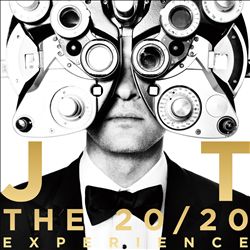 In the waning years of the last millennium, Justin Timberlake was on top of the world. His group N*SYNC essentially took over pop music, selling millions of albums and smashing records. At the heart of it all, N*SYNC was bubblegum wrecking ball, powerful enough to crush other pop groups in their path, but often, whether mistakenly or not, considered too shallow for seasoned music fans.
In the early '00s, Timberlake split from N*SYNC and released his first solo set, (the horribly titled) Justified. With that album, something peculiar happened. It was…fantastic. Timberlake successfully navigated the crossover appeal from boy band heartthrob to solo stardom. Although still a sugary sweet pop record at its core, Justified displayed songs about heartbreak, loss and recovery. No doubt, this was a deeper and more refined side of Timberlake. Lightning struck again in 2006 with his second solo offering FutureSex/LoveSounds, which, thanks to the massive hit "SexyBack," managed to commercially surpass his first record. To date, Timberlake has sold more than 30 million albums, scooped up six Grammy awards, and received near universal adoration.
But for the better part of the last six years, Timberlake has all but disappeared from music, instead, choosing to focus on his burgeoning career as a Hollywood actor. Oh, and he recently married his longtime girlfriend Jessica Biel. Yeah, that Jessica Biel. So it was with great surprise earlier this year when Timberlake announced he would be returning to music. With the aptly titled new album The 20/20 Experience, Timberlake makes his triumphant return to the sexy pop music that made him a star in the first place. And accompanying him for the ride is longtime collaborator Timbaland, whose role is as vital to the album as Timberlake himself.
Musically, The 20/20 Experience sounds like you might expect it to. Timbaland's futuristic electro space-pop is peppered throughout, rarely granting the listener relief from the dance floor in his or her head. Opener "Pusher Love Girl" is a smoldering Timberlake classic, and "Suit & Tie" largely follows the same formula, albeit with an awkward guest verse provided by Jay-Z. "Strawberry Bubblegum," meanwhile, showcases Timberlake's signature falsetto croon that hasn't lost its effectiveness. Brash sex appeal is still a part of the Timberlake repertoire, which is especially noticeable on "That Girl," and the exhibitionist anthem "Dress On." And the synth heavy "Spaceship Coupe" and soul inspired "That Girl" are true standouts, even by Timbaland's high standards.
However, there are some missteps, most notably in its unnecessary sprawl. Songs regularly last longer than seven minutes, which isn't generally standard practice on big pop albums of this kind. Although it's a bold idea, most of the songs reach a good stopping point after roughly five minutes, leaving the additional music feeling tacked on. Even Timbaland's crafty production can't make the majority of the extra material feel cohesive, let alone exciting. The 20/20 Experience also suffers from sequencing issues that leave it feeling over-indulgent. "Let The Groove In" has echoes of a Gloria Estefan leftover, while the contemplative ballad "Blue Ocean Floor" sounds completely out of its element on an album full of upbeat pop.
The 20/20 Experience, nonetheless, is a return to form for both Timberlake and Timbaland, the factors that made their previous work so enjoyable all present and accounted for. JT's signature falsetto croon combined with Timbaland's infectious production make 20/20 sound familiar, but plenty satisfying. In spite of the album's occasional bloat, Timberlake is back (with Timbaland) doing what he does best — wrecking the dance floor.
Similar Albums:


Justin Timberlake – Futuresex/Lovesounds

Frank Ocean – Channel Orange


Prince – Musicology