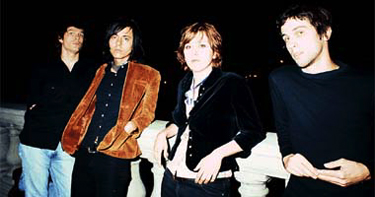 Hailing from Portland, Oregon, Lion Fever is one band that you should be keeping your eyes on in 2005. With a unique sound that is etched with the aesthetics of such artists as PJ Harvey and Gun Club, Lion Fever take their sound to a whole new level on their debut full-length Haunted Water on Dim Mak Records. The mood of the album swings anywhere from gothic cabaret all the way to a dark, razor sharp punkabilly ruckus, as fronted by the lethal voice of front woman Jennifer Pearl. Recently Pearl checked in with Treble to tell us the origins and influences of Lion Fever as well as the hopes and plans for the future of this up and coming quartet.
Treble: How long have you guys been together? When and how did you meet?
Jennifer Pearl: This incarnation is coming up on its one year anniversary. I met all of the new members through a dating service. It's very difficult to meet people in LA, you understand.
T: How do you see the music scene today in Portland? Have you been in any way influenced of feel like a part of something happening with other local contemporaries such as the Decemberists, Dandy Warhols, etc.?
JP: Don't really know, I haven't been there for a year. Dandy who? Andy Warhol is a big influence on my personal aesthetic.
T: A lot of people say that your sound can resemble such artists as PJ Harvey and Gun Club. Who do you see as some of your musical influences? Who was it that made you want to pick up an instrument and start playing and/or singing?
JP: The Gun Club is an obvious comparison seeing as how we covered one of their songs on our first EP and yes I personally am very influenced by them. Others I would site are Can, Spacemen 3, Birthday Party, 13th Floor Elevators and vocally Sam Cooke and Eric Burdon. The first instrument I picked up, literally off the ground, was an abandoned penny whistle. It was shiny. Later, I believe it was Link Wray who really made we want to play guitar.
T: The one thing that makes Haunted Water so stellar and unique is the steamy vocals and the proto-punk meets dark psychedelic angle. What is it as an artist that you try to express in your music?
JP:I can only chalk it up to a relentless series of broken hearts, all of them mine.
T: Has there ever been any other artist and/or band that you have toured with that you felt very fortunate to be on the same bill as?
JP: Absolutely, for the first time we have been able to tour with a band we have felt both complemented by and in awe of, the Bellmer Dolls of NYC. We are playing this entire tour with them and quite frankly feel honored.
T: Have you been overseas yet? If so what kind of reception have you gotten from fans over there?
JP: No, we haven't been over there yet but our record will be out on Sweet Nothing in the UK/ Europe and touring abroad is first on our list, I think, yes, first. I don't know, I can't remember, I lost the list.
T: Any wild, weird, funny, or memorable stories of things that have happened on the road?
JP: We deny everything. Nobody can positively identify any of us.
T: Is their any recent album out there right now that you can't get enough of?
JP: Bellmer Dolls Never Sates nor Palls, White Magic Hurt or Healing EP, Devendra Banhart Rejoicing in the Hands