Major Lazer : Free the Universe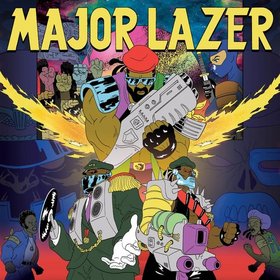 Buy at iTunes | Buy at Insound
Four years ago, Major Lazer's Guns Don't Kill People, Lazers Do appeared as a largely successful experiment in bass music with jumpy instrumentation and often filthy ulterior motives. Production kings Diplo and Switch took a break from working on other artists' albums to team up in this construct that served as both an electro- and reggae-tinged group and an outsized bounty hunter/playboy myth. It was also a rare instance where Diplo — regularly cast as the worldly, photogenic curator/huckster, often by his own hand — wasn't the actual center of a particular musical universe, be it song, album, or genre. Switch chose to reduce his role on second album Free the Universe, so the results developed by Diplo and a veritable cast of thousands (instead of just dozens on Guns) are longer, more varied, more dense, and yet somehow less appealing than those on its predecessor.
Free the Universe sounds like a few different albums smooshed together, for a few different reasons. At times it feels like Diplo in a variety of guises: guiding a little new-school reggae here, producing a little dubstep there, mixing a little forceful house elsewhere. It also could feel like releases from other artists and genres represented across the playlist: wobbly indie divas like Peaches and Vampire Weekend's Ezra Koenig (ha!), maybe a dancehall comp centered around Shaggy, maybe an EDM mix with Flux Pavilion and Laidback Luke. When push comes to shove this most often resembles a decent Santigold or Vybz Kartel album. These two deliver some of the more memorable vocals on opening track "You're No Good." Every guest who sings and toasts afterward, including Dirty Projectors' Amber on the heavily pushed single, "Get Free," sounds like a stand-in for them.
Remember how Santigold also helped start off the last album—"I'll make your jeans vibrate like a Nokia"—and even for music focused on the booty in all its forms you'll notice a pronounced absence of verbal magic, with few standout lyrics and vocal samples. "Mashup the Dance" comes close, but most of the other beats and loops in stuff like "Wind Up" or "Bubble Butt" don't have the kind of dancefloor-earworm intensity that "Pon de Floor" brought. There's also nothing here with the breezy summertime-hit aura of "Keep it Goin' Louder," and for an act rooted in island and club music that's inexcusable. It all suggests a rare moment where Diplo is simply unfocused. Free the Universe has a wider range of sounds than on Guns, so fans of Diplo's versatility will be suitably, happily bewildered. But Major Lazer here is a much easier target than before, apparently loaded down with too many poorly chosen weapons—a good soldier strong enough to storm the dancefloor but not swift enough to survive.
Similar Albums:


Spank Rock – YoYoYoYoYo


Santigold – Santigold


M.I.A. – MAYA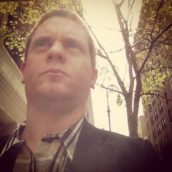 Adam Blyweiss
Adam Blyweiss is associate editor of Treble. A graphic designer and design teacher by trade, Adam has written about music since his 1990s college days and been published at MXDWN and e|i magazine. Based in Philadelphia, Adam has also DJ'd for terrestrial and streaming radio from WXPN and WKDU.