Major Lazer : Guns Don't Kill People…Lazers Do
DJ/producers Wesley Pentz and Dave Taylor—Diplo from Philadelphia and Switch from London, respectively—initially crossed paths working on M.I.A.'s debut Arular, then both showed up again on Kala as well as Santigold's self-titled first album. Convinced this was more trend than coincidence, they started hanging out and eventually thought of putting together a musical project of their own.
Their choice to focus on dancehall reggae, while understandable in light of their production work for the two worldbeat divas and especially in Diplo's case with his globetrotting cratedigging at favelas and beyond, was probably on par with the Beastie Boys first choosing to explore rap way back when. Besides, white-boy reggae doesn't have a very good track record: Snow, anyone? Thankfully, Diplo and Switch have mental skills to pay the bills, and made a ton of good decisions in putting together Guns Don't Kill People…Lazers Do.
They first hid behind the manufactured personality/stage name of Major Lazer, seemingly a reflection of Dos Equis' Most Interesting Man in the World, part party animal and part zombie-fighting mercenary. Then they hunkered down in Bob Marley's legendary Tuff Gong studios to further legitimize the beats, letting a squadron of guests passing through Jamaica and in their own contact lists handle all the vocals.
Major Lazer pull off traditional-sounding tracks such as Santigold's vehicle "Hold the Line," but even here there are quirky touches like weird triggered samples of giggles and braying horses surrounding a spectacular lyric hook, "I'll make your jeans vibrate like a Nokia." "What U Like" punches up the hot-sex quotient, with Einstein getting all Penthouse Forum on a bedroom partner. "Cash Flow" features Jah Dan serenading his finances over Major Lazer's slow-jam beats, while Nina Sky and Ricky Blaze help transform "Keep it Goin' Louder" into a legitimate contender for Top 40 radio play.
It's not easy to make this music of dark clubs and sweaty nights feel bright, but even the stuff casual listeners might hate about dancehall is guided into the realm of fun by Diplo and Switch. "Pon de Floor," for instance, layers jaggedly sampled yells and Vybz Kartel's thick patois over spare drum loops, and it would be stereotypically annoying if it weren't so damn catchy. The quickie song/skit "Baby" applies AutoTune to an infant, and "Mary Jane" rises above the level of most marijuana-related songs with Mr. Evil and Mapei making comic nods to both Alicia Keys and Austin Powers.
Guns Don't Kill People…Lazers Do ends up being a tightly constructed collection of stereotypical and atypical club reggae tracks, like pages of a coloring book alternately drawn inside the lines and wildly around and through them. Major Lazer may not look like the real deal, but they're able to sound like it.
Similar Albums:
M.I.A. – Kala
Santigold – Santigold
Vybz Kartel – The Teacher's Back
Download at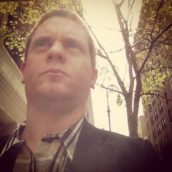 Adam Blyweiss
Adam Blyweiss is associate editor of Treble. A graphic designer and design teacher by trade, Adam has written about music since his 1990s college days and been published at MXDWN and e|i magazine. Based in Philadelphia, Adam has also DJ'd for terrestrial and streaming radio from WXPN and WKDU.