New Order : Waiting For the Sirens' Call
There's a very specific moment when you know you're listening to a New Order record. It's not when you hear the guitars or keyboards. It's not when you hear the beats. It's not even when Bernard Sumner starts singing, although that would give it away. It's all in Peter Hook's bass — once those high, effects-laden bass notes are hit, you know you're listening to the Mancunian legends. That very moment comes two minutes into the first track of "Who's Joe?", the opening track of Waiting for the Sirens' Call, the band's newest album. Up to that point, it sounds like the work of any number of Manchester-based bands besides New Order, as the guitars and cinematic arrangement give the song more of a Britpop sound than we're used to with the group. But during that chorus, everything falls into place. Thank you Peter Hook, you just got me excited about listening to you and your mates again.
Really, I was excited as soon as I heard there was a new album coming out, but hearing it makes it even harder to contain myself. I grew up listening to New Order, dammit. They were one of the first cool bands I remember hearing, thanks to my import single-obsessed siblings. And now, 25 years into their career, the band has put out another fantastic set. And though the album sounds primarily the way a New Order album should, it also displays the band aging well. Instead of recycling old beats, they've taken the elements of their best songs and allowed them to evolve into something more contemporary but no less memorable and classic than before. And of course, Hooky's basslines are there to reassure us that this is, in fact, a New Order record.
At first, "Who's Joe?" sounds a bit more like an epic rock song than your typical New Order fare, as does "Hey Now What You Doing" to a lesser extent, the band opting for something more like a single there. But the title track immediately brings to mind the good old days of Low Life and Brotherhood. It's catchy, poppy and pushes Peter Hook's bass forward even further. Oh, how great it sounds! The first single, "Krafty" has the same melodic magic of a "Love Vigilantes" or a "Bizarre Love Triangle." And when it seems as if the band has settled comfortably in this guitar-centric mode, the electro-dub track "I Told You So" reveals the inner dance diva within the band, a side that had been temporarily put to rest on Get Ready.
Things shift dramatically with the sixth track, "Morning Night and Day." Washes of synth blanket the track during the suspenseful opener, eventually being traded for fat pulsing bass synth and a driving rhythm. The chorus, however is where everything comes together, as heavy guitars crash beneath Sumner's cry of "I just want some action/give me satisfaction." It should be noted that Barney's lyrics have been sharpened on this disc, as all of the awkward kinks of Get Ready (remember "Slow Jam," anyone?) have been ironed out. He still subscribes to the Marc Bolan school of brevity, but manages to say more by keeping his lyrics simple.
The longer you listen to Waiting for the Sirens' Call, the more it seems like side B is the "dance" side, while side A is the "rock" side. Just listen to the disco pop tune "Jetstream," an infectiously danceable tune that couples Sumner with Scissor Sister Ana Matronic. And "Guilt is a Useless Emotion" is further evidence of this dichotomy, the only track here that resembles house music in any way. In comparison to the rest of the material, it's the one song that sounds a little out of place and a little dated. However, the whole rock vs. dance theory comes to a screeching halt as "Turn" queues up. Building a melody around acoustic guitar strums and a shimmering lead, it sounds more like the work of a band like The Delays than pioneers of dance music.
"Working Overtime," a raucous, riffing rock `n' roll song, wraps up this neat little package. One of the album's best tracks, it borrows more from The Stooges than anything resembling the band's earlier material. Nonetheless, it's awesome, and brings an end to yet another fantastic New Order album. Get Ready may have been the catalyst that got the band in our regular rotation again, but Waiting for the Sirens' Call is the album that will keep them there.
Similar albums:
New Order – Low Life
The Delays – Faded Seaside Glamour
Doves – Some Cities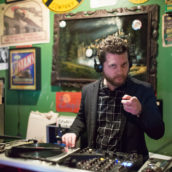 Jeff Terich
Jeff Terich is the founder and editor of Treble. He's been writing about music for 20 years and has been published at American Songwriter, Bandcamp Daily, Reverb, Spin, Stereogum, uDiscoverMusic, VinylMePlease and some others that he's forgetting right now. He's still not tired of it.