Of Montreal : Lousy With Sylvanbriar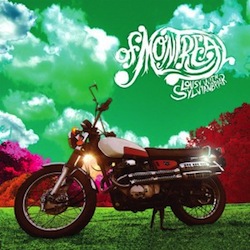 Buy at iTunes | Buy at Insound (vinyl)
Lousy with Sylvianbriar, Of Montreal's 12th album, could almost be described as a sloppy concept album, tied together by what we see in the borderline psychedelic cover art: a motorcycle parked on a patch of grass, handle-bars tilted to a casual angle, a couple of well-placed lens-flares suggesting something sunny about the machine, which is presented against the backdrop of purple trees and a green-skied world. It's all kind of chlorinated — it reeks of chemicals. It seems cold and unfriendly. And those are concepts mused on and threaded like a wafting, poisonous cloud throughout the album, from the highlight opener "Fugitive Air" and the sultry "Obsidian Currents" to the mumbled wasteland-bleak "Colossus," to the melodically redundant "Amphibian Days."
Kevin Barnes, sole Of Montreal fixture, doesn't want you to get comfortable. Like, ever. He wants his music to disrupt your expectations about art, words, ideas, and music, especially his music. If you thought this studio album would resemble the last (Paralytic Stalks), you're either as high as one of the songs' narrators or as confused as the lyrical mazes that populate the album.
While the standard Of Montreal furnishings are present in Lousy With Sylvianbriar—discordant instruments that crash together in an inexplicably pleasant way and stacked harmonies that reach for the high notes, giving the album that signature Kevin Barnes feel—this album is . . . just . . . different. It's as much a reflection of what Barnes was listening to (Bob Dylan, Neil Young, Rolling Stones) when he took to the studio to record in analog, as it is a stretch to tread new ground and explore musical territory not yet covered in his vast back catalog of sunnier, indie-electro pop.
And it succeeds.
"Fugitive Air" gallops out of the gate, built with layered guitars and an ample amount of slide-guitar, clanging, sloppy drums, and crunchy vocals. The lyrics chant about grotesque scenes that can only be described as a bad acid trip—"Now her grandson swings a living rabbit by the leg / while his mother's playing two wooden flutes / I went to repo some fugitive air to escape the street's vagary aesthetic." There's a definite Rolling Stones influence in the track, which makes it digestible if not fascinating.
"Obsidian Currents" slows the pace with a prominent bassline, keys and affected guitars that smolder beneath a black sky invoked by the track title, setting a smoky tone to the number. The last stanza seems to encapsulate the very picture of what the album points to as the reason for today's social malaise, the cause of the modern wasteland: "You're so lizard-like you don't feel any passion for anything but yourself."
Of Montreal has always been a fascinating experiment both musically and lyrically.  Barnes has made it his mission to toy with the structure of words in a way that's been as astounding as it has been somewhat alienating. And while Lousy with Sylvianbriar is a welcome venture away from the Bowie-influenced, electro-pop sphere, there's something more inaccessible about it than any of Barnes's previous albums. Its dark and disturbing and there are innumerable accusations leveled at the vapid, vacuous people comprising modern society, from the online obsessed world of egocentric, self-aggrandizing web-obsessed people, to whomever is responsible for protecting school-children from mass-shootings
In short, the main pleasure here is in the mutual descent of the listener and Barnes into a depressed spiral with a kind of fun soundtrack, and also into hell. If hell is modern society. Which it is, according to Lousy With Sylvianbriar. The album is a fatalistic, nihilistic experience, accompanied by some intriguing and surprising instrumental forays that gloss over the reality of the ugly nature of what we're witnessing: the decay of the modern world.
Similar Albums:


Rolling Stones – Sticky Fingers


Ariel Pink's Haunted Graffiti – Mature Themes


Neil Young – Harvest