On 'Contempt', Couch Slut Threw It Back In Our Faces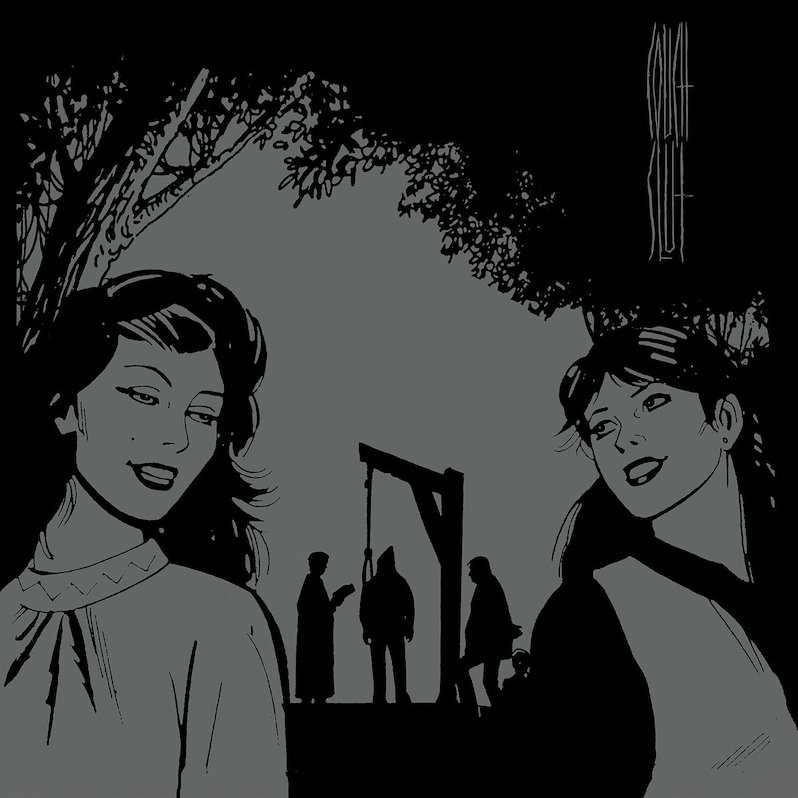 Give the People What They Want is a recurring feature and editorial experiment in which Treble explores individual albums as suggested by Patreon supporters. The albums are all over the map—albums we know and love, albums we like but from artists we don't know that much about, and some that represent an entirely new avenue of exploration for us. Every few weeks, we will dive deep into albums that, by and large, have yet to be canonized.
---
At first glance, Couch Slut seem aggressively unsavory. And they certainly are, from their album artwork to their song titles and lyrics, let alone the noise itself. But they're much more than just intentionally shocking. Once you get past a couple seconds of screeching feedback, the first sound that confronts you on Contempt is a nearly unrecognizable saxophone, skronking like a dial-up connection tone gone off the rails. And that's just scratching the surface. Speaking to Invisible Oranges about their surprisingly diverse instrumentation they said "nothing is off limits," and that applies to the band's approach writ large.
Couch Slut has always been a noise rock band. It's a distinction to make in large part because of the near holiness of the NYC noise rock scene, for which they carry a big torch. But it's also a misleading one—Couch Slut are not simply the scions of Sonic Youth, Swans, and Unsane. Above any of those influences, the band claims Chicago's The Jesus Lizard and San Francisco's Oxbow (from whose lyrics they take their name). But all that aside they mostly share bills (and a label) with metal bands. They are just as much on the roster of the NYC experimental metal scene, holding company with the likes of Pyrrhon and Imperial Triumphant.
Despite the deluge of references made above (and in 2017 in the reception of Contempt), Couch Slut remain defiantly independent and undefinable. The band was once asked in an interview with Alternative Control how they fit into the NYC loud rock scene, to which Megan Osztrosits simply replied: "Fuck New York." But when asked about their Steely Dan cover for a split with The Microwaves, Theo Nubel waxed poetic about "The Dan" for quite some time, including an extended lyrical reference. 
While Osztrosits is a striking lead for the band, it was originally borne of Amy Mills' and Nobel's friendship. They wanted to form a noise rock band, later recruiting "The Kevins" (Wunderlich and Hall), and Osztrosits, whom they had to persuade to front. Mills took a brief hiatus from the band shortly before they recorded Contempt, later returning for 2020's Take a Chance on Rock n Roll. But her presence is prevalent—several of the tracks on Contempt are longtime live favorites that Mills helped write.
During live performances Osztrosits can usually be found in the audience, sometimes somberly facing the stage, sometimes stalking the edge of the crowd. Her lyrics are direct and graphic, and her performance is often more re-enactment than exposition. The way she contorts her voice is nearly as graphic as the trauma she recounts, and she brings the listener along to relive it. Her writing and delivery evolve dramatically on Contempt, refining into something significantly more listenable while still retaining the brutally raw attack.
The jump between My Life as a Woman and Contempt was almost entirely aesthetic: better production, even more varied instrumentation, and a tighter performance overall. Thematically, even spiritually, the band remained much the same. That arc continued on 2020's Take a Chance on Rock n Roll, with even punchier tracks. But Contempt is an outlier in that they recorded it layered, tracking each part separately rather than playing live together. My Life was recorded with a single microphone in the center of their practice room and Take a Chance was also recorded all together, for which at least some of the members have expressed a preference. That means the smoother production style that helps Contempt stand out as a record are somewhat aberrant from the spirit of the band. And yet as a set of songs Contempt still feels very alive.
"Funeral Dyke" rips the album open with pummeling riffs. Eventually the pummeling shifts into a melodically soaring cascade, which so starkly contrasts the angular noise riff that returns at the end that the song feels like a proper overture, medley-style, introducing everything on offer for the rest of the album. In fact the end transitions so seamlessly to the second track, "Company Picnic with Dust Off," with hardly a 2-3-4, that without paying attention it's hard to discern the break. The first 10 minutes of the record fell like they could either be one track or five, rather than two. More than anything this speaks to the live feeling of Couch Slut's energy, even in the studio.
There's barely a breath, but enough to signal a clean break before the third track "Penalty Scar" introduces the idea of melodic feedback to the record. I think Kevin Wunderlich is actually playing notes, but the way the distortion of the guitar squeaks into a new register produces a sound that feels barely musical while still fitting into a technically stable chord. Maybe it's not that complicated, it's probably not, but it feels like magic.
"Summer Smiles," finally takes the guitar feedback over the edge. It sounds like a deranged robot trying to whistle, while only partially understanding the concept. Just when it seems like the sound can't get any more tense, Osztrosits' comes in groaning through clenched teeth. It's horrific. Osztrosits, describing sexual violence in fairly graphic detail, says almost as an aside "the whole thing was quieter than I expected" right before a true melody comes in on a dime, a huge swinging riff. Osztrosits' register is flung high as she screams "goddamn," punching perfectly into the riff's offbeat. It's simple and effective and feels like an invitation for mutual release to those who are willing to sit through those grueling first three minutes, and of course to those who relate to it.  
Some music is made by choice. So much of metal (and adjacent) music in particular is often performative, a facade. That's no insult, most of it is highly impressive or at least entertaining. But Couch Slut takes things to the opposite end of the spectrum—Contempt feels more like a pressure release valve, like this shit has just built up and there's nothing else to do with it. There is nothing abstract or imagined here. The gore on stage with Couch Slut is the gore of human misery.
All along Couch Slut have been masterfully balancing emotive melody with jarring dissonance, pit-swirling riffs with body-horror gristle. But Contempt hit the sweet spot of accessibility. It's the balance between grief and rage, evocation and catharsis that makes this album stand out. Though it must be noted these are binaries valuable only in description, that Couch Slut use to demonstrate the false dichotomy all along. Contempt is a crown jewel for some of the rising royals of experimental noise, and they'll probably never make another album like it.