Pavement : Brighten the Corners: Nicene Creedence Ed.

Among fans and critics, the commonly accepted maxim is that, while Pavement have no bad albums, they most certainly have two rock solid classics—Slanted and Enchanted and Crooked Rain, Crooked Rain. And with further review and more time to reflect, Wowee Zowee has since become regarded as an essential. Yet fourth album Brighten the Corners, in spite of being another fantastic entry in the group's discography, as well as a solid album all around, rarely receives accolades in critical circles. On a personal level, however, it managed to resonate with a significant portion of Pavement fans. Several friends of mine have a particular fondness for it, one even going as far as saying that "Date With Ikea" is one of his favorite Pavement songs of all time. I, too, share this affection for the group's fourth album, it being the first Pavement album I ever bought, in addition to being the only album of theirs I own on both CD and vinyl.
Brighten The Corners isn't necessarily my favorite Pavement disc, but I can't help but feel good when I listen to it. It's imperfect, but calling a Pavement album imperfect is sort of like calling a Ramones album fast or a Slayer album loud. One of Pavement's most charming qualities is their aversion to perfection. Every flubbed note, every scratch, every time Stephen Malkmus' voice cracked—it's all part of what Pavement was. And given the band's imperfections, Brighten the Corners is a pretty damn clean, and awfully accessible album. In spite of evading official canon status, Brighten The Corners is nonetheless being celebrated by the band's former label, Matador, as it is the fourth entry in the label's biennial reissue series, which we could only assume will conclude when Terror Twilight is reissued in 2010.
Brighten the Corners was arguably Pavement's most accessible work, loaded with singles like "Stereo" and "Shady Lane," not to mention the excellent rocker "Embassy Row," which I recall hearing somewhat regularly on alternative radio, in spite of not actually being a single. Where Crooked Rain was a slacker's bible of sorts, loaded with twenty-something insecurities, ironic jokes and jabs at Smashing Pumpkins and Stone Temple Pilots alike, Corners is a more mature affair, still rife with Malkmus' wordplay and sparkling guitars. The album begins with "Stereo," which reveals a Malkmus as witty as ever ruminating on Geddy Lee's voice ("how did it get so high/ and does he speak like an ordinary guy?") and spouting nursery rhymes ("a camera/ a camera/ we took a giant ramrod to raze the demon settlement"). But in "Shady Lane," the band plays two minutes and 30 seconds of its most beautiful, elegant pop, simple and soft with one of Malkmus' best ever lines: "you've been chosen as an extra in the movie adaptation of the sequel to your life."
"Transport Is Arranged," "Old To Begin" and "Type Slowly" each reveal a more somber and gentle side of the band, still unmistakably Pavement, but with a breezy ballad tone that would be extremely out of place on an album like Wowee Zowee. "Date w/ Ikea" is one of a pair of Spiral Stairs tracks, and a peak on the album for its fuzzy pop perfection. "Embassy Row," while garnering radio play, is a weird one, featuring a minute long intro before bursting into its dirty rock riffs. "We Are Underused," with its baroque intro, is the Gen X anthem that never was, and thank god, because it's aged quite well. "Starlings of the Slipstream," while still filtered through Malkmus' cut-and-paste verse, is an emotionally affecting track, with one of the most incredible choruses the band has ever written. And "Fin" is an epic closer, the type that's often featured on each Pavement album though not always at the end.
The bonus material on Brighten The Corners: Nicene Creedence Ed. is vast and varied, spanning 32 tracks of live takes, covers, b-sides, goofs, jams and just about everything else recorded roughly between 1996-97. A fascinating glimpse of an alternate tracklist for the album comes in "And then (The Hexx)", which is an early version of "The Hexx" from Terror Twilight. The liner notes state that the song was initially selected to be the album's opener, but one listen to its eerie, free-flowing drones should give a good indication why it was cut. "Winner of the" is a superb Kannberg track, with plenty of guitar jangle and organ drone, while "Slowly Typed" is an alternate, country rock jam of "Type Slowly." "Harness Your Hopes" is a Velvets-style standout, a top-notch outtake made grin-worthy with Malkmus' seamless sing-song rhyme scheme with the line "show me a word that rhymes with Pavement." Featured on the flipside of the same single is "Roll With the Wind," a fun, honky-tonk rocker with blazing harmonica and a soaring chorus, appearing twice here, one a "Roxy" version, which I can only imagine means Malkmus is attempting a Bryan Ferry impression.
Disc Two contains a set of four tracks recorded during a BBC session, one of which is a harder rocking version of "And Then (The Hexx)," which is pretty awesome, but the real treat here is their cover of Echo & The Bunnymen's "Killing Moon." The band removes the exotic jazz influence of the original, and replaces it with a ragged, Neil Young-like husk, and takes a weird improvisational turn when Malkmus starts chanting "cu-cumber/ cu-cu-cu-cu-cabbage," a reference to a different Ocean Rain cut, "Thorn of Crowns." A bit later on comes a KCRW Morning Becomes Eclectic Session with a series of oddities including sloppy rocker "Neil Hagerty Meets Jon Spencer in a Non-Alcoholic Bar," the fuzzed-out "Destroy Mater Dei," Faust cover "It's a Rainy Day, Sunshine Girl" and riff-heavy "Maybe Maybe."
The Pavement of Brighten the Corners and of its outtake and its radio session material of the era are practically two different bands. One is graceful but surreal, while the other is a goofball throwdown. Granted, the two blur at times, but it's an interesting dichotomy on display here. Pavement seemingly had more fun recording pisstakes than any other band, yet when it came time to put together an album, the band displayed something they're rarely credited for: focus.
---
Label: Matador
Year: 1997/2008
---
Similar Albums: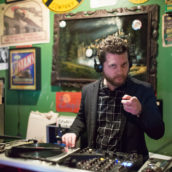 Jeff Terich
Jeff Terich is the founder and editor of Treble. He's been writing about music for 20 years and has been published at American Songwriter, Bandcamp Daily, Reverb, Spin, Stereogum, uDiscoverMusic, VinylMePlease and some others that he's forgetting right now. He's still not tired of it.