Reconnecting with music through the Rolling Stone 500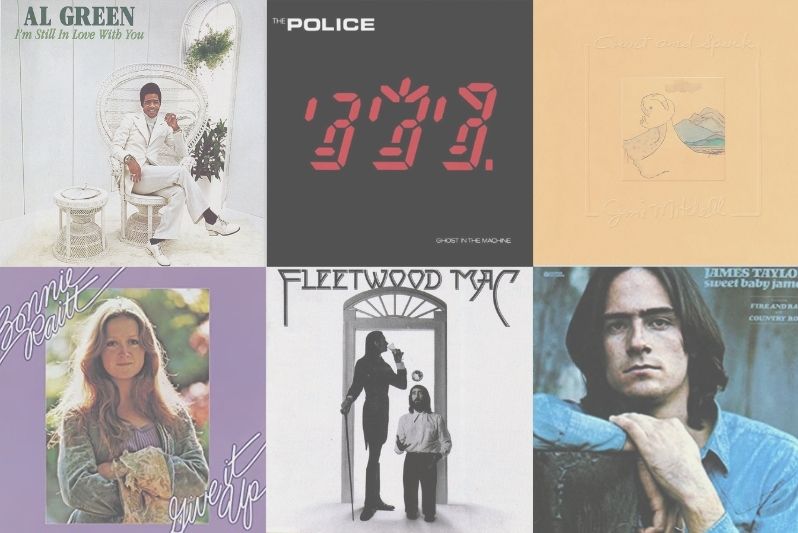 In the fall of 2019, I hit a listening rut. I have the benefit of working at a job where I can have headphones in most of the time, but over time, there weren't any albums or artists I felt compelled to keep going back to. A coworker of mine mentioned that they had completed Rolling Stone's (first) 500 Greatest Albums list a few years ago, with an Excel worksheet to track their progress. I was only 24 at the time, and I figured working my way through the list would help me get around to those canonical albums I had been meaning to listen to or felt like I should, but never had the proper nudge to do so.
Just before New Year's Eve, I finally finished listening to all of them. It only took me from September 2019 to December 2021, but I finally completed this massive musical undertaking that I felt like I would never really finish. Since I, too, had an Excel worksheet to track it all, I can see that it took me 826 days, or 118 weeks, or 29.5 months to get through it all.
There was a lot to process between the beginning and the end of the list—inside and outside of the music. When I began, I got to attend Woodsist Fest, and saw Kevin Morby and Real Estate perform. Little did I know it would be one of my last live performances that I would see for a long time. Through this list though, I was welcomed with live albums, movie soundtracks and legendary debuts. The assemblage of brilliant musicians, many of whom released music during challenging times themselves, served as a reminder that art can still find its way out of the darkness, and it's always worth finding moments of joy even when the world is crumbling.
Working my way through The List reminded me of how invigorating and special music can be, especially in uncertain times. Albums like M.I.A.'s Kala felt like an explosion of pop I had never heard—there's a lot more to the album than just "Paper Planes." "Boyz" is a raucous, rowdy anthem that immerses the listener in M.IA.'s eclectic approach to hip-hop. It was a different experience listening to Radiohead's In Rainbows this time around, remembering that it was the first vinyl record I ever bought (in my junior year of high school). And when I got to The Police's Ghost In The Machine, I felt nostalgic for the past and its ease of travel, as I remembered buying a copy of it on vinyl from a street vendor in Reykjavik, Iceland.
Writing this, there is one very uncomfortable thing to address, that being I still don't like Bob Dylan's music. While I was growing up, my brother went through a Hank Williams phase, followed by a Chet Baker phase, followed by a very long, never ending Bob Dylan phase. With his room next to mine, I had been hearing Dylan's often-unpleasant voice for a long time and felt like I gave it a fair chance. Dylan has the most albums on the list, coming in at 11 total. Out of them all, I ended up enjoying Desire the most—the instrumentals are raw and dark, the lyrics leaning hard into heavier storytelling. I was able to focus on the melodies more, Dylan's voice not feeling like the focal point of the album. But, I will not be returning to the other ten albums anytime soon.
There were plenty of albums that I found myself surprised at how much I enjoyed, or simply couldn't believe it had taken me so long to get to. While I found comfort and familiarity in James Taylor's Sweet Baby James (#104), it was my first time hearing Joni Mitchell's Court and Spark (#112). Seeing The Arctic Monkeys' debut Whatever People Say I Am, That's What I'm Not included was exciting, as the album was formative in me figuring out my taste, but discovering The Stone Roses felt like a link from that contemporary classic to its roots. I also loved diving more into harder rock of the '70s and '80s, through bands such as Hüsker Dü, Black Sabbath, and Echo and the Bunnymen. 
As I listened along, I personally gave each album a rating, out of 10. I didn't pressure myself to rate the lower level of the list higher just because the compilers felt they were the best. I wanted to look back on a brutally honest version of the list, even if it meant giving Tom Waits a 3.5 for The Heart of Saturday Night. The only albums I gave a 10/10 were fairly low in Rolling Stone's eyes: Fleetwood Mac's self-titled LP, Sweet Baby James, and Arctic Monkeys' debut. While these were not the top picks in this list, nor on the 2012 or 2020 updates either, they resonated with me for their exhilarating sounds and the emotions they exude. They're albums I feel loyal to.
While The List does not cover all essential albums (what list can?), it led me in the right direction to fill in some gaps and learn more about some of the bands that feel so pivotal and crucial to music today. The recent version Rolling Stone published in 2020 is a more comprehensive, diverse edition, adding incredible artists like Sheryl Crow, Diana Ross, and SZA. While SZA has only been releasing music since 2014, it's shocking that Diana Ross wasn't added until a third edit of this list. Yet, bafflingly, Jerry Lee Lewis' All Killer No Filler anthology still made the cut, higher up in rankings than Stevie Wonder's Music of My Mind. Rolling Stone had industry executives submit their top 50 albums list to tabulate the results of the 2020 version. It's frustrating that this far past Lewis' career, given our knowledge about his personal life, his troubling behavior is ignored in favor of praising his music. Especially with so many talented visionaries approaching music in a new way, overlooking some artists' major red flags in their personal lives feels regressive. I would have appreciated a few more Lucinda Williams albums much more than Lewis' two-hour-long compilation.
As I got towards the end of the list, and had quite a few Beatles albums waiting for me, I remembered the joy I felt hearing their music for the first time in my life. I would sit on the bus going to middle school, listening to a burned CD of their tracks on my Walkman. I couldn't even comprehend the combinations of sounds I heard, like on "Revolution No. 9" or "Helter Skelter," but tracks like "Octopus' Garden" and "I'm Only Sleeping" stuck with me and are still my favorites today. I enjoyed being able to log my thoughts on various albums, keep a rating system going, and make note of which albums I would go back and listen to. So, the next time I find myself in a musical rut, I know to throw on Al Green's I'm Still In Love With You, The Police's Synchronicity, or Bonnie Raitt's Give It Up.
---
Support our Site—Subscribe to Our Patreon: Become one of our monthly patrons and help support an independent media resource while gaining access to exclusive content, shirts, playlists, mixtapes and more.