Singles Gettin' Heady: Little Dragon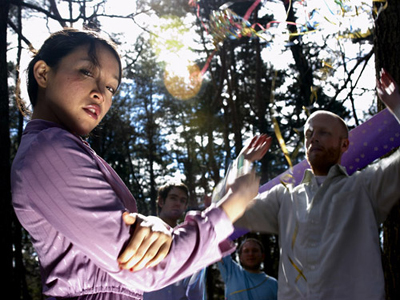 So then, the purpose of this column is to bring to the Treble table some songs, tracks, and song-tracks around the time that they are committed to the fine form of vinyl singles. The music that gets written about here will in all likelihood be part of the present—often exciting, often excruciating—symbiotic infiltration of electronic music and, for lack of a better catch-all, indie, both of which are operating in an increasingly visible (audible) sphere. Some things you will have heard of, others will be new to you, as they often may be to me. They will be records that I myself buy to stay broke and which I play during my semi-annual DJ gigs. I claim adherence to no genres and see this as a furthering and making public of the project of delineating my own ever-becoming sensibility. And, of course, there is the pleasure of introducing people to new music which, whether they like it or not, will hopefully put them in contact with other scenes and other states.
Little Dragon
Fortune/Blinking Pigs
(Peacefrog)
Little Dragon are a band from Gothenburg, Sweden that produce songs treading between somnambulant electronics and irresistible melancholic pop. They released their first, self-titled album in 2007 on the London based Peacefrog, a label that has issued material from artists like José González and Marissa Nadler, but is historically connected to more dance oriented styles. "Fortune" has been floating around the Internet for a while and has recently been released as half of a double A-side single with the track "Blinking Pigs." Both are apparently going to be part of the group's album, Berlinmaster, which is slated to come out later this year at some point.
"Fortune" is less elegiac than the earlier standout single, "Twice," but is projected forward by similarly wobbly synths that create a pleasant tension with the warm, full vocals of Yukimi Nagano (who previously, among other things, recorded and performed live with Koop). Listened to with eyes shuttered, it approximates the sensation of floating through an unfamiliar landscape, at night. Think the Knife's quieter and slightly less macabre moments. It's a boundary crosser and will probably appeal to people with pretty diverse musical interests and justifiably make some people say wow who will, unjustifiably, forget it when it comes to end of the year list-making.
Not to be dramatically outshone, "Blinking Pigs" is a catchy little jam with a bouncy beat that serves as a mild adrenaline shot to complement the drowsy dream state of "Fortune." It's still touched with the vibrant languor that seems to be one of Little Dragon's trademarks, a shot of cool that reminds me of an Irma Thomas record or two, say, for example, "Ruler of My Heart."
This one is available on CD and 7-inch, the later allegedly limited to 500.
Video: "Fortune"