Small Stakes: An interview with Little Ones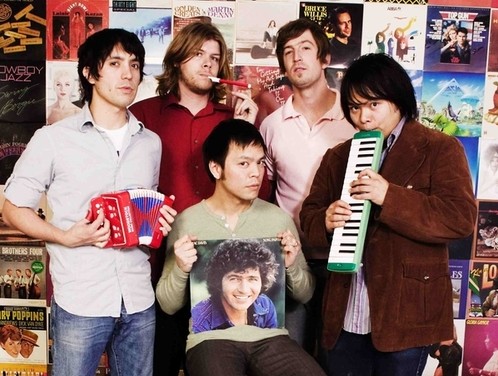 In the land where summer weather never seems to end, there resides a band whose name does an injustice to the grit and ambition of it members. I'm talking about L.A.'s The Little Ones, the latest torchbearers of the pop form in all its melodious glory. The sound of The Little Ones is anything but small; its soaring harmonies and uplifting pop structure, full of ringing guitars and infectious hooks, create an aural landscape of sunny beaches and carefree days that would make Brain Wilson proud. Sing Song, the band's debut EP (released earlier this year on independent label Branches Recording Collective), is a taste of the band's uncanny craftiness in the field of pop music, featuring bright tunes that, upon first glorious listen, will have you singing along and nodding your head uncontrollably to the beat.
With the release of their EP, The Little Ones have taken that all important first step toward reaching eager consumers of meaningful pop music and establishing themselves as a band to watch for in the new music landscape. The band, made up of Edward Reyes on vocals and guitar, Brian Reyes on bass, Lee LaDouceur on keyboards, Greg Meyer on drums and Ian Moreno providing additional guitar work and percussion, cite influences as far ranging as Motown, Os Mutantes, The Beatles and The Kinks. When I asked lead singer Edward Reyes about the decision to release an EP first, instead of a full-length, he explained exposure was the biggest factor.
"We basically felt it would be a good way to get our music out quickly," Reyes said. Money, however, also turned out to be a big factor, according to Reyes. "It was easier to do an EP, financially. If we had more money and time in the studio I think we would have opted to release a full-length."
But the release of Sing Song finds The Little Ones confident in their place on the indie map of up-and-coming artists. Reyes said that independent status has little bearing on how they view themselves as a band. "I don't think major label status [is] really a factor in what we do," Reyes said. "I think it is very important for bands to learn how to go out on their own and to create their vision."
With the advent of the web and online communities in recent years, it seems like being signed to a major label isn't the only way a band can begin to garner a loyal following. Say what you will about MySpace and its infectious spread across the web, but the results for independent artists are undeniable. The Little Ones are no exception to the MySpace phenomenon's awesome reach.
"Myspace and the web have been very kind to us. We have communicated with a lot of people through our website and Myspace," Reyes said. "It's a great vehicle for bands. You reach a wider audience in such a short time."
The internet, in various ways, has done its part to replace the only previous way to get your band's name out there, touring, which, for a band without major label money for support, can be a godsend.
"The hardest obstacle is trying to get out there and play shows outside of [our] home. Hopefully in the near future we can branch out further," Reyes said. With an appearance at the Capitol Hill Block Party in Seattle at the end of July and the Spaceland Residency in LA for the month of August, The Little Ones are making strides at getting their music to the masses. And for those for whom the EP just wasn't enough to satisfy, the full-length is in the works, with producer David Newton at the helm.
With their geography in mind, I thought it only fitting to ask Reyes about The O.C. and everyone's favorite indie-kid, Seth Cohen, and whether they'd agree to appear on an episode if approached by someone from the show.
"I think we would consider it. It really depends on the usage of the song," Reyes said. "We think it's great that bands can get exposure on the show. It's a whole new audience."
The O.C., along with an army of bloggers and internet savvy music lovers, have truly begun to blur the lines between mainstream and independent music as it reaches new listeners. Reyes commented about how this reality weighs in on The Little Ones' place in all of the line crossing and seeming importance of labeling music.
"'Indie' has become a style in this day and age," Reyes said. "Five years ago it meant that bands were on an indie label doing it DIY style. I believe we make indie music because we have done it ourselves.
"It's a very confusing term, but in the end, music is music."