Sufjan Stevens : The Age of Adz
During the five years that have elapsed since the release of Sufjan Stevens' album Illinois, the singer-songwriter has released a companion album of outtakes, a five-disc Christmas box set, a handful of compilation appearances and a DVD box of his BQE orchestral performance. A wealth of material, to be sure, but as 2005 grew more and more into a distant memory, the idea of a proper follow-up to his landmark geographic concept album became even more of a diminishing prospect. And then, after several years avoiding the subject, Stevens announced that the 50 States project wasn't intended for completion, going so far as to call it a "joke." But in the process, Stevens expressed uncertainty about his own work, and doubts about the album format, reminding fans that beneath this massively ambitious, concept-driven artist there was an insecure, imperfect human.
It's hard to fault Stevens for becoming doubtful and dismissive after the kind of acclaim and notoriety that accompanied Illinois. Yet the surprise was that much greater when Stevens revealed that he planned to release both a 60-minute EP and a proper full-length, his first new album in five years. That EP, the recently released All Delighted People, showcased the kind of ambition that Stevens had become known for on his last three albums, yet also contained a more restrained side, with three-minute folk songs sidling up against 10-minute indie rock epics. Sprawling and complex as it was, it provided a fine re-entry point after such a long absence, allowing listeners a chance to re-acclimate to Stevens' conflicting artistic aspects before he dropped his massive sixth album, The Age of Adz.
The Age of Adz, unlike its state-themed predecessors, is far less of a concept-driven album. Drawing inspiration from Louisiana outsider artist Royal Robertson, Stevens references his artworks, from the album cover to the title to the themes of mental illness and the apocalypse that pop up throughout the album's 11 songs. Yet Robertson's influence is just one part of a much looser, exploratory album that combines Stevens' knack for highbrow thematic threads as well as a more personal, vulnerable side to which he gave listeners a glimpse last on 2004's Seven Swans.
On the two-minute opener, "Futile Devices," it would appear that not that much has changed in the five years that have passed since Sufjan's last proper album. Gorgeously finger picked guitar and piano dance in a sweetly melancholy ballet, a sublime sound and perfectly constructed entry point for what ultimately becomes one of Stevens' weirdest and most challenging efforts. Once "Futile Devices" concludes, in comes a rush of gurgling, distorted synthesizers, clattering and banging out a glitchy rhythm that sounds vastly unlike anything else he's done, save for his remix of Castanets' "You Are the Blood." Yet, for all its oddball electronic spurts and clangs, it's a curiously beautiful song, a complex orchestration of electronic and organic sounds that recall Björk's elegantly mechanized balladry.
Despite the prominence of noisier electronic elements, or perhaps because of them, Stevens' vulnerability shines through with more poignancy. On the outstanding "I Walked," Stevens appears to address a lover, confessing "I fear that the worst has arrived" and "I've got nothing left to love," backed by a glorious choir of female voices. Yet sometimes it's hard to determine where Robertson ends and Sufjan begins, as evident in the Philip Glass IDM pop of "Get Real Get Right," which features mentions of visitors from space and Biblical prophets, both of which were dominant themes in the poster art of Robertson, who was also schizophrenic. On the beautiful "Vesuvius," Stevens personifies the legendary volcano that reduced the civilization of Pompeii to ash. Yet the most intense and dizzying track is the penultimate gem, "I Want to Be Well," a litany of isolation and suicidal thoughts that climaxes in a most unexpected chant of "I'm not fucking around."
Were The Age of Adz to have ended there, it would have actually clocked in nearly 15 minutes shorter than the EP that preceded it this summer. However, the album's closer, "Impossible Soul," is a 25-minute odyssey and a massive mountain of a song. Length aside, there are layers upon layers to its movements, with countless overdubs stacked up, from electric guitar to horns, keyboards, strings and vocals, some of them auto-tuned. But as enormous and intimidating a piece as it is, it's nonetheless a moving end to a strange and beautiful album, restoring the hope that the previous track seemed to diminish, with call-and-response chants of "No, I don't want to be afraid!"
The 80-plus minutes that comprise The Age of Adz make for an exhausting, overwhelming listen, even for an artist whose prior work was the very model of ambition. Yet it's a rewarding journey to endure. By casting expectations aside, Sufjan Stevens has revealed a new, interesting aspect to his artistic persona. We're treated to a seemingly more open and bare Stevens, or so it would seem, yet that ambiguity between the influence of Royal Robertson and Stevens' own personal insecurities and heartbreak is part of what makes this such an intriguing listen. The Age of Adz is an honest album, and a passionate one, but one whose conclusions are just fuzzy enough to keep listeners looking for answers and finding more within its intricate details with every listen.
Similar Albums:
Björk – Vespertine
The Dirty Projectors – Bitte Orca
Yeasayer – Odd Blood
Stream: "I Walked"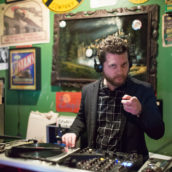 Jeff Terich
Jeff Terich is the founder and editor of Treble. He's been writing about music for 20 years and has been published at American Songwriter, Bandcamp Daily, Reverb, Spin, Stereogum, uDiscoverMusic, VinylMePlease and some others that he's forgetting right now. He's still not tired of it.