The first day of arrival in Austin for SXSW is always a little stressful — particularly when the festival has already been going on for a solid week. Once your plane hits the runway, there's a long to-do list to make it through before you walk through the doors of any music venue. You catch a cab or a shuttle back to the hotel, check into your room, catch a cab or a shuttle back to the convention center downtown, wait in line to get your wristband or badge, walk up to Sixth or Red River, and finally, find a good showcase to drop into. But depending upon when you start the rocking, there's a good chance you're actually walking into a festival in progress.
Back when the now universally abbreviated South by Southwest festival launched in 1987, it wasn't quite the monster it is now. Ostensibly begun as a way of highlighting the Austin music scene, over the years the music aspect of it has certainly grown by leaps and bounds, but music isn't the only reason to go anymore. There's a film festival, an interactive/tech festival — which is now at the point of garnering more publicity than the music festival itself — as well as newly added Edu and Eco conferences. And with the Interactive and Music portions of SXSW sidling up against each other during the week, they begin to bleed into each other a little, so much that as early as Sunday, there are Interactive Parties featuring headlining acts like Passion Pit to draw crowds long before SXSW Music officially begins.
So by the time Treble made it to Austin, SXSW Music was well under way, and the lines were already wrapping around the block. To clarify: Most venues don't have obscenely long lines, but on Wednesday, a handful of notably big showcases were competing against each other for star power. Nick Cave and the Bad Seeds and the Yeah Yeah Yeahs were drawing a heavy crowd at Stubb's, and Iggy and the Stooges had an equally long queue outside the Mohawk. The goal, initially, was to make it to the Mohawk to catch Japandroids' opening set. No dice. Five minutes before their 7:30 set, and that line wasn't getting any shorter. Foiled! And we didn't even bother making it into Stubb's, but were able to hear the Yeah Yeah Yeahs' set while wetting whistles at its upstairs bar and restaurant (and caught some notable star sightings: R.E.M.'s Mike Mills and actor/singer Jared Leto.
But for all the big-name headlining acts making waves in Austin this year (and some chillwave bullshit filling clubs to capacity, against any and all reason), the more exciting or enlightening activity tends to happen in the smaller showcases. Our mission this week: to experience SXSW with a minimum of wasted time, and a high ratio of kickass to meh. Let's do this.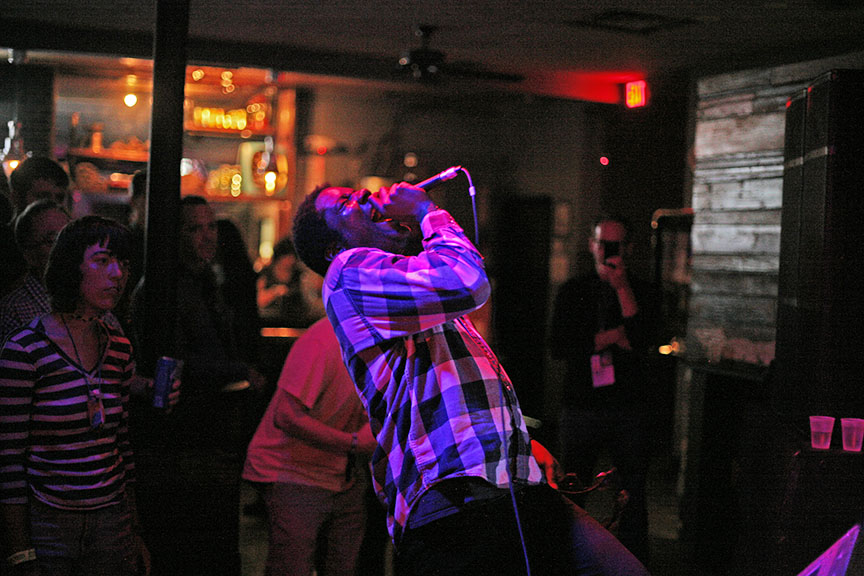 Rough Francis – Holy Mountain (8:20 PM)
The Enabler showcase at Holy Mountain began with a band of musicians who are young, but whose biography is already pretty damn interesting. Legendary Detroit proto-punks Death are one of this year's must-see veteran acts, and Rough Francis, like Death, features three brothers from Detroit. More importantly, those three brothers are the offspring of Death's Bobby Hackney Sr., and it's no stretch to say they're chips off the old rock 'n' roll block. The first thing that's impossible not to notice is just how many guitars — three — are on stage. Rough Francis is a guitar band, and whether or not they're all warranted, it makes fora a suitably dense sound for the group's bluesy punk rock. And all three guitarists had energy and enthusiasm to spare. But Bobby Hackney Jr. was clearly the focal point, getting on down on the floor with the people as the band ripped through a cover of The Damned's "New Rose."
Holydrug Couple – Holy Mountain (9:20 PM)
There were no Damned covers in the set by Chile's Holydrug Couple, though they did incorporate a few verses of Todd Rundgren's "Hello It's Me" into an extended jam. But there were some cool vibes happening in their swirling, psychedelic, Floyd-ian set all the same. The Holydrug Couple marked a slight drop in tempo from the roaring antics of Rough Francis, but had a sound that was surprisingly massive for the relatively low number of personnel on stage. Trippy, billowing, and sometimes rocking, Holydrug Couple provided a nice burst of psychedelia to an otherwise punk-heavy night.
California X – Holy Mountain (10:20 PM)
Amherst, Mass.'s California X brought the show back in the direction of punk rock, by way of some Siamese Dream-size anthems. Frequently compared to Dinosaur Jr., another Amherst band boasting lots of noise and guitar heroics, California X are, aesthetically, more of a tradition of soaring alt-rock acts like Foo Fighters or the Smashing Pumpkins (and there are songs on their self-titled debut that are likely to remind listeners of "Everlong" or "Cherub Rock"). Yet there's a raw, intense quality about the band that likewise wouldn't make them sound out of place alongside Hüsker Dü. With two of its members clad in Mercyful Fate and Deathspell Omega muscle tees, California X looked ready for metal, but sounded immaculately grungy during their five-song set at the Enabler showcase. Wasting no time at all, a brief soundcheck segued into the thunderous anthemics of album opener "Sucker," which bled perfectly into four other high energy rockers from their debut. Minimal chit-chat, no screwing around, just lots of blazing guitars. Awesome.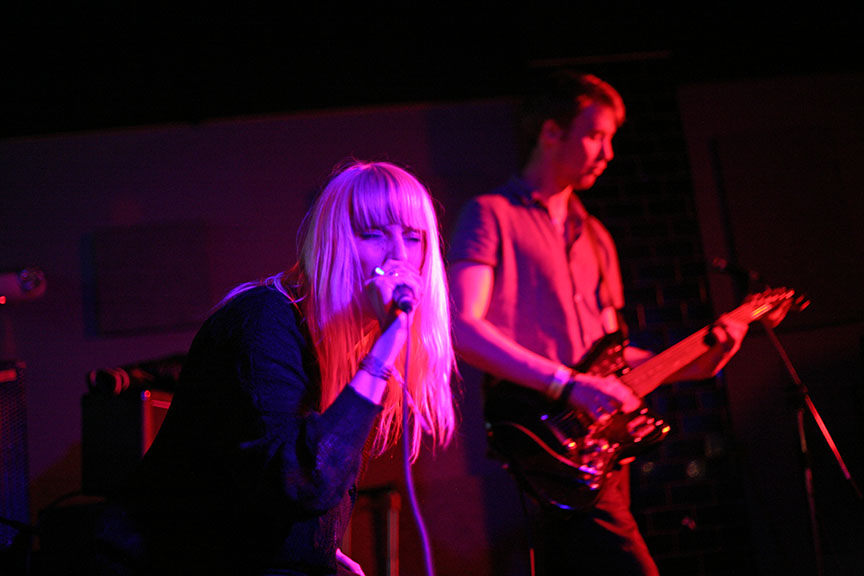 White Lung – Holy Mountain (1:20 PM)
Rumors abounded that Jay-Z was to perform in the auto shop across the street from Holy Mountain, but "ifs" and "maybes" at SXSW usually mean missing out on something else. For Vancouver's White Lung closed out the showcase at Holy Mountain with energy, charisma and, punk rock angst aside, smiles! This is supposed to be fun, after all, and even during a late set with drunken revelers stumbling about, White Lung capped the evening with just the level of energy and ferocity needed to leave on a high note. Ripping through a short, yet unstoppable set of rippers pulled primarily from their newest album, Sorry, White Lung gradually got the audience escalating from a pogo to a mosh. And if anyone happened to miss their Sleater-Kinney-meets-Fucked-Up ass kicking, they've got a bunch more shows lined up for the week. Anyone who knows what's good for him/herself wouldn't miss out.
View photos from Wednesday at SXSW 2013.