Ted Leo & The Pharmacists : The Brutalist Bricks
Ted Leo is very possibly the most likable man in rock music. He's the kind of guy who keeps on playing a show even after the power goes out. He'll play a cover of the Yeah Yeah Yeahs' "Maps" and segue into "Since U Been Gone" seamlessly and with equal love given to both. His Twitter page is only half a notch less entertaining than "Shitmydadsays" or Conan O'Brien's recently christened page, and he regularly engages his followers. Add to that his songwriting skills, guitar playing chops and penchant for a nice Scotch and he's basically the kind of guy you'd want to hang out with as much as listen to.
As his recorded output goes, however, Ted Leo is something of an overachiever. That's mostly a good thing—his catalog of b-sides, covers and rarities is almost as large as his studio albums, and sufficiently rewarding to boot. Unfortunately, it was exactly that penchant for overachievement that hampered 2007's Living With the Living. His longest album to date, it stretched and soared where some brevity would have made its punk songs punchier and its pop songs brighter. It was certainly a worthy effort, but not up to the New Jersey troubadour's typically sky-high standards, and more impressive in small doses than on a grand scale.
Three years later, with a new label and a new bassist (Marty Key), Ted Leo & The Pharmacists have emerged with a tighter sound, a more concise set of songs, and their best album since 2003's Hearts of Oak. The Brutalist Bricks, the group's first for Matador Records, is the sound of a spunkier, refreshed band, one with more energy and vigor than we've heard in a long time. It's not a punk album, but it bursts with punk rock energy, recalling Elvis Costello's first couple of albums with the Attractions. That also means fewer Thin Lizzy-style rock anthems this time around, but by keeping their approach simpler and more direct, The Pharmacists hammer out a winning approach.
Leadoff track "The Mighty Sparrow" ignites a bright spark that burns throughout the album, as Leo heralds the explosion with his cry, "When the cafe doors exploded, I reacted to…reacted to you." It's a strong starter, a piercing opening shot for a round of ass-kicking and tuneful standouts, searing with taut riffs and mighty choruses. "Mourning In America" takes an even more brutal turn with its rumble of drums and razor sharp riffs. Two of the album's best tracks, "Gimme the Wire" and "Where Was My Brain?", are also its fastest, a pair of roller coaster rides with hooks around every corner. Yet even when the album does let off the gas a bit, there lies a strange and wonderful surprise like the odd acoustic track "Tuberculoids Arrive In Hop."
Leo's penchant for political commentary continues to be a central theme on Bricks, but whereas Living With the Living and Shake the Sheets were mired in Bush-era venom, these songs are marked by a more pronounced optimism. Standout "Ativan Eyes" dispenses some Marxist sloganeering off the bat ("The industry's out of touch/ the means of production are now in the hands of the worker"), but from there he transitions toward putting faith in another, or more specifically, music: "I will listen as you play me through my fears." Meanwhile "Woke Up in Chelsea" turns a vicious howl like "We all hate God" into a positive, as Leo sings "we all got a job to do, we're gonna do it together." And the album's best song, "Bottled in Cork," is a recitation of various overseas tour stops that ends with a repetition of the heart-swelling declaration, "Tell the bartender, I think I'm falling in love."
The Brutalist Bricks is a raw record, albeit a great sounding one. There's great care taken in each of these songs, but not so much to smooth over their edges or lessen their impact. And as much as it's Leo's most well crafted album in years, it's also one of his most fun to listen to. I would venture to say I've spun this more than any other album in 2009, and that potentially says more than any other chin-stroking theory I might have about why this is one of the best things I've heard all year.
Similar Albums:
Elvis Costello – This Year's Model
The Jam – Sound Affects
Superchunk – Here's Where the Strings Come In
MP3: "Even Heroes Have to Die"
Download at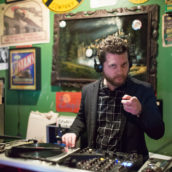 Jeff Terich
Jeff Terich is the founder and editor of Treble. He's been writing about music for 20 years and has been published at American Songwriter, Bandcamp Daily, Reverb, Spin, Stereogum, uDiscoverMusic, VinylMePlease and some others that he's forgetting right now. He's still not tired of it.