Television : Marquee Moon
If there's any one true statement that could be said about the artists New York CBGB/punk rock scene of the late '70s, it's that they were all unique. None of them really sounded all that much like each other, despite the idea that they were all doing something new and different and they all, to some degree, didn't want to adhere to the norm. The Ramones played three-chord punk-pop, The Talking Heads abandoned distortion almost altogether, Blondie made glossy pop music with a snarling, sinister and danceable edge and Television made the guitar cool again. For the majority of the decade, there seemed to be an over-abundance of Jimmy Pages, David Gilmours and Ted Nugents using guitar for endless showmanship rather than anything listenable or artistic. But Tom Verlaine and Richard Lloyd set out to change that. With the release of their debut full-length, Marquee Moon, they took guitar rock to new, artistic heights, without the slightest trace of pretense or wankery.
Originally formed at the beginning of the decade as Neon Boys, the group was a trio consisting of Verlaine, the later-Voidoid Richard Hell and drummer Billy Ficca. Adding Lloyd to the lineup, they changed their name to Television in 1973 and began playing CBGB on a regular basis, eventually teaming up with Brian Eno to record a demo that they would shop to Island Records, who, unfortunately, passed on it. Hell left the band, was replaced by Blondie bassist Fred Smith and a first single was self-released, the "there must be some kind of record for how long this debut single is" classic "Little Johnny Jewel." "Johnny" became an underground hit, attracting the attention of Stiff Records, home of Elvis Costello and The Damned, who would release an EP of the band's work. And finally, in 1977, Television signed to Elektra, who in turn released Marquee Moon, the eight song debut album that firmly solidified the band's greatness.
It's a long story, sure. And the album certainly seemed to be a long time in the works, but the finished result is a classic, its sound so fresh and interesting at the time, yet remains so to this day. "See No Evil" is the perfect opener, a three-minute, three-chord garage rocker that juxtaposes scratchy, distorted chords with melodic, fluid leads. At first it sounds so simple, yet it reveals itself to be a more complex and intricate machine the closer you listen. And the interwoven two-part vocal leads during the coda only add to the complexity.
"Venus" reaches an unparalleled height in melodicism, dual guitar leads ascending and descending around each other in sinuous motion. And "Friction" takes a darker approach, sounding both bluesy and abrasive at once, scratchy, dissonant screeches of guitar jumping out in between Verlaine's vocal leads. But the song that undoubtedly is the most legendary among these gems is the ten-minute title track, a song that paved the way (along with the rest of these, I might add) for later adventurous guitar-based bands like Built to Spill, Slint and Luna. In fact, the album's liner notes credit the solos in each song, and this one features two, one by Verlaine and one by Lloyd, though it's amazing to think that in a song this long, there's only two.
The melancholy melodicism of "Elevation" is reminiscent of Roxy Music in their less overtly glam moments. "Guiding Light" is a tender, almost reggae sounding ballad. "Prove It" finds the band sounding similar to their peers in Talking Heads with quirky guitar riffs and Verlaine's erratic sing-speak, which, in and of itself, sounded quite similar to David Byrne's paranoid croon. And closer "Torn Curtain," the second longest song on the album at seven minutes, wraps up the album with an almost David Bowie-like level of artsiness.
What Marquee Moon is best known for is its unique take on guitar heroism, though the songs, themselves, seem to be glossed over a bit. But make no mistake, Verlaine was a hell of a songwriter, showing off plenty of melodic muscle on these eight tracks, all of which are standouts of the era. Though it didn't chart well and the band would only release one more album before disbanding, Marquee Moon has maintained a level of critical acclaim over the years and has found new fans in subsequent generations. I, myself, caught on to Television much later, seeing as how I wasn't around to even be aware of their existence in 1977. But anyone reading this who can't live without Modest Mouse or Built to Spill should seriously consider listening to Marquee Moon. Doug Martsch wasn't the first, you know.
Similar Albums/Albums Influenced:
Talking Heads – More Songs About Buildings and Food
XTC – Drums and Wires
Built to Spill – Perfect from Now On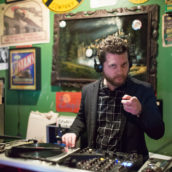 Jeff Terich
Jeff Terich is the founder and editor of Treble. He's been writing about music for 20 years and has been published at American Songwriter, Bandcamp Daily, Reverb, Spin, Stereogum, uDiscoverMusic, VinylMePlease and some others that he's forgetting right now. He's still not tired of it.