The Besnard Lakes : The Besnard Lakes Are The Roaring Night
"Ooh, you're like the ocean…"
Comparing someone or something to the most massive and encompassing part of this planet of ours can be interpreted in almost countless ways. It sounds complimentary, but distant, a parallel to something hugely powerful, but malleable and mysterious. And when Jace Lasek and Olga Goreas trade off singing the line on "Like The Ocean, Like The Innocent Pt. 2: The Innocent," it almost sounds romantic, sexy even. That is, until it's followed by the question, "What's in your empty eyes?"
The Besnard Lakes, however, create an oceanic atmosphere of their own through their music. On their 2007 album The Besnard Lakes Are the Dark Horse, their heavy, shoegazer epics were fluid, yet powerful, and incredibly dense, like the beautiful but terrifying depths within the Pacific Ocean. And on that album's even more ambitious follow-up, The Besnard Lakes Are the Roaring Night, the band maintains that sprawling, unstoppable force of impenetrable layers of guitar and effects, gorgeously and delicately written, but heftily constructed. And, were the metaphorical description not quite enough, there's actually a painting of a body of water on the cover, alight with flames along the shoreline.
Stylistically, Roaring Night continues in the direction the band had taken on its predecessor, adorning each song with a mesmerizing swath of distortion and reverb, while juxtaposing their sonic maelstrom with angelically harmonized vocals. Here, however, the songs seem tighter, even prettier. Their tendency to opt for soaring, epic constructs hasn't waned in the slightest, yet there's an accessibility and a melodic sensibility at play that makes these five- and seven-minute beasts into sensually alluring gems. It's an awe-inspiring, beautiful wonder of an album. And at times, it's surprisingly catchy.
"The Innocents" is the baptismal immersion into The Roaring Night's oceanic bliss, a lengthy builder that emerges from its cocoon of stoic, minor key piano chords into an awesome, pounding rocker. Yet its deceptive wordplay takes what might be a moment of ecstasy ("Take it off…") into something much darker ("…the noose around my neck"). It's a prime example of the dichotomy that the band maintains, between darkness and light, ethereality and heaviness. In more amateur hands this wouldn't be so impressive, but the Besnard Lakes bleed them together mellifluously, transitioning from a monster like "The Innocents" into a weightless Beach Boys-like ballad such as "Chicago Train." Likewise, the more overtly My Bloody Valentine-like "Albatross," with Goreas' coos of "there goes my man," is lined up next to the more concise, burly rocker "Glass Printer," its distortion-heavy bassline scaling some unseen peak.
The album's second half begins much like the first, with another two-part suite, "Land of Living Skies," split into the brief part one, "The Land," and the subsequent "The Living Skies," another awe-inspiring standout. It shifts away from some of the album's heavier shoegazer textures into a reverb-heavy surf guitar sound, but one made deliciously gothic sounding. A similarly shimmering guitar tone carries into "And This Is What We Call Progress," a decidedly more furious track with mercilessly thudding drums and razor riffs, while "Light Up the Night" creates contrastingly meditative and dramatic ambience with its cymbal whoosh and piano crash, and closer "The Lonely Moan" takes the listener back under for a lovely, watery hallucination.
The Besnard Lakes are like the ocean. They're a force of beauty and of awe, but they're also one of sheer power. Each song is like a wave throwing the listener back and forth, frequently creating an irresistible pull back into the depths. It's gorgeous and it's immense. Just remember to come up for air.
Similar Albums:
My Bloody Valentine – Loveless
Black Mountain – In the Future
Broken Social Scene Presents: Kevin Drew – Spirit If…
MP3: "Albatross"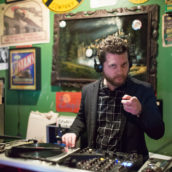 Jeff Terich
Jeff Terich is the founder and editor of Treble. He's been writing about music for 20 years and has been published at American Songwriter, Bandcamp Daily, Reverb, Spin, Stereogum, uDiscoverMusic, VinylMePlease and some others that he's forgetting right now. He's still not tired of it.