The Rapture : Pieces of the People We Love
Cynicism, generally speaking, is a bad quality, but a little skepticism now and then can be a good thing. A skeptical mind will keep you more sharply honed in on what to avoid, thereby keeping you from being scammed or swindled, hurt, or having your precious time wasted. And on the other end of the spectrum, more often than not, you'll find yourself pleasantly surprised. It happens to me all the time when it comes to new albums. Inevitably, there are those that I expect to be really good, and they meet or exceed my expectations. And then there are those highly anticipated albums that end up gravely disappointing. But occasionally, there are albums I don't expect to be spectacular, yet catch me by surprise. The Rapture's Pieces of the People We Love is such an album, overshadowed by the weight of 2003's Echoes, a year-end-list topping maelstrom of hype and disco beats. And it was pretty darn hard to follow. And yet Pieces is not just a worthy follow-up, but rather a really, really good one.
It may sound a bit like a backhanded compliment to say that I was able to enjoy this album by lowering my expectations, but that couldn't be further from the truth. It's a great album regardless of what came before. Yet it's important to examine the source of the skepticism. First off, it's been three years since Echoes, and since then, The Rapture has more or less cut ties with the DFA, who were largely responsible for the electro-centric production on that breakthrough album. And with the promise of production by Danger Mouse and Paul Epworth, Pieces of the People We Love had potential to go in a mainstream MOR dance-rock direction, which wouldn't have been tragic, but the market has been a little too saturated with both personalities lately.
All of this said, I'm probably not the only one who wasn't sure what to expect from The Rapture circa 2006. What they give, however, is pretty rockin'. More of a disco-influenced pop record than abrasive post-punk or warehouse rave fodder, Pieces of the People We Love is a streamlined, catchy, and hips-friendly sensation. It begins with a rather grand sound, Luke Jenner's effects treated "Bohemian Rhapsody" like incantation at the beginning of "Don Gon Do It," which proves to be an electro-fied joy of a song, with, yes, more cowbell.
The title track, one of the few Danger Mouse produced tracks on the album, is a unique and magnificently enjoyable standout. DM's beats create a strutting, swaggering ultra-cool disco-glam atmosphere, as Gnarls Barkley partner Cee-Lo's backing vocals lay down a stunning background for Luke Jenner's lead vocal. It makes perfect sense that first single "Get Myself Into It" has an accompanying rollerskating themed video. The track itself is a funky rollerskating jam of the highest command, almost rivaling De La Soul's own titular jam of1991 for sheer elliptical-rink grooves.
"First Gear" borrows from T. Rex lyrically, as Jenner sings about his "Mustang Ford," while "The Devil" contains one of the album's best basslines. "Whoa! Alright—Yeah!" sounds like an update of Talking Heads' "The Great Curve," yet with a challenge to too-hip-for-their-own-good show-goers: "People don't dance no more/they just stand there like this/they cross their arms and stare you down and drink and moan and diss." Of course, the irony is that it seems truly impossible not to get down to this ultra energetic hotness. Whoever doesn't should be mocked and ridiculed.
By the time the album starts getting into a frenzy with the fuzzy rock chop-ups of "The Sound," it seems as if my initial skepticism was unfounded, but I'm okay with being wrong about my gut feeling now and then. Pieces of the People we love is a great album, one that may not have the wide spectrum of sounds heard on Echoes, but still contains no short supply of fantastic songs. If people really don't dance anymore, as the band claims, then they should probably give this album a listen. Pieces of the People We Love will remedy any stiff limbed hipster, guaranteed.
Similar Albums:
Bloc Party – Silent Alarm Remixed
LCD Soundsystem – LCD Soundsystem
Supersystem – Always Never Again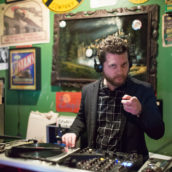 Jeff Terich
Jeff Terich is the founder and editor of Treble. He's been writing about music for 20 years and has been published at American Songwriter, Bandcamp Daily, Reverb, Spin, Stereogum, uDiscoverMusic, VinylMePlease and some others that he's forgetting right now. He's still not tired of it.