Truly Great
The first "cool" band I remember listening to is The Smiths. Though I had heard my share of Men at Work, Huey Lewis & The News, Phil Collins and The Police (who, in all fairness, were pretty cool), it was The Smiths' "How Soon is Now" that started me on my never-ending descent into music snobbery. I couldn't have been older than 5 or 6 at the time, and I hadn't yet the capacity to understand what was hip or unhip, but I knew what I liked. And I liked The Smiths.
"How Soon is Now?" was on a mixtape my brother gave me. Among other artists on the compilation were Echo and the Bunnymen, Depeche Mode, Oingo Boingo, New Order and Public Image Limited. I had no idea how hip my siblings were making me. Other tapes soon followed, The Smiths appearing on those as well. Songs like "I Started Something I Couldn't Finish" and "What Difference Does It Make?" solidified my adoration for the Manchester foursome. And when I joined one of those mail order music clubs for the first time (certainly not the last), The Smiths' Best Vol. 1 was one of my first purchases. ( I think another one of them was Primus, too. Ugh.)
Fast forward to 2004, and here I am, trying to compile my top 100 albums (we'll worry about that later, mind you). Stereolab has slipped. DJ Shadow has been knocked down a few notches. Nine Inch Nails probably isn't even there anymore. And my favorite Pixies album keeps changing. But The Smiths' self-titled debut is still in my top ten. There's something about Morrissey's theatrical vocal delivery over Johnny Marr's unmistakable (and often aped) jangly guitar riffs that never gets old. Their style and content were very representative of the time they were released, but remain timeless.
When The Smiths was released, there was absolutely nothing like it. Weaned on a steady diet of glam-rock and Oscar Wilde, effeminate anti-hero Morrissey fronted the Manchester foursome, turning the idea of rock star on its side. Though not as blatantly rebellious as punk rockers like Joe Strummer or Paul Weller, The Moz flouted convention by presenting himself as sensitive and witty, quite the opposite of the hypersexual, testosterone-fueled rockers of the seventies. But the rest of the band wasn't too shabby, either. Then twenty-one year-old guitarist Johnny Marr played like a twenty-fingered hybrid of Roger McGuinn, James Honeyman Scott, Mick Ronson and Robert Smith. Bassist Andy Rourke added a danceable spunk to songs like "This Charming Man" and drummer Mike Joyce drove Morrissey and Marr's compositions with uniquely syncopated half-time beats, though many argue that John Porter's production buried them in the mix.
In songs like "Reel Around the Fountain" and "Hand in Glove," Morrissey offered charmingly perverse tales of love and sexuality, singing lines like "you can pin and mount me/like a butterfly" in the former and "the sun shines out of our behinds" in the latter. But themes of child molestation, Thatcher's England and sexual identity were also fair game, albeit backed by Marr, Rourke and Joyce's distinctive melodies. And damn, were those melodies unstoppable.
Clearly, the two best songs are the two best known singles, "What Difference Does It Make?" and "This Charming Man." Both offer Marr's most memorable (and rockin') riffs, while Morrissey's lyrics in both have given teenagers for years to come something to quote in their journals (or for today's youth – blogs). "This Charming Man" especially stands out as two-and-a-half minutes of the band's peppiest material, coupled with Morrissey's cheekily pained plea, "will nature make a man of me, yet?"
It's amazing that The Smiths' self-titled debut came out 20 years ago. It's still fresh as it sounded then, though I honestly can't remember how fresh it sounded then. Countless frontmen have taken a page from the book of Stephen Morrissey, and infinite guitarists have borrowed a lick from Marr, but none match the originality and innovation heard on The Smiths. It's the blueprint for modern indie rock.
Similar albums/ albums influenced:
Gene – Olympian
Suede – Suede
Belle and Sebastian – The Boy With The Arab Strap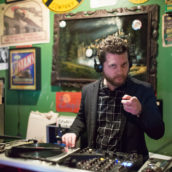 Jeff Terich
Jeff Terich is the founder and editor of Treble. He's been writing about music for 20 years and has been published at American Songwriter, Bandcamp Daily, Reverb, Spin, Stereogum, uDiscoverMusic, VinylMePlease and some others that he's forgetting right now. He's still not tired of it.