The Weeknd : Echoes of Silence
A few years ago, emotive R&B hooks that tied rap songs together was the bane of hip-hop purists, who often cringed at what they seemed to believe was the adulteration of raw rap rage. Times have certainly changed. Rap crews now are now being quarterbacked by dapperly dressed crooners, who proudly showcase insecurity and seem content with monogamy. Meanwhile, their hotheaded lyrical counterparts have fallen by the wayside, just a tad. The Weeknd's sex-centric trilogy has been iconic of this trend, alongside Frank Ocean as well as a slew of rappers attempting to moonlight as crooners for extra beer money.
Echoes of Silence, The Weeknd's third mixtape in just 9 months, is sequenced nearly perfectly; the album opens with a whinny cover of Michael Jackson's "Dirty Diana"(called "D.D." on the tracklist) – an interesting choice because "D.D." is certainly one of MJ's lesser-known megahits (oxymoron, I know). Perhaps Canadian crooner Abel Tesfaye saw more opportunity to subvert the track. But perhaps "D.D." is also the perfect piece of work because the song is a self-indulgent ode to the problem of having copious amounts of groupies, an idea The Weeknd seems to groan about consistently.
One of the great artistic achievements The Weeknd has created and continues to develop on his third offering is the duality of appearing to gush emotion and melancholy, that is, putting himself "out there" but also remaining enigmatic when it comes to conveying his motive. Don't get me wrong; the Weeknd enjoys the female of the species but there are certainly deeper motives beyond procreation. Echoes and Silence continues this paradox with oddly titled tracks like "Montreal." The red herring title hears Weeknd's distant musings sung over mysterious synths with polarizing distant drums. Where the namesake of Canada's second largest city comes into play remain nebulous but it's this confusion that propels The Weeknd's mystique.
The "blues" in Tesfaye's R&B goes far beyond just romantic disagreements. As the album progresses, the content and desires seem to become more coded and/or disjointed, however, the zeitgeist of wanting to engage bodily fluid remains intact and ferocious; "The Fall" hears an amalgam of urban jungle rhythms colliding with war drums and dusty Weeknd overdubs which sound frosty and nebulous. The distant feel on the track thrusts the artist's odd breed of R&B beyond arousal and into darker territory. Similar to previous Weeknd mixtapes, the content progressively grows more murky and self-indulgent. By the time the album reaches "Next" Tesfaye seems to be singing to nobody but himself.
The album ends with an eponymous track that's barren in production, compared to the rest of the album's trip-hop-laden soundscapes and in-turn showcases The Weeknd's vulnerability. It's a little disturbing but coupled with Weeknd's previous works, continues to add to one of hip-hop/R&B's most conceitedly talented iconoclasts.
Similar Albums:
Frank Ocean – Nostalgia Ultra
Clams Casino – Instrumental Mixtape
How to Dress Well – How to Dress Well
Download: The Weeknd – Echoes of Silence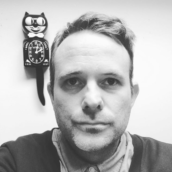 Paul Glanting
If a meteor was just hours away, Paul Glanting would recall that he has been in a Lil Wayne music video and has a 4.7 (out of 5) on Rate My Professor. He is at work on his first novel, Adjunct Megafauna.