They Might Be Giants announce 2-in-1 reissues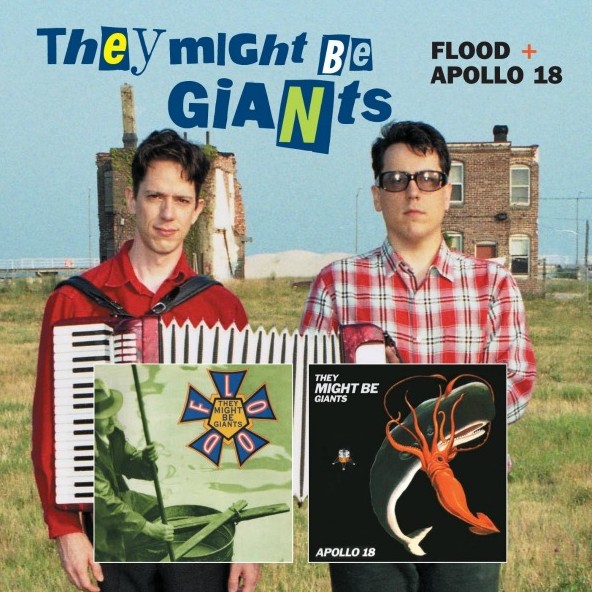 Slicing Up Eyeballs reports that They Might Be Giants are reissuing their four Elektra albums from the '90s in deluxe 2-in-1 double-disc packages. On Dec. 2, Edsel Records will release two reissue pairings — 1990's Flood with 1992's Apollo 18, and 1994's John Henry with 1996's Factory Showroom. The reissues will come with bonus tracks, B-sides and remixes. Check out the full tracklists below.
Flood + Apollo 18
CD 1: Flood
1. "Theme from Flood"
2. "Birdhouse in Your Soul"
3. "Lucky Ball & Chain"
4. "Istanbul (Not Constantinople)"
5. "Dead"
6. "Your Racist Friend"
7. "Particle Man"
8. "Twisting"
9. "We Want a Rock"
10. "Someone Keeps Moving My Chair"
11. "Hearing Aid"
12. "Minimum Wage"
13. "Letterbox"
14. "Whistling in the Dark"
15. "Hot Cha"
16. "Women & Men"
17. "Sapphire Bullets of Pure Love"
18. "They Might Be Giants"
19. "Road Movie to Berlin"
Bonus tracks
20. "Ant"
21. "James K. Polk"
22. "Stormy Pinkness"
CD 2: Apollo 18
1. "Dig My Grave"
2. "I Palindrome I"
3. "She's Actual Size"
4. "My Evil Twin"
5. "Mammal"
6. "The Statue Got Me High"
7. "Spider"
8. "The Guitar (The Lion Sleeps Tonight)"
9. "Dinner Bell"
10. "Narrow Your Eyes"
11. "Hall of Heads"
12. "Which Describes How You're Feeling"
13. "See the Constellation"
14. "If I Wasn't Shy"
15. "Turn Around"
16. "Hypnotist of Ladies"
17. "Fingertips"
18. "Space Suit"
Bonus tracks
19. "The Guitar (The Lion Sleeps Tonight)" (Williamsburgh Remix)
20. "The Guitar" (Outer Planet Mix)
21. "Welcome to the Jungle"
22. "I Blame You"
23. "Moving to the Sun"
24. "The Guitar" (Even Further Outer Planet Mix)
John Henry + Factory Showroom
CD1: John Henry
1. "Subliminal"
2. "Snail Shell"
3. "Sleeping in the Flowers"
4. "Unrelated Thing"
5. "AKA Driver"
6. "I Should Be Allowed to Think"
7. "Extra Savoir–faire"
8. "Why Must I Be Sad?"
9. "Spy"
10. "O, Do Not Forsake Me"
11. "No One Knows My Plan"
12. "Dirt Bike"
13. "Destination Moon"
14. "A Self Called Nowhere"
15. "Meet James Ensor"
16. "Thermostat"
17. "Window"
18. "Out of Jail"
19. "Stomp Box"
20. "The End of the Tour"
Bonus tracks
21. "Ondine"
22. "She Was a Hotel Detective"
23. "Mrs. Train"
24. "Snail Dust" (Dust Brothers Remix)
25. "Why Does the Sun Shine?" (The Sun Is a Mass of Incandescent Gas)
26. "Jessica"
27. "Whirlpool"
28. "Spy" (Live)
CD2: Factory Showroom
1. "Token Back to Brooklyn"
2. "S–E"
3. "Till My Head Falls Off"
4. "How Can I Sing Like a Girl?"
5. "Exquisite Dead Guy"
6. "Metal Detector"
7. "New York City"
8. "Your Own Worst Enemy"
9. "XTC Vs. Adam Ant"
10. "Spiralling Shape"
11. "James K. Polk"
12. "Pet Name"
13. "I Can Hear You"
14. "The Bells Are Ringing"
Bonus tracks
15. "S–E"
16. "Sensurround"
17. "Unforgotten"
18. "We've Got a World That Swings"
19. "S-E"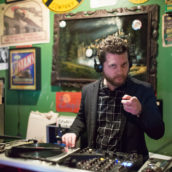 Jeff Terich
Jeff Terich is the founder and editor of Treble. He's been writing about music for 20 years and has been published at American Songwriter, Bandcamp Daily, Reverb, Spin, Stereogum, uDiscoverMusic, VinylMePlease and some others that he's forgetting right now. He's still not tired of it.