They Might Be Giants : Nanobots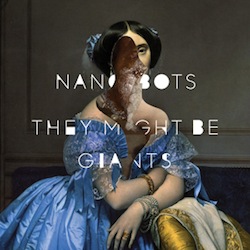 Buy at iTunes | Buy at Insound
John Linnell and John Flansburgh, better known as Brooklyn duo They Might Be Giants, have nothing left to prove. They also have little left to say, having done and said everything they can within the limits of their bouncy, poppy, accordion-tinged, silly-alternative songwriting for over a quarter century. Since reaching their peak in 1990 with Flood, TMBG steadily declined album by album until they found a niche in children's music in 2002 with No!. The Johns weaved in and out of that scene for the last decade before experiencing a creative upswing releasing two relatively strong "adult" records in a row, 2011's Join Us, and now Nanobots.
Nanobots begins with "You're on Fire," with Linnell's familiar nasal tenor greeting us, and perhaps acknowledging their popularity curve as he sings "Hi/ I forgot your name/ Whatever." Then the song moves onto a literal conversation with someone who indeed has a combustible head. The intro/chorus on the title track has an infectious staccato that feels like vintage TMBG. There are times when the "fun" aspect gets distracting without much reward, such as "Black Ops" and "Insect Hospital." Nanobots also features six tracks that clock in at seventeen seconds or shorter, but unlike "Fingertips" from 1992's Apollo 18, they are not strung together. Like "Fingertips," however, they represent some of the most interesting musical ideas represented on the album.
There was a time where TMBG was the model for college indie pop: short, catchy songs that required attention to the lyrics for full appreciation; a younger audience would enjoy the band, but not quite comprehend the esoteric subject matter. The songwriting and harmonies were strong, further inspiring geeks with accordions (and other non-rock instruments) to pursue the craft. When they concentrated in children's music, they lost a bit of their edge, although their songs were still catchy and educational.
TMBG's place in music history is uncertain, and their efforts to be taken seriously may have come too late. The first listen through Nanobots supports this: it does little to grab and keep the listener's attention. However, upon repeat listens, some of the nuances shine through. Intricacies in orchestrations reveal that the songs were not as thrown together as they appear on the surface, such as on the complex old-timey "The Darlings of Lumberland." Nanobots does not match TMBG's early work, but there are enough gems to prove that the duo is not ready to give in to any single label.
Similar Albums:


They Might Be Giants – The Spine


Frank Black – Fastman Raiderman


The Feelies – Here Before