Titus Andronicus : The Monitor
Titus Andronicus frontman Patrick Stickles wrote a lengthy screed last fall on the band's blog, recounting the story of how he was (forcibly) denied entry into a Vice-sponsored Halloween party that his own band was playing, thanks to some careless security. Furious but almost poetically detailed, he spared no detail, from the lines of cocaine that wild partiers snorted in the bathroom to his own Halloween costume-a Civil War soldier. This detail, though not so obviously at the time, would prove important to the band's soon-to-be-announced second album, The Monitor. Titus Andronicus' first album, The Airing of Grievances, was as fine an exorcism of youthful hopefulness one could hope to drunkenly shout along with. That angst hasn't subsided one bit on The Monitor, but rather than digging back into personal grievances, Stickles & Co. instead have crafted a concept album loosely based on the Civil War.
Ah, but if it were only that simple. The Monitor isn't, so much, a retelling of the Battle of Gettysburg as it is a metaphor for the experience of the narrative's central character, a New Jersey native transplanted to Boston. Over the course of the album his conflicts become more numerous, his blood alcohol level rises, and his bitterness seems to reach a boiling point. Overblown as it might sound, it's not only a logical follow-up to 2008's Grievance, an album that referenced Brueghel and Camus between its foul-mouthed gang vocals, it's an even stronger effort than before. In fact, it's amazing.
As ragged and as raucous as ever, Titus Andronicus haven't strayed from the Springsteen and Replacements influenced blue-collar punk rock sound they're known for. But an album this ambitious requires wider range and more sonic breadth, and Titus more than delivers. The 65-minute album features 10 impeccably crafted and epic songs, half of which stretch beyond 7 minutes, and one of which actually doubles that. And in between these mighty rockers and ballads are a series of spoken word segues (one of which is recited by The Hold Steady's Craig Finn), recorded in the lowest of fidelity and using quotes from Walt Whitman and Abraham Lincoln, among others.
For such a highbrow conceit, it's important to note that The Monitor is very accessible, even fun. From the opening rumble of "A More Perfect Union," the band ignites an hour-long punk rock house party that takes on numerous twists and turns. It would also be the best record to put on should William Faulkner, Shane McGowan, Paul Westerberg and James Joyce somehow all end up at that party (via time machine?). "A More Perfect Union" is one hell of a way to kick things off, starting off with a Constantines-style rock 'n' roll bulldozer as Stickles rattles off more allusions in his wordplay than a grad student at pub trivia ("I never wanted to change the world, I'm just looking for a new New Jersey/ 'cause tramps like us, baby we were born to die!"). And in the song's second half, the band transitions into a sprightly march with talk of rallying around the flag and a fiery dose of guitar wizardry.
In a pair of companion tracks titled "Titus Andronicus Forever" and "…And Ever," the band shouts in unison "The enemy is everywhere" over two minutes each of good time bar punk. Linking this album more concretely to the band's prior effort is "No Future Part Three: Escape From No Future," which concludes in a cathartic shout in unison "you will always be a loser!" Harsh words, certainly, but in the context of the music they're downright infectious. "Richard II," meanwhile, is a rollicking march that juxtaposes daydreams of parties and revelry with Stickles' vitriolic bellow, "There's only one dream that I keep close/ the one of my hand at your throat." And "Four Score and Seven" is practically two songs in one, starting off as a ballad in its first four minutes before careening into an anthemic rocker. Oddly enough, it's the first single from the album, and as you might have guessed, is split into separate parts in seven-inch form.
As much spite and venom comes out of Stickles' mouth, and as much resentment and anger his character feels throughout these ten tracks, there's redemption in drowning one's sorrows. "Theme From 'Cheers'" is a celebration of that very act (without abandoning the sorrow), a jangly standout that proposes, "let's get fucked!" and demands, "Gimme a Guinness/ Gimme a Keystone Light/ Gimme a kegger, on a Friday night!" And then there's that 14-minute beast that closes out the album, "The Battle of Hampton Roads," which begins Billy Bragg style, just Stickles and his guitar, dispensing quips such as "Be prepared to be told that you're gay, dude." But even so, there's a sobering acknowledgement of maturity as Stickles sings, "What I used to hate, I've come to accept," and from there the band launches into one of the most sprawling and verbose classics since "It's Alright Ma, I'm Only Bleeding."
There's so much to hear and to listen for on The Monitor, that it practically deserves it's own Wiki. But part of its charm is in the unexpectedly brilliant phrases that fly from Stickles' mouth. It's a smart rock record, but it's not a particularly fastidious one. The Monitor is literate without being elite, vitriolic without being outright angry, satirical without being goofy. It's everything a good rock 'n' roll record should be, and then some.
Similar Albums:
The Hold Steady – Separation Sunday
The Replacements – Tim
Constantines – Tournament of Hearts
Download at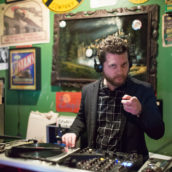 Jeff Terich
Jeff Terich is the founder and editor of Treble. He's been writing about music for 20 years and has been published at American Songwriter, Bandcamp Daily, Reverb, Spin, Stereogum, uDiscoverMusic, VinylMePlease and some others that he's forgetting right now. He's still not tired of it.