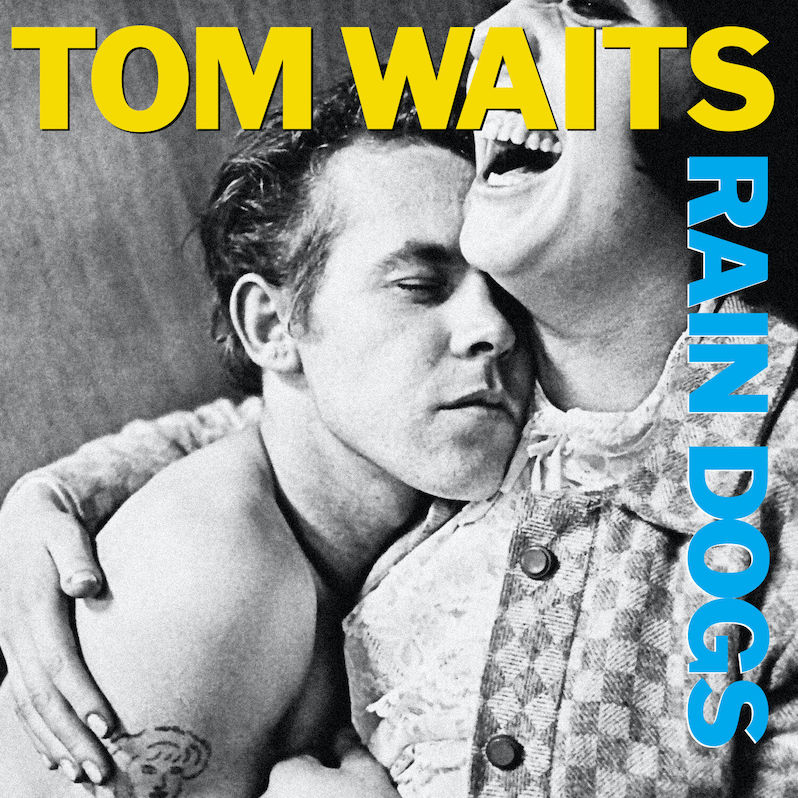 Island Records released a compilation of Tom Waits' music on their label called Beautiful Maladies, the title a perfect description of his work. After releasing seven albums with Asylum in the seventies, Waits propelled himself into the '80s and beyond with his seven albums he released with Island. The second phase of his storied career found him not only adding layers to his already breathtaking craft, but also experimenting with new sounds, musicians, and styles. Plus, he could still write amazing hit-quality songs. His first album with Island was the groundbreaking Swordfishtrombones, which acted as both a reinvention of the artist as well as the heralding of a new sound.
Waits followed Swordfishtrombones with what I consider to be the quintessential Tom Waits album, Rain Dogs. He took what was successful and innovative with the previous album, the strange percussion, horns, and deep basses which replaced the traditional piano and strings of his previous album, and continued to polish it. He stuck with his themes of down and out losers, vagabonds, alcoholics, and treasure seekers and created a marriage of styles that has never been duplicated. Take the opener "Singapore" for instance. The track sounds as if it would fit into an adult version of a "Pirates of the Caribbean" ride. In Waits' ride, the alcohol is real, the prostitutes are actually naked and the ammo is live.
"Clap Hands" is the first song I heard from this album. The opening percussion and marimbas are mesmerizing, lulling you into the dream like state you need to be in to fully appreciate Waits' cock-eyed world. One of the things that makes Waits' new innovative music successful is his band. The talented Marc Ribot, who later played on Elvis Costello's The Delivery Man, plays a mean spooky guitar and his percussionists add levels altogether unheard of. The craziness continues with the Farfisa Organ played by Waits in "Cemetery Polka" which creates a serial killer loose in a carnival-type atmosphere.
The Latin feel of "Jockey Full of Bourbon" adds to the Caribbean themes. He even sings "16 men on a dead man's chest" for good measure. Again, Ribot's guitars and Michael Blair's conga drums stand out, making this short song one that would end up in the Beautiful Maladies compilation. The mentions of Tarantellas, Cubans, and New Orleans in "Tango Till They're Sore" enrich the overarching and unifying theme of Rain Dogs. He makes you want to play the song amidst a group of drunk friends, all chiming in together, "Send me off to bed forever more," essentially turning the song into a sea chantey.
"Time" is another standout track on Rain Dogs. It's one of Waits' most played songs and has even been covered by the likes of Tori Amos. It's the closest thing to, and very reminiscent of, "Tom Traubert's Blues" from Small Change, and would also share similarities with a later song, "Hold On." In fact, just as in "Tom Traubert's Blues," Waits again mentions Matilda. The title song follows and depicts Tom in his element, among the drinkers huddled in a doorway, shunning taxis and deciding to stay with the "Rain Dogs." The crazy horned instrumental "Midtown" comes next and sounds like it should be the soundtrack to a forties movie during a scene where the hero is slipped a `mickey' and has hallucinatory nightmares.
"9th & Hennepin" is a spoken word piece set to music, much like "Frank's Wild Years" from Swordfishtrombones. The poem / story features many of the running themes throughout Waits' worlds, trains, down and out characters, diners, tattoos, and loneliness. He really is, as I stated in the Small Change review, somewhat channeling and combining the essence of Charles Bukowski, Jim Thompson and Louis Armstrong.
Besides "Time," I would also be remiss if I were not to mention the true centerpiece of the album, the well-known and very recognizable classic, "Downtown Train." Rod Stewart would make this song famous, but Tom Waits is the true genius behind the song and delivers it like no one else can. Amidst the dirt, grime, whiskey fumes, and squalor that inhabit Rain Dogs, "Downtown Train" is a rose, beautiful and distinct. The song shines with a hope and an innocence that the others do not. The lovelorn `hero' of the story hoping to see the girl of his dreams, walking by her gate, seeing her window late at night smacks of days gone by and a lost virtue. It's almost like a scene out of a Frank Capra movie. Its timelessness is another reason for its success. It feels as though it could have been written at any time, although certainly not in 1985, which makes it even more of an anomaly.
Rain Dogs has a few really great straightforward songs on it such as "Downtown Train" and "Time," but even though those songs became "hits," or at least radio playable, they are merely blips on the radar of the album's themes. For truly, Rain Dogs is a patchwork theme album. Listening to it, one can become immersed in shady, rain dripping alleyways, seeing staggering drunks passing you by in dim lights, smelling the rum on their breath, and then emerging onto the cobblestoned 17th century pirate-infested streets of New Orleans. No one else would do such a thing and I'm not sure anyone else actually could. This is what makes Tom Waits so great and so timeless.
---
Label: Island
Year: 1985
---
Similar Albums: