…And You Will Know Us By the Trail of Dead : XI: Bleed Here Now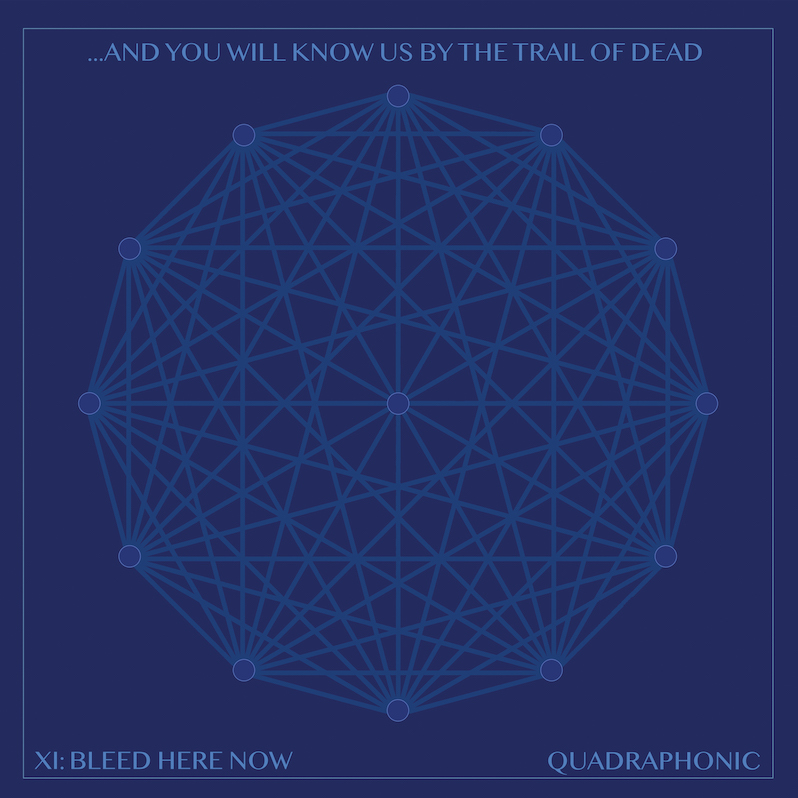 Time has been kind to …And You Will Know Us by the Trail of Dead. While their early work was acclaimed indie rock and post-hardcore, their tendency toward prog rock ambitions got them in trouble with that crowd; see the disparity between their Pitchfork reviews for Source Tags & Codes versus its followup Worlds Apart (or, better yet, don't). Their fortunes for the next several records in that world would remain largely the same. Meanwhile, in worlds outside that isolated musical bubble, one where prog was still a dirty word, people like me were becoming teenagers and poking around in other sections of the record store's seemingly endless sea of records in search of new frontiers. To a wayward metalhead and young prog fan yearning to find connection to sooth the deep sense of alienation from both my more mainstream and even the arthouse friends that dotted my youth, Trail of Dead was a bravely opening door, one that connected in one stroke the bombast and wild ambition of those more maximalist genres I adored with the earthen and, let's say it, hip world of indie music. The band seemed to notice, openly citing records like Yes' Relayer as equally as important to their sound as groups like Hüsker Dü, eventually producing a record made entirely of two vast suites, seemingly aiming directly at me personally.
But these numbered records of the band, starting with 2014's IX and continuing up to this current one, have seen the band receiving two boons. First, a dialectical resolution of their sound, weaving back in the post-hardcore bombast of their self-titled and Madonna into the expansive progressive rock suite structures the group experimented with on the single-composition backend of Worlds Apart and developed as a formal conceit up to Tao of the Dead. Second, their critical reception in spaces outside of ones populated by people like me began to turn, due in no small part to the growing acceptance of progressive music in the indie and mainstream world. XI is at once their most ambitious record yet, playing as a single album-length composition, and their most approachable since Source Tags & Codes (ignoring, briefly, the deliberately more punky and approachable Lost Songs LP, the album that seemed to help them turn the corner on this sonic reconciliation).
The refinements shown on IX and X: The Godless Void and Other Stories feels obvious on this record for those that have been paying attention this whole time. A song like "Kill Everything" blasts out with post-Zen Arcade hooky post-hardcore while "Field Song" or the mid-album epic "Taken by the Hand" have an organ-and-overdriven guitar approach to heavy metal redolent of Deep Purple or, more contemporarily, King Gizzard. The group's core duo has never been short on hooks or lyrics that will slice through the heart, but here they shown what a career's worth of attention to detail of when precisely to stretch a verse or chorus and when to cut can result in material that still ripples in macroscale ambition while not losing the listener in an endless sea of repeating riffs and songs that feel totally off the rails. Despite the vast and complex winding structure of the record as a whole, each song or movement within that bigger architecture has a firm and tightly bound structure, with a strong sense of harmonic, melodic and emotional logic guiding them. For those terrified that prog means atonalism, self-indulgent tuneless soloing or meaningless technical wizardry (all claims I'd refute were the context difference), this record will read as a boon.
Much like how the aforementioned Zen Arcade or Fucked Up's body of work show the ripe fusion state between the directness of heartland rock, hardcore and punk ethos and progressive/art rock ambition (there's a strong case to be made that Fucked Up wouldn't be possible without Trail of Dead's experiments), XI is a union of the heart of these things. Punk and great alt rock are simple songs that want to blossom into a universe, seeds that explode to infinity; prog is often the art of seeing the transcendent in the everyday, letting the pearlescent swirl of rippling color in the oil pools on asphalt remind us of the vast geologies of the earth and how the atoms in our bodies were born in volcanos and dying stars. When XI switches from a slow-churning post-Springsteen indie rock rumble like The Hold Steady and bursts into a driving krautrock groove halfway through "Golden Sail," the overlap of these worlds presses into your chest. After all, like Lemmy said, at the end of the day it's all rock 'n' roll, and sure faith in that unifying spiritual intent can work miracles in making the resulting sonic clash make sense.
Still, XI is a more mature record than their earlier works, despite the moments of youthful fire sprinkled across. I'll admit this threw me for a loop on my first few listens; this band is, as you might guess, immensely important to me, and one of the negatives of that is that it's easy to walk in wanting them to recapture what they provided for me as that wayward and alienated teenager looking for a way to connect with my peers on my terms, without sacrificing my identity. But they are men now, and I am in my mid-30s, and much as their craft has refined itself and sharpened just as its grown in ambition, so too has my heart gone through the changes and alchemical con-fusions of maturity. They may channel that rock fire, but much like how Bob Mould or Paul Westerberg eventually relinquished the hardcore of youth for the ruminations of adulthood, Trail of Dead is ultimately more in tune with turning what once might have emerged as juvenile fury or prog rock cosmicism into the grandeur and universal complexity of the present. There is a meditative aspect to this record, turning the world over and over and over, searching for something; the final Moonface record Dancer feels like a fitting comparison, using album-length suite-like writing in a progressive/indie rock context to observe the manifold complexity of adult life inside and out. Sometimes, especially with the current dire conditions of the world, we may need something more direct and fiery to wield as a brand against encroaching darkness and evil. Bleed Here Now is something different, an interior labyrinth, the self interrogating self. On crossing that bridge of expectation, I saw its charms. This joins the esteemed ranks of its predecessors as a brilliant record by the best indie rock band no one seems to talk about. Whether or not the vaster indie hordes wake up to the gold beneath their feet, Trail of Dead continue only to sharpen and shine brighter.
---
Label: Dine Alone
Year: 2022
---
Similar Albums:
Langdon Hickman
Langdon Hickman is listening to progressive rock and death metal. He currently resides in Virginia with his partner and their two pets.