Treble's Favorite Record Stores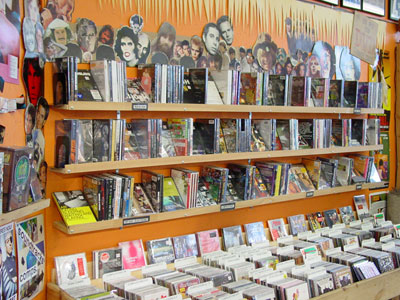 It's a pretty safe bet that none of Treble's writers or editors would be spouting opinions on these pages were it not for frequent trips to local, independent record stores at an early age. There's something indescribable about the feeling of coming home with a fresh batch of new music, paid for with one's hard earned, and yet easily spent cash. But even more than that, there's something rewarding about stepping into a place that can give you the soundtrack to your future. Record stores are like a "Choose Your Own Adventure" story, offering numerous possibilities and outcomes. On one day, you might leave the store with a Nas album and an Elliott Smith single. On another, you may balance Cat Stevens with Judas Priest. But the process of getting there, flipping through the racks of vinyl or CDs, and staring in awe at the cover art, is almost as fun as being able to listen to your sonic rewards.
On April 18, the world celebrates Record Store Day, a weekend holiday honoring that beloved and much-needed institution, the record store. With downloads (both legal and illegal) making for serious competition against the brick and mortar stores we've grown up with, it's becoming more common for record stores in America to close their doors. But while some have come and gone, many endure, and will celebrate Record Store Day with the rest of us geeky music lovers. In honor of this fun and exciting day, which promises exclusive seven-inch and EP releases from hundreds of our favorite artists, we've assembled a list of our favorite record stores in North America. Keep in mind that quite a few states have no Treble contributors, so we clearly couldn't cover the entire country. But we've got a pretty solid selection of record shops across the country that deserve highlighting.
Seattle, WA

photo by Candice Eley
Singles Going Steady
2219 2nd Ave Suite C
Okay, they haven't changed their website in seven years, but Singles Going Steady is your `one stop Seattle shop for punk rock.' Be overwhelmed by vinyl, and stenciling, and…stuff. It's a small space, but they pack a lot of punk. Be sure to say hi to my man, Byron while you're there, and then grab a dog at Shorty's. (Unfortunately, SGS doesn't seem to be a participating store for RSD) – Terrance Terich
Bop Street Records
5219 Ballard Ave. NW
Bop Street is the vinyl enthusiast's Mecca. If you're into rekkids, of all genres, don't mind spending an inordinate amount of time browsing (because you could get stuck there all day amongst the stacks), then Bop Street is the place for you. This is the one store that bands like to visit and talk about. Plus, the owner, Dave, probably knows more about music than anyone else in the city. (Ditto on the RSD nix). – Terrance Terich
Easy Street
West Seattle – 4559 California Ave SW # 200
Queen Anne – 20 Mercer St
With two locations, one in lower Queen Anne, and one in West Seattle, Easy Street has the market somewhat cornered in the Emerald City. The stores boast fantastic CD selections, new and used, and great vinyl departments. A fun game to play in Seattle is to walk around town counting the Easy Street merch v. the Sonic Boom merch (more on them later). On Record Store Day, the Q.A. store hosts Sweetwater and the Dex Romweber Duo, while the West Seattle locale hosts a late night show by Wolves in the Throne Room. – Terrance Terich
Sonic Boom
Ballard – 2209 NW Market St.
Capitol Hill – 514 15th Ave E.
Sonic Boom also has two locations, Ballard and Capitol Hill, though it used to be the now defunct Fremont location that was my favorite. Such are the times. I usually find exactly what I'm looking for at Sonic Boom in terms of CDs. Reasonable prices and selection are the name of the game here. SB will be participating in Record Store Day, featuring in-store performances by Vetiver and Say Hi in Ballard, and Telekinesis at the Capitol Hill store. – Terrance Terich
Portland, OR
Jackpot Records
203 SW 9th Ave.
3574 SE Hawthorne
Portland is the kind of city that has a hefty number of record stores, so for one to stand out requires a particular something special. Jackpot is just that special kind of place, offering a wide selection of amazing music in a moderately sized building. You're unlikely to come away empty handed from this jewel of a store, and if you haven't spent all your money, Powell's is just down the street from its downtown location. On Record Store Day, Jackpot will host performances by Shaky Hands and Loch Lomond. And shoppers will get a free special edition donut from Voodoo Donuts! – Jeff Terich
Bay Area, CA
Amoeba Music
Berkeley – 2455 Telegraph Ave.
San Francisco – 1855 Haight Street
Amoeba Music is a pretty iconic record store in all three of its locales. It helps that all three stores are on famous American streets (Sunset Boulevard, Haight Street, and Telegraph Avenue); it also helps to basically take a Quonset hut and fill it with every record ever made which is the general gestalt of the Amoeba brand. Internet rumors of Amoeba's demise have abounded for months, although the last time I staggered by the San Francisco store there were people standing around waiting for it to open, on a Sunday morning, in freezing rain, so hopefully that's indicative of said rumors' great exaggeration. (Also: certain inspired parties have suggested they start charging rent and letting people move in.) So far at least the Amoebas aren't going anywhere, which means there's still a go-to spot for dollar Depeche Mode vinyl and the collected works of Teddy Huffam. Of the three stores, the superstructures in Hollywood and San Francisco can sort of literally overwhelm. But the Berkeley location, the first one I visited and my sentimental favorite, is way less gigantic while maintaining a manageably awesome inventory. I bought my vinyl copies of OK Computer and Loveless there, told three people I am not in fact the dude from We Are Scientists, and once wasted most of an hour arguing mid-period Talk Talk with a rheumy-looking guy who smelled like trout and turned out to be in some arcane band who according to a critic I Googled took Fischerspooner to some next-level shit, although they've since broken up (this sort of thing is roughly preferable to being hit up for coke in the deep house section of the Hollywood store). Berkeley's Record Store Day festivities will include hourly giveaways and a DJ set by Yoni Wolf of Why?. I'm keeping my expectations, um, high. – Anthony Strain
Rasputin Music
Campbell – 1820 S. Bascom Ave.
San Francisco – 69 Powell Street
…and 7 other locations in Northern California
While there are numerous Rasputin Records around the Bay Area, the one in Campbell is the one that is closest to my heart. It was one of the primary places where my music collection came from in high school, and any time I'm visiting home, I'll head down to Rasputin and they get my money. There were so many purchases I'd made there growing up, but I think my most memorable buy at Rasputin had to be My Bloody Valentine's Loveless.
My friends and I went there while I was visiting last Christmas and it was like we were still in high school, but a little more creased and lined. The high-ceilinged store seemed larger than I'd remembered, but there was still that reassuring clatter of CD security locks at the register that made it feel just the same.
While it looks like the Campbell location doesn't have any shows for Record Store Day, the Rasputin location in Berkeley has landed a free show with Mr. Loveless and Silversun Pickups. – Hubert Vigilla
Streetlight Records
San Jose – 980 South Bascom Ave.
San Francisco – 2350 Market Street
Santa Cruz – 939 Pacific Ave.
Another Bay Area favorite growing up, a lot of my music collection also came from the Streetlight Records in San Jose—on the same street as Rasputin but just over a mile away. It's a store filled with anything you could want, and I recall making one purchase there that ended up with Tom Jones and No Knife on the same receipt. One of my most memorable buys came in senior year when I first heard Godspeed! You Black Emperor on 103.3 KSCU. I went out to Streetlight the next day and picked up the Slow Riot for New Zero Kanada EP, and returned to Streetlight a couple of days later to pick up F∞A.
On Record Store Day, there will be shows at the San Francisco location (Anni Rossi), the San Jose location (Thunderhorse, Winifred E. Eye, The Brothers Comatose, Worker Bee, and several DJ sets) and the Santa Cruz location (Razed Expectations, The Jesse Hiatt Band, Motorcycle Snakebite, Mountain Animal Hospital).
Los Angeles, CA
Amoeba Music
Hollywood – 6400 Sunset Blvd.
See above…
On Record Store Day, Amoeba Hollywood will feature DJ sets from former Prince collaborators Wendy and Lisa.
A brief eulogy for the record stores of Los Angeles
Dearly beloved, we are gathered here to weep for the record stores of Los Angeles. I lived in Los Angeles from 1990-1996, seminal years in the indie music industry. The CD was king and vinyl was still a fetish property. I look fondly on those days of having so many choices as a UCLA student. Penny Lane was the first go-to store, within easy walking distance of campus and the nearby apartments. I remember one incredibly knowledgeable and friendly clerk who always had a great recommendation and even sang TMBG's "The World's Address" with me in the store for reasons I can't remember. Of course, Penny Lane is gone from Westwood now, isolated to only two locations in Pasadena. A little further down the street, past Wilshire, there was Rhino's, the precursor to the pop-culture retro giant. They're gone now, too. When I had access to a car, there was Aron's. The staff at Aron's left something to be desired, with limited knowledge and a bit of attitude, but the vinyl selection was impressive. Aron's is gone. Moby Disc used to have a few locations around the city, but they were bought up years ago, and likely nonexistent. Then there were the big boys. Tower and Virgin were two of the best, even though I harbor bitter feelings over the latter. Guess what? R.I.P. Only Amoeba's seems to be standing after the great record store fallouts of the 2000s, and we're crossing our fingers they'll remain standing.
San Diego, CA
Lou's Records
Encinitas – 434 North Coast Highway 101
One can't well begin to speak about record stores in San Diego without talking about Lou's Records, situated next to the Coast on the Pacific Highway in Encinitas. Discovering it for the first time was nothing short of life changing. My brother and I made a trek out on a whim, one weekend (we were living about 45 minutes away), on a quest to find a record store with a vast enough selection to satisfy our insatiable shopping lists. Suffice to say, Lou's met those needs and then some. I came away with armfuls of Stereolab singles I never knew I needed, and owe most of my important purchases to Lou's, having picked up albums by Yo La Tengo, Belle & Sebastian, Radiohead, Sonic Youth, Brainiac, The Dismemberment Plan, Pulp, The Flaming Lips, Magnetic Fields, and one that stands out in particular, a Japanese copy of Wire's 154. But beyond its amazing selection, the store in general is two buildings full of good vibes. From the Queensryche cranked up in the used section, to the sign in the parking lot that reads `Please Drive Like Jehu,' it's hard not to love this place. Record Store Day highlights include DJ sets by Mike Keneally and members of Thee Corsairs and the Cheap Leis, as well as a $5 tent sale. – Jeff Terich
M-Theory
Mission Hills – 915 W. Washington Street
M-Theory has been located in three different locations in its seven-year existence, having been situated on two different streets in South Park, ultimately relocating to its current spot in Mission Hills. I don't harbor any ill will toward the shop for moving out of my neighborhood, because the short drive to its current location is well worth the extra effort if it means I get to browse through their tidy, well-stocked racks of great music. There's a little bit of everything at M-Theory, from heaps of new vinyl and CDs to even more heaps of used vinyl and CDs, spanning all genres, for the most part. You might not come across a vast array of contemporary country music or free jazz, but most other genres are well covered. I've purchased many, many items here since I've been in the city of San Diego, though my most memorable moment there was picking up Nancy Sinatra and Lee Hazelwood's Nancy and Lee LP, which was actually one of two on the rack. Imagine those odds!
On Record Store Day, M-Theory has a lot of awesome stuff going on, from in-stores by Dramarama, Anya Marina and The Silent Comedy, to guest cashiering by The Black Heart Procession's Pall Jenkins and The Album Leaf's Jimmy Lavalle, and, best of all, a foosball tournament with Menomena! – Jeff Terich
Record City
Hillcrest – 3757 6th Ave.
Record City's Web site leaves something to be desired. Desperately desired. But the fact of the matter is you can't really get a feel for how wonderful a vinyl haven it is by looking online. Technically, Record City does sell CDs, but that's really beside the point. That's not why you come here. You come for vinyl, and if you end up leaving without heaping armfuls of 12-inch lovelies, you have failed. Their new vinyl section is good, and often well selected. Whether you're looking for a Chromatics single, the new Jay Reatard compilation, or reissues of Scott Walker and David Axelrod albums, you'll certainly find what you're looking for. And for used vinyl, the selection goes even deeper, with separate sections for rock, R&B, hip-hop, blues, jazz, vocal, indie, punk and just about everything else under the sun, you could spend an afternoon here just browsing through all of their hidden treats. The fellows that run the place are good people as well, eager to chat about music, and even let me purchase a copy of Fleetwood Mac's Rumours for $1. The store is participating in Record Store Day, though no performances are listed anywhere. – Jeff Terich
Thirsty Moon
Hillcrest – 525 A Evans Place
Co-owned and run by a handful of local SD musicians, Thirsty Moon is a fascinating little record shop, one with character and charm, and a specialty selection that makes it unique among the city's many other stops for music. Thirsty Moon doesn't really do dance music, pop or hip-hop, but you will find a breathtaking selection of garage rock, psych, metal, punk, Krautrock, prog, soul and jazz. It's tucked away in an alley behind a giant Rite Aid, so finding it may require paying a little extra attention, but those who are determined will most definitely find their way inside, and back out, with some Stooges and Earthless albums. – Jeff Terich
Chicago, IL
Reckless Records
Broadway – 3161 N. Broadway
Wicker Park – 1532 N. Milwaukee Ave.
Loop – 26 E. Madison
In the interest of full disclosure, I've never actually been to any of Reckless' three locations. However, in 2008 I managed to locate a vinyl copy of King Khan & The Shrines' then import-only What Is?! for a more than reasonable price, which was delivered within a week. You can't beat that. For Record Store Day, each Reckless location will have its own live festivities, including Allá and Lair of the Minotaur on Broadway, Coins and Dylan Posa & Three Cheers for Deadman at the Loop shop, and a super secret legendary Chicago punk band at the Wicker Park location. – Jeff Terich
Dr. Wax
Hyde Park (formerly Edgewater) – 5226 S. Harper
Location, location, location—Dr. Wax Records in Chicago had their location at the corner of Broadway and Berwyn, a setting that made the outside just as important as what was inside. It was situated next to a slightly depressing strip mall, across the street from a major supermarket, and also next to a walk-in Italian restaurant that looked too small for the inviting atmosphere. The area was almost right under the Berwyn Red Line station, passed by hundreds every day, a mix of young professionals, students, working class workers and homeless wanderers. A few blocks west was Andersonville, the chic Chicago neighborhood of my upbringing. This was the supreme setting for a city record store. The lake was five minutes away, the immediate neighborhood was less than savory, and a hot, happening neighborhood was a two-minute walk away. If this doesn't describe Chicago, nothing else can. Inside Dr. Wax, anybody who passed by could find their soundtracks.
I started going there as a freshman in college, during an important transitional period for my music listening. In high school, I pretty much listened to nothing but Top 40 radio, and my colleagues at my college newspaper kept talking about bands I knew nothing about. I had a bunch of names in my head, bands that I would quickly begin counting as my favorites. The staff primarily played hip-hop and dance music, and the aisles were claustrophobically narrow. Navigating them after my classes, toting my backpack, was not exactly easy. At the time, before I visited music Web sites, before the "Death Of the Local Record Store," before iTunes, before my music knowledge had expanded, I still knew that I was somewhere special. I'd flip through the racks, glancing around. The staff seemed grim, only smiling and joking with each other. Tough-looking guys in thick sunglasses flipped through used LPs. All around, nobody who was shopping talked or laughed. There was an eerie silence, felt through the blast of the music. Commercials for major retailers show happy people, smiling and cavorting through the aisles, apparently in sheer happiness over the availability of the products. At Dr. Wax, there wasn't unhappiness. It was more a quiet studiousness. Posters upon posters lined the walls, advertising some big local shows along with smaller ones, names that never stuck, bands that probably don't exist anymore. The register counters were quite high, not unlike a pharmacy. The staff would ring your selection, bag it, and hand it off. Impersonal, but understandable. At that age, I didn't dare try to engage anyone in conversation, for fear that my music shortcomings would be exposed in the time it took the cashier to bag up my CDs. This is not to say that I didn't have a wonderful experience. A month before seeing Radiohead in concert, I bought Hail to the Thief at Dr. Wax, and the cashier smiled. "This album is terrific." It was fantastic, and while my purchase had no bearing on the phenomenal live show that I saw later that summer, I can't help but make that connection.
This particular location closed down in 2006, another example of the aforementioned "Death." As I look through my CD collection, I realize exactly how much I picked up at Dr. Wax, both physically and musically. Radiohead, Wilco, Clem Snide, the Ramones, the White Stripes, the Velvet Underground…if the quiet studiousness was akin to a library, then these were the books that helped me learn. – Jamie Yates
Austin, TX
Waterloo Records
600A North Lamar
Before SXSW was even a twinkle in Austin's eye, music lovers had a place to congregate, and that place was Waterloo. Since 1982, Waterloo has become more synonymous with music expertise than with Napoleon's famous defeat. They do everything big in Texas, and Waterloo is no different. And in this case, bigger is definitely better. Great selection and hometown pride have been on the menu for nearly 30 years. So, grab a Shiner and flip through some music from the Lone Star State. Vive le Texas!! (On Record Store Day, Waterloo will host Mark Louris and Gary Olsen of the Jayhawks). – Terrance Terich
Nashville, TN
Grimey's
1604 8th Ave. South
Nashville is a music town, and as such, it should only be fitting that they have a record store that lives up to the city's reputation as a cultural epicenter. Grimey's is that very store. The selection rivals just about any other shop in the country, and their calendar of in-store performances rivals that of any club. What's more, they actually serve beer at shows(!). So, quite frankly, everything you'll ever need is under this very roof. Brace yourself for the Record Store Day performance lineup: Mute Math, Stardeath and White Dwarfs, The Ettes, Royal Bangs, Charlie Louvin, Del McCoury, The Avett Brothers and Black Joe Lewis & The Honeybears! – Jeff Terich
Tampa, FL
Vinyl Fever
4110 Henderson Blvd.
Florida isn't exactly lined with metropolises, and more specifically, Tampa isn't a musical hotbed (though I used to live on the same street as Morbid Angel founder/guitar wizard Trey Azagthoth). As such, record stores aren't in abundance and those that exist don't hold salt to those in New York, Los Angeles, or even smaller markets like Baltimore (Sound Garden) or Nashville (Grimey's). You can find vinyl from the best also-rans of the '50s and '60s at mostly any flea market. To get anything made on this side of the '70s, my default store is Tampa's Vinyl Fever. That's not because of any overwhelming selection of hard-to-find records or a high quantity of indie choices (they're so-so in this regard), but because they meet the minimal criteria that I have established necessary of all record stores. Those criteria are as follows:
1. The employees must be dudes with beards. These men must be affable but not arrogant or braggarts. Chicks may work here also, but must not be visible at the times of my visitation. The chicks may or may not have beards.
2. Must have at least two copies of I Robot by The Alan Parsons Project.
3. Sporadically offer Big Country records (including rarities) so I can feel like I'm slowly accomplishing my goal of being a Big Country completist.
I've never made any overwhelming music purchases here. Most recently I bought something by Gerry Rafferty and Saturdays=Youth, but to be honest most of my prized vinyl I got on eBay. One of the best things about Vinyl Fever is that they have a shitload of Kidrobot toys. The last time I was there, the Adult Swim minis caught my eye—specifically because they make a figurine of Granny from Squidbillies. I had a one in 25 chance of getting her (if you aren't aware, the toys are vacuum-sealed and you get one at random), and that was enough to convince me to hand over considerable coin for even a chance at getting my hands on that awesomeness. You know how the rest goes. Now everyday I wake up to a squid hanging from a walker. Seriously, this is the best fucking toy ever. Yeah, I'm going to be 26 this year. For National Record Store Day, Vinyl Fever will have DJ's spinning from a newly acquired 3,500 piece record collection that will debut for sale at the store. – Tyler Weir
Virginia
Plan 9 Music
Richmond – 3012 W. Cary Street
Charlottesville – 214 Albemarle Square
Williamsburg – 200-M Monticello Ave.
(also in Winston-Salem, N.C. – 3254 Silas Creek Parkway)
Located in the small, but nonetheless hip college neighborhood of Carytown in Richmond (just one of several Plan 9 shops in the region), Plan 9 Music is a surprising haven for music fans in a city not necessarily known as such. Nonetheless, with close proximity to numerous independent book and clothing stores as well as cafes and bars, Plan 9 is just one of several must-stop businesses in Carytown. As one enters the store, he's bound to be overwhelmed by the music, which is often cranked up pretty high. But even more than that, it's easy to be overwhelmed by the music they sell, which is lined up as far as the eye can see. You could spend hours here. I probably have, but then again I only get to visit every now and then. Record Store Day performances will include Pat McGee and Tony Lucca in Charlottesville, and The Recliners and Hex Machine in Richmond. – Jeff Terich
New England
Newbury Comics
Too many locations to name, but in the interest of keeping it real…
Boston – 332 Newbury Street
Yes, it's right there in the name—Newbury Comics sells comics, and posters, and books, and lots of other things that aren't records. That said, the reason you go to Newbury Comics is to buy records. At least, that's why most of us go. Quite frankly, for a store that doesn't even have `Records' in its name, Newbury Comics always has a vast selection of great music available, and that goes for any of its locations, 20 of which are in Massachusetts, four in New Hampshire, two in Rhode Island, and one each in Connecticut and Maine. I have fond memories of shopping there as a teenager, in fact I can thank Newbury for my first Pavement purchase, which was Brighten the Corners in 1997, for the record. Now, considering how many NC locations are out there, naming all of the RSD performances with corresponding stores would take forever, but here's a selection of notable acts playing across its numerous spots: Lamb of God (with signing), Clouds, State Radio, Low Anthem, Deer Tick and Billy Pilgrim. – Jeff Terich
New York
Sound Fix
Brooklyn – 110 Bedford Ave.
At the corner of McCarren park out in Williamsburg (the Brooklyn one, not Virginia) sits Sound Fix. It has a cool, clean vibe and layout conducive to browsing new indie titles and re-releases or re-issues. Like the bookstore Spoonbill & Sugartown, it's a place I usually stop by if I'm down at Bedford Ave. or if I've just been at McCarren Park reading under a tree, people watching, or pretending to read under a tree while people watching.
One of my first purchases at Sound Fix came just a little after I moved into the general area: the re-issue of The Modern Lovers' first album. (I am a late bloomer.) Unfortunately, the lounge at Sound Fix closed earlier this year, so for now, free shows are a thing of the past (e.g., all-day CMJ sets, and last year's Record Store Day event was a set by Regina Spektor). But Sound Fix lives on and I'm in love with rock and roll because of them. – Hubert Vigilla
Kim's Video
East Village – 124 First Ave.
Kim's has gone through a lot of changes lately, and it's something many of my friends who've lived in New York for a few years have lamented. This was particularly true when the august institution vacated its spot on St. Mark's Place. And honestly, as a music fan and film geek, it's a sad thing for me to pass by that empty building where I picked up a Flamin' Groovies box set (Bust Out at Full Speed: The Sire Years) when I first moved to New York; a place where I also picked up a few more DVDs to add to my collection, including Withnail and I and the Alejandro Jodorowsky box set.
Kim's still lives, though, just a few blocks away from its seminal location. The new location doesn't have the same quirky, lived-in character as the spot on St. Mark's, and their movie rental collection is gone (donated to Italy), but it's still there. And because of what it means to my friends who've lived in New York much longer than I have, and because of what it meant to me when I first came to the city alone, Kim's is a place and a name for which I will always have a fondness regardless of where it's located. – Hubert Vigilla
Generation Records
Manhattan – 210 Thompson Street
Just south of Washington Square Park on Thompson Street you wind up at Generation Records, a great place for browsing new stuff, used stuff, imported stuff, and other stuff (e.g., pins, posters, etc.). It is, if you haven't gathered already, a fine store for stuff. It was a place I didn't visit until a little after I'd lived in New York. I just walked in out of the blue while walking around aimlessly last spring. The first stuff I bought there included iLiKETRAiNS' Elegies to Lessons Learnt and a Q & Not U pin, and I've stopped by multiple times since.
On Record Store Day, Generation Records is doing an acoustic in-store set with The Bouncing Souls. To get in, you have to buy the exclusive 7-inch only on sale on Record Store Day at the store. According to the info on the store's Myspace page, the show starts at 2 P.M. and space is limited.
Myspace.com/generationrecordsnyc
Vancouver, B.C.
Scratch Records
726 Richards Street
We can't forget our neighbors to the north, and we don't mean Santa Claus. Vancouver's Scratch Records is the place to go in VanCity for your rock `n' roll fix. While I've only been there once, my experience with the independent store was an overwhelmingly positive one, particularly due to their customer service. I bought a copy of The Twilight Sad's Fourteen Autumns Fifteen Winters, but was unpleasantly surprised to find it had a gnarly scratch, long after I had returned to California. So I gave them a call to explain the situation, and within a week a new copy of the album arrived in the mail, no questions asked. That's just part of what makes the store so great, the selection being the other big part of that. Scratch is definitely participating in Record Store Day, but no performances are listed on the Web site. That doesn't mean there won't be any, but we just don't happen to know what they are, if they're happening. – Jeff Terich
…while we acknowledge that there are shops in many other locales that haven't been covered here, Record Store Day's Web site has an extensive and exhausting list of the thousands of shops participating in this super cool event.