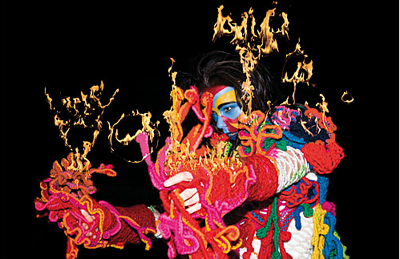 Those who know me are fully aware that I despise statements of "I was there from the beginning." So you were at the first Ramones show at CBGB's, whoop-de-shit. If everyone who said they were at that show actually were at that show it would have been like freakin' Woodstock and CBGB's doesn't hold that many people. And so what if you bought the Chronic Town EP when it first hit record stores? No one cares. That kind of boasting doesn't hold up unless everything they do after that is crap. Because the Ramones and R.E.M. lasted the test of time, it doesn't really matter where their fans entered in their timelines, just that they eventually entered. The same holds true for Björk. Whether you began with the Sugarcubes, her trip-hop influenced first few solo albums or even her more recent soundtracks, there's room for everyone in the Björk camp, no snootiness need apply. This Icelandic pixie with a powerhouse voice is pretty much beloved by everyone even when she continues to push the boundaries of pop. She's done everything from punk to a cappella and nearly everything in between throughout her musical career, but that's not the entire story. She's also been nominated for acting awards, she infamously assaulted a journalist and then there's that swan dress. And just to be a completely contrary motherfucker, I saw the Sugarcubes on their first American tour with New Order and P.I.L., so take that! Wow, I'm a complete ass.
Björk's storied career didn't begin with the Sugarcubes, it began when she was only eleven years old, covering Tina Charles' "I Love to Love." The song was a hit in her native Iceland, a country that really has to be read about or seen to be believed, where there are no trees and a large part of the population believes in fairies. Her resulting album, while still a grade schooler, went platinum and now remains somewhat of a cult classic despite the fact that it resembles nothing like her current voice and sound. Various band gigs followed as she grew to adulthood including Exodus, Jam 80, Tappi Tikarass and, to collectors, most interestingly, the post-punk group K.U.K.L. But Björk wouldn't capture the hearts of America until K.U.K.L. evolved into a band called the Sugarcubes, a group that had as much soap opera tension as Fleetwood Mac. You see, our feature heroine was married to guitarist Thor Eldon. They divorced and he ended up marrying keyboardist Magga Ornolfsdottir. Bragi Olafesson was married to the drummer Siggi Baldursson's sister-in-law, divorced her and married singer Einar Orn Benediktsson, which became the first openly gay marriage in rock history. Phew! It's hard to believe that there could have ever possibly been a band where Björk didn't take center stage all the time.
The Sugarcubes got alternative radio attention with their single "Birthday," a bass driven pop song that introduced the world to Björk's delicate balance of childlike purrs, maniacal yelps and throaty growls, sometimes within the same sung lyric. Life's Too Good, the album from whence the single comes, also spawned radio hits with "Motorcrash," and "Delicious Demon," all featuring Björk's signature vocals. And although my brother and I loved to mimic Einar Orn's voice on songs like "Sick for Toys," his accented speaking tone would not be the draw, something that the band seemed to be unaware of with the release of their sophomore album, Here Today, Tomorrow Next Week! Einar took more of a central role with that album, much to chagrin of Björk fans. Thus, "Regina" became the only hit from that particular release. Stick Around for Joy was the band's final studio release, containing one of my favorites, "Hit." It's It, an album of remixes was also released during the band's final years.
The members of the Sugarcubes went their separate ways, and I don't believe anyone ever doubted that Björk would ever have trouble finding success in a solo career, but I don't know that anyone expected the acclaim and infamy that would accompany it. Debut was heralded by "Human Behavior," a song that will forever be a fan favorite. "Venus as a Boy," "Violently Happy" and "Big Time Sensuality" would all become Björk staples and a star's career was truly born with that album. Post would only up the ante, further cementing her popularity, adding more complex dance rhythms and eclectic sounds, with more entertaining videos and computer generated strangeness. "Army of Me" became the equal of "Human Behavior," with five more single releases to follow, representing over half of the songs on the album. Before another studio album was to follow, Telegram was released, a collection of remixes and rethought versions of songs from Post. Homogenic found the Icelandic songstress at yet another creative peak, combining electronic beats with classical strings. "Hunter," "Jòga," "Bachelorette" and "All Is Full of Love" all found significant airplay and even more stunning videos.
In the meantime, after the success of three groundbreaking solo albums, Björk was recruited by director Lars von Trier to play the lead role in his film, Dancer in the Dark, a heartbreaking film about an immigrant woman and her son in Washington state who both have a degenerative disease that causes blindness. The dream state musical numbers are some of the best in her career, including a fantastic duet with Radiohead's Thom Yorke called "I've Seen It All." The film and its star both won awards at the Cannes Film Festival while the song was nominated for an Academy Award. That latter nomination is what found Björk in the infamous swan dress, an incident that still lives on in fashion lore, imitated for comedic purposes and forever pointed out as a faux pas. However, Björk turned it into a badge of honor, wearing the same dress for the cover of her next landmark album, Vespertine. It would be three more years until her next album would surface, that being Medulla, an album whose nearly every sound was created with human voices. And now we are at the end of another three year wait and we are brought to Volta, another album that makes us realize why we love Björk, why even if you start with this new album, you'll still be as pleased a fan as any of us. I'm about to see her perform at the Sasquatch Festival for the first time since seeing her with the Sugarcubes back in 1989. I've had an amazing eighteen-year love affair with the music of this Icelandic chanteuse and, going by the strength of her new album, I don't see any end in sight.
Truly Great Discography
1990 Gling-Glo
1993 Debut
1995 Post
1996 Telegram
1997 Homogenic
2000 Selmasongs
2001 Vespertine
2004 Medulla
2005 Drawing Restraint 9
2007 Volta
Photo credit: Inez and Vinoodh Matin